A Florida sheriff's office is facing backlash for tweeting out a string of threats aimed at people evacuating Hurricane Irma.
On Wednesday, the official Twitter account for the Polk County Sheriff's Office warned people with outstanding warrants that they could go to jail if they showed up at a shelter to seek refuge from the storm.
Though the criticism has largely been aimed at Polk County Sheriff Grady Judd ― his portrait is the profile picture for the office's Twitter account ― it was public information officer Carrie Horstman who said she wrote the tweets, the Tampa Bay Times reports.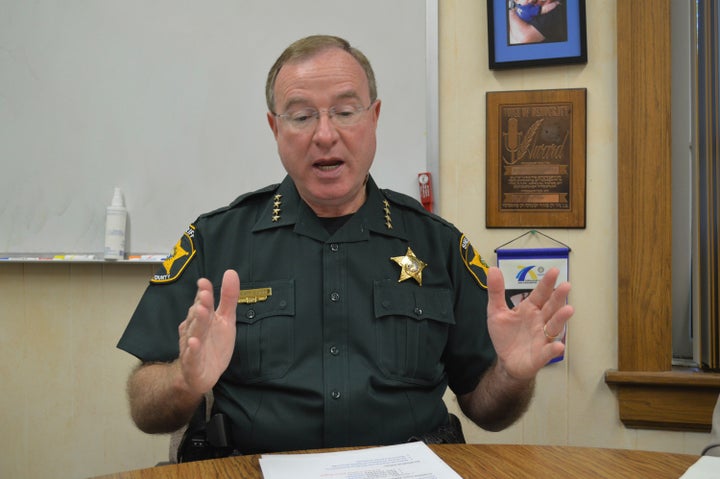 "If you go to a shelter for #Irma, be advised: sworn LEOs will be at every shelter, checking IDs. Sex offenders/predators will not be allowed," read one tweet, using an acronym for "law enforcement officers."
Two other tweets from the account said that if a person has a warrant out for their arrest, they would be escorted "to the safe and secure shelter called the Polk County Jail."
Other Twitter users, including the American Civil Liberties Union of Florida, accuse Judd of endangering the lives of residents and first responders. The group pointed out that most people have outstanding warrants for minor offenses.
The ACLU of Florida wrote in a statement that the "threatening tweets send the message that these individuals must choose between facing a natural disaster without aid and shelter or going to jail over things like unpaid traffic tickets."
The ACLU also compared Judd to Joe Arpaio, a former Arizona sheriff who was pardoned by President Donald Trump last month after being convicted of criminal contempt. Arpaio had ignored a judge's order that instructed his department to stop detaining individuals solely based on the suspicion that they were undocumented immigrants.
Horstman told the Tampa Bay Times that the Polk County Sheriff's Office was simply trying to give fugitives fair warning so they had ample time to prepare for the storm.
"I was just trying to keep people informed ahead of time," Horstman told the paper. "We can't allow sexual predators in the centers and shelters."
On Sunday, the Orlando Sentinel reported that Nexus Services, an immigrant rights group, is suing Judd after a man was told he couldn't enter a shelter without a criminal background check. According to the lawsuit, Florida driver's licenses clearly mark whether or not someone is a sexual predator, rendering a background check unnecessary.
"Judd's statement that his conduct is aimed toward sexual predators is nothing more than a guise for undertaking unconstitutional searches and seizures," the lawsuit states.
According to the Sentinel, Judd called the lawsuit "frivolous" and said he would not change his policy.
Calling all HuffPost superfans!
Sign up for membership to become a founding member and help shape HuffPost's next chapter