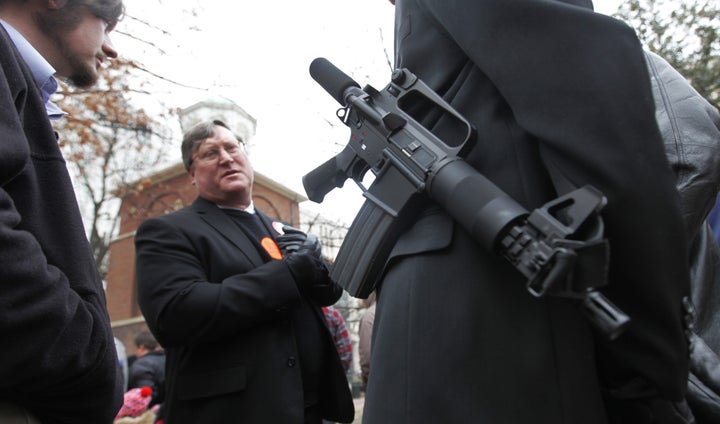 WASHINGTON -- Despite powerful lobbying against any new gun-control measures by groups like the National Rifle Association, a new bipartisan poll shows that both gun owners and the general public support stronger measures to keep firearms out of the hands of criminals and other potentially dangerous individuals.
The poll -- conducted for the coalition Mayors Against Illegal Guns, co-chaired by New York City Mayor Michael Bloomberg and Boston Mayor Thomas Menino -- suggests that while far-reaching gun-control legislation seems unlikely to pass, some narrower measures may be able to earn bipartisan support.
"Large majorities of Americans agree with the 2008 Supreme Court ruling that the Second Amendment confers an individual right to own guns, and Americans strongly oppose efforts to ban handguns," said Bob Carpenter, vice president of American Viewpoint, the Republican polling firm that joined with Democratic firm Momentum Analysis to conduct the survey. "But Americans and gun owners feel with equal fervor that government must act to get every single record in the background-check system that belongs there and to ensure that every gun sale includes a background check. Most Americans view these goals, protecting gun rights for the law-abiding and keeping guns from criminals, as compatible."
Some findings from the poll results, provided exclusively to The Huffington Post:
-- 90 percent of Americans and 90 percent of gun owners support fixing gaps in government databases that are meant to prevent the mentally ill, drug abusers and others from buying guns.

-- 91 percent of Americans and 93 percent of gun owners support requiring federal agencies to share information about suspected dangerous persons or terrorists to prevent them from buying guns.

-- 89 percent of Americans and 89 percent of gun owners support full funding of the law a unanimous Congress passed and President George W. Bush signed after the Virginia Tech shootings to put more records in the background-check database.

-- 86 percent of Americans and 81 percent of gun owners support requiring all gun buyers to pass a background check, no matter where they buy the gun and no matter who they buy it from.

-- 89 percent of Americans and 85 percent of gun owners support a law to require background checks for all guns sold at gun shows.
In terms of protecting Second Amendment rights, 79 percent of Americans and 90 percent of gun owners said they believe an individual has the right to own guns, and the amendment is not limited to protecting the rights of state militias. Eighty percent of Americans and 90 percent of gun owners oppose a law that would ban the sale of all handguns.
The survey also asked whether respondents believe that "the sale of guns should be more strict." Fifty-one percent said they agreed with that statement, 7 percent more than agreed in a November Gallup poll using nearly identical wording and 4 percent more than what CBS found using similar wording last week.
Jared Lee Loughner, the alleged shooter in the tragic Jan. 8 shooting in Arizona, legally obtained the Glock-19 pistol that he eventually used to kill six people and wound 13 others. Despite his documented history of drug abuse, Loughner was able to slip through the cracks and become a gun owner.
In the months following the April 2007 Virginia Tech shooting, lawmakers passed a bill meant to increase the number of records entered into the National Instant Criminal Background Check System. But three years later, hundreds of thousands of records are still missing, allowing many to pass background checks they might otherwise fail. Additionally, since 2007, Congress allocated only $20 million of the $375 million authorized in the law.
"Our coalition of mayors has fought for years to fix our federal background check system and close loopholes that give dangerous people a way to get around the requirement altogether," Bloomberg said in a statement on the poll's findings. "This poll shows that, particularly in the wake of yet another tragic mass shooting, Americans and gun owners agree with our efforts. If the tragedy in Tucson was not enough to ensure that Congress finally takes action, we hope this clear call for reform from the public will add to the groundswell of support."
Closing the so-called "terror gap" has particularly strong support. A 2010 Government Accountability Office report found that during the past six years, individuals on the terror watchlist were able to buy firearms or explosives from licensed U.S. dealers 1,119 times.
But this position puts the NRA far to the right of even its members. A survey last year by conservative pollster Frank Luntz found that 82 percent of NRA members supported "prohibiting people on the terrorist watch lists from purchasing guns." Eighty-six percent agreed with the statement that the country can "do more to stop criminals from getting guns while also protecting the rights of citizens to freely own them."
The NRA has taken a low profile since the Tucson shooting, telling The Daily Beast that the organization "strongly believes that now is not the time for political debates or policy discussions. Indeed, anything other than prayers for the victims and their families at this time would be inappropriate."
Currently, there is no Senate-approved head of the Bureau of Alcohol, Tobacco, Firearms and Explosives. In 2006, the gun industry convinced Congress to require nominees for the position to meet with Senate approval. The upper chamber has not approved a single director since.
Rep. Peter King (R-N.Y.) has also proposed legislation, backed by Bloomberg, making it illegal to bring a gun within 1,000 feet of a government official. The latest Mayors Against Illegal Guns poll found that 58 percent of the public and 49 percent of gun owners support banning the sale of high-capacity ammunition magazines. Sixty-seven percent of the public supports the King proposal, according to that polling, along with 60 percent of gun owners.
Even McCarthy, however, admits that significant gun-control measures are unlikely to go anywhere in Congress. "Everybody is petrified of the NRA," McCarthy told The Huffington Post.
Sen. Charles Schumer (D-N.Y.) told NBC's "Meet the Press" recently that Congress will therefore most likely look to fill the obvious gaps in current laws that have broad bipartisan support, such as pushing for better information-sharing and tightening weapon-purchasing restrictions on those diagnosed as mentally ill or drug abusers.
As HuffPost Pollster's Mark Blumenthal has noted, "While public opinion has generally turned against stricter gun-control measures over the last twenty years, majorities continue to support greater restrictions on the sort of semi-automatic weapon used in the Tucson shootings."
It seems, however, that the public's favorable views of gun rights have held despite the Tucson shooting. Forty-six percent of poll respondents said that the Jan. 8 tragedy had not changed their views on gun control at all, while only 41 percent said they now feel more strongly that gun laws should be stricter. In a new CNN/Opinion Research Corporation poll, 69 percent of those surveyed said their views on gun laws hadn't changed.
UPDATE: A HuffPost reader points out that Mayors Against Illegal Guns included both gun owners and people living in gun households as "gun owners" in the summary of its survey results. One of the pollsters who conducted the survey said that they believe "those living with the actual person on a gun license have far more in common with them than with those with no guns in the house at all."
Related
Popular in the Community