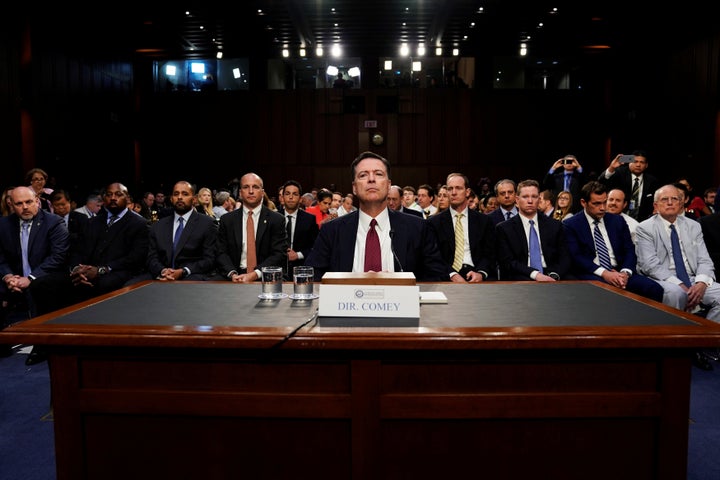 Americans largely believe that former FBI director James Comey is more trustworthy than President Donald Trump, a new HuffPost/YouGov poll finds, although his testimony did little to change minds about the seriousness of the relationship between the White House and Russia.
In a Senate Intelligence Committee hearing on Thursday, Comey directly questioned the president's candor in explaining why he kept detailed records of their conversations. "I was honestly concerned he might lie about the nature of our meeting," Comey said, "so I thought it important to document."
By a 20-point margin, 46 percent to 26 percent, Americans say Comey is more honest and trustworthy than Trump, with the remainder unsure.
Similar shares of the public hold favorable views of both men: 38 percent for Trump, and 35 percent for Comey. But Trump's unfavorables, at 53 percent percent, are significantly higher than Comey's, at just 33 percent.
FEW SAY COMEY WASN'T ASKED TO PLEDGE LOYALTY
Americans also put relatively more faith in Comey's recollection of events. Half believe that Trump asked Comey to pledge loyalty to him, as Comey testified on Thursday, with just 15 percent believing Trump's disavowal of having done so. Among those who believe that Trump did ask for Comey's loyalty, 71 percent call the question inappropriate.
A smaller plurality, 42 percent, believes another facet of Comey's testimony ― that Trump attempted to order him to drop the FBI investigation into former Trump adviser Michael Flynn. Twenty-eight percent don't believe that Trump did so.
Views are deeply divided along political lines, although Trump's doubters are notably more unified than his defenders. Seventy percent of Trump voters say they trust the president's honesty more than Comey's, while 89 percent of voters who supported Hillary Clinton put more faith in the former FBI director. The remainder of the public, made up of non-voters and third-party voters, have little faith in Trump, with just 15 percent saying he is the more honest. But only 44 percent have outright faith in Comey's trustworthiness either, with nearly as many saying they're uncertain.
Even Trump voters are more likely than not to say that Trump asked Comey to pledge his loyalty, although a majority of those who do say that the question was appropriate.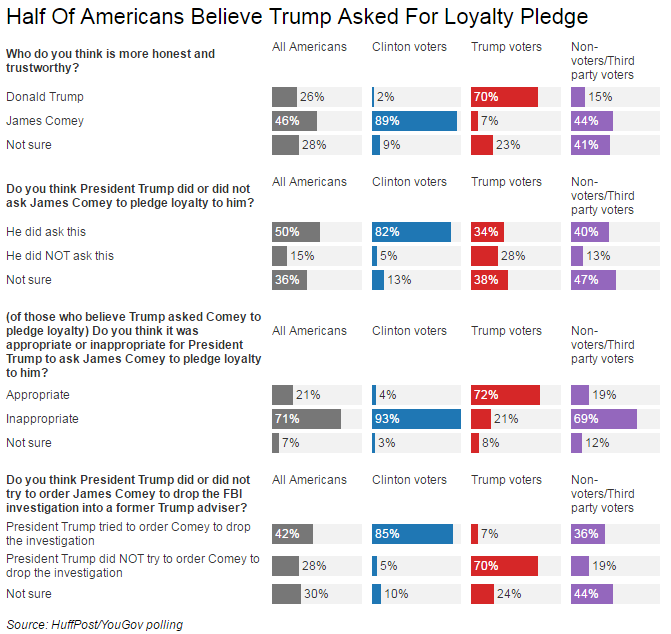 The public's view of Trump's decision to fire Comey has soured since it was first announced. By a 17-point margin, 45 percent to 28 percent, Americans say that Trump made the wrong decision in firing Comey as the director of the FBI. In a poll taken last month, that margin was just 1 point.
About half now say that Comey was fired at least in part to disrupt the Russia investigation, with just 29 percent calling it unrelated. That's similar to last month, when 47 percent believed the firing was related to Russia, and 26 percent that it was unrelated.
Comey himself conveyed that he believed his dismissal was related to the probe, saying, "I take the president at his word that I was fired because of the Russia investigation."
MOST AMERICANS HEARD ABOUT THE COMEY HEARING, BUT FEWER WATCHED LIVE
While the Comey hearings dominated cable news and transfixed much of Washington, most Americans didn't tune in live. About 35 percent of the public say they watched some or all of the hearing, with another 33 percent saying they followed news stories about it. (Because poll respondents tend to be more politically active than the average American, those numbers may be slightly high.) Another 31 percent said they hadn't heard anything about the testimony.
Among those who had heard anything about Comey's testimony, just 18 percent said it improved their view of the Trump administration. Thirty-nine percent said it worsened their view of the White House, and a plurality, 43 percent, that it didn't change their minds.
VIEWS ON TRUMP'S RELATIONSHIP WITH RUSSIA REMAIN RELATIVELY STABLE
The latest HuffPost/YouGov survey finds that, whatever impact the Comey testimony may have had, it also failed to move the needle much on broader views about the Russia story, which remain unfavorable ― but not yet overwhelmingly so ― toward the White House.
Americans say, 44 percent to 31 percent, that the Trump administration's relationship with Russia is a legitimate issue, with the remaining quarter unsure. Thirty-six percent consider that relationship a very serious problem, with 14 percent considering it somewhat serious, 11 percent not very serious, and 22 percent saying it's not a problem at all.
Both sets of numbers show little discernible difference from surveys taken last month, although the share of the public who considers the problem very important has risen since the start of the year.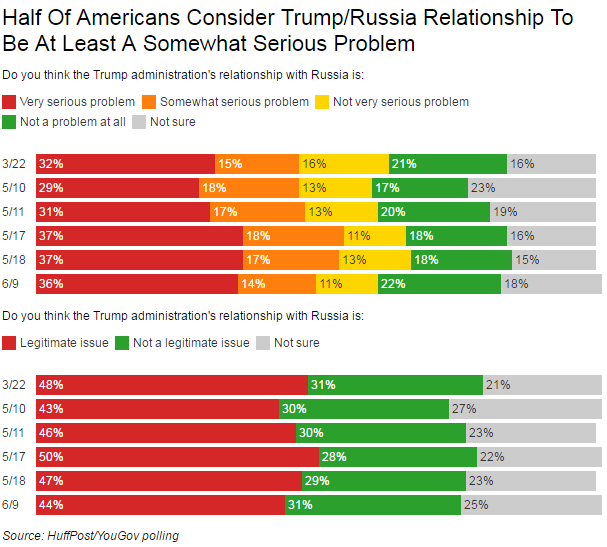 The story also remains relatively opaque to many Americans. Only a quarter of the public says they feel they understand the issues relating to the Trump administration's relationship with Russia very well, although most feel they understand it at least fairly well. Perhaps unsurprisingly, those without set views on the topic are the most likely to express confusion. Just a fifth of those who aren't sure if the Russia connections are a legitimate issue say they understand the issue even fairly well.
Meanwhile, the share of the public who do have opinions remain deeply polarized. Trump's base is still largely unconcerned, even as they acknowledge that not all GOP officials are similarly sanguine. More than half of Trump voters acknowledge that some Republican politicians have raised concerns about the Comey firing, with just 27 percent saying that most officials have been supportive of Trump's decision to fire Comey. But just 11 percent of Trump voters themselves consider the president's Russia connection to be a legitimate issue.
Few Americans rate the story as a top worry. Just 12 percent of Americans picked President Trump's relationship with Russia as one of the two issues they find most important, ranking it far behind topics such as health care (45 percent) and the economy (39 percent), as well as immigration and the environment.
Use the widget below to further explore the results of the HuffPost/YouGov survey, using the menu at the top to select survey questions and the buttons at the bottom to filter the data by subgroups:
The HuffPost/YouGov poll consisted of 1,000 completed interviews conducted June 8-9 among U.S. adults, using a sample selected from YouGov's opt-in online panel to match the demographics and other characteristics of the adult U.S. population.
HuffPost has teamed up with YouGov to conduct daily opinion polls.You can learn more about this project and take part in YouGov's nationally representative opinion polling. Data from all HuffPost/YouGov polls can be found here. More details on the polls' methodology are available here.
Most surveys report a margin of error that represents some, but not all, potential survey errors. YouGov's reports include a model-based margin of error, which rests on a specific set of statistical assumptions about the selected sample, rather than the standard methodology for random probability sampling. If these assumptions are wrong, the model-based margin of error may also be inaccurate. Click here for a more detailed explanation of the model-based margin of error.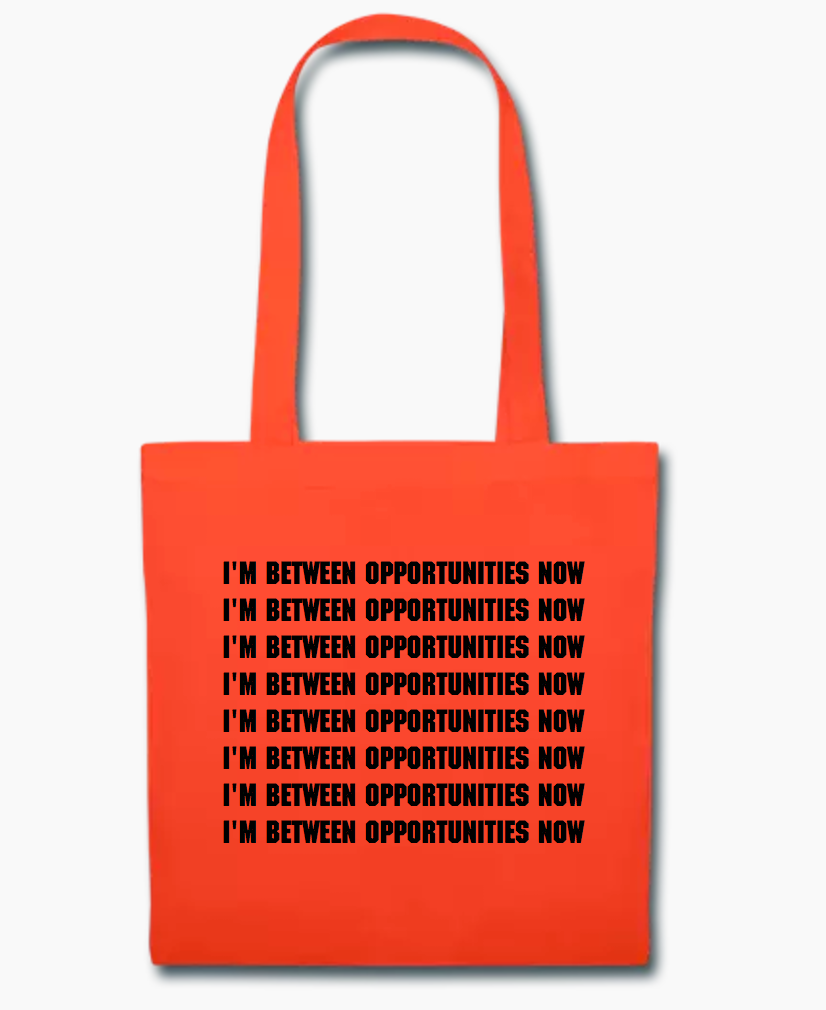 10 James Comey Quotes We'd Like To See On Merchandise