Anthony Weiner's reputation and his standing in the New York City mayoral primary have both plummeted, according to the first poll taken since Weiner admitted Wednesday that his online sexual misdeeds continued past his 2011 resignation from Congress.
Christine Quinn now leads the primary field with 25 percent, followed by Weiner at 16 percent, and Bill de Blasio and Bill Thompson both at 14 percent. The last NBC/WSJ/Marist poll, taken in late June, had Weiner 5 points ahead of Quinn, 25 percent to 20 percent.
Among a smaller subset of Democrats considered likely to vote, Weiner placed third with 16 percent rating him favorably, behind both Quinn at 26 percent and de Blasio at 17 percent.
"There's been a significant erosion in people's willingness to say he deserves another chance. They are more reluctant to grant that," pollster Lee Miringoff told the Wall Street Journal.
Forty-six percent of all registered Democrats polled said Weiner's online sexual relationships would matter a great deal or a good amount to their choice for mayor, and 73 percent said that Weiner's wife's decision to publicly defend him had no effect on their decision-making.
Democratic voters remained split, however, on whether Weiner should leave the race, with 43 percent saying he should drop out and 47 percent saying he should continue running, according to the poll. If Weiner were to exit, Quinn's lead would grow to 32 percent, with Thompson and de Blasio at 17 and 16 percent, respectively.
The poll was conducted in just one night, which can lead to lower response rates and make results somewhat less reliable. It surveyed 551 Democratic voters, including 320 who were likely to vote.
Before You Go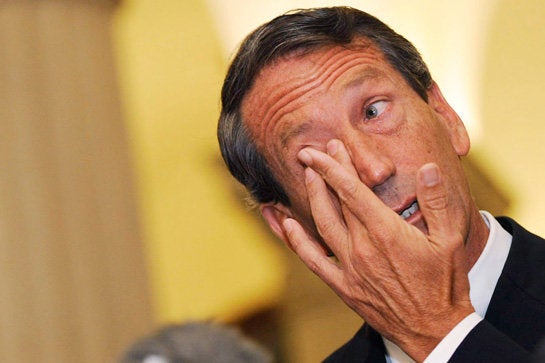 10 Dumbest Excuses for Political Sex Scandals
Popular in the Community