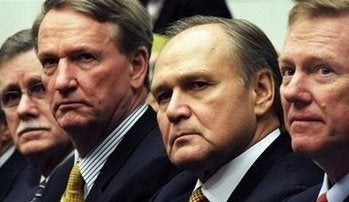 The proposal by the CEOs of the Big Three automakers to work for $1 a year has gone over like a lead balloon with taxpayers, a new survey shows, with a clear majority believing that the car bosses do not deserve such a bloated salary.
The University of Minnesota/Opinion Research Institute poll released today shows that 87% of those surveyed "strongly agree" with the statement, "If the CEOs of General Motors, Ford and Chrysler earned $1 a year they would be egregiously overpaid."
But according to the University of Minnesota's Davis Logsdon, the poll numbers do contain some good news for the embattled CEOS: "While taxpayers do not want to pay each of them $1 a year, there is a consensus that the three gentlemen deserve to share a single $1 salary between them."
When asked how the three auto execs should divvy up their $1 payday, the poll yielded interesting results: "People believe that the Ford guy and the Chrysler guy should each get 45 cents and the GM should only get 10 cents, because the whole Hummer thing was just retarded."
Andy Borowitz is a comedian and writer whose work appears in The New Yorker and The New York Times, and at his award-winning humor site, BorowitzReport.com.

Support HuffPost
The Stakes Have Never Been Higher
Popular in the Community