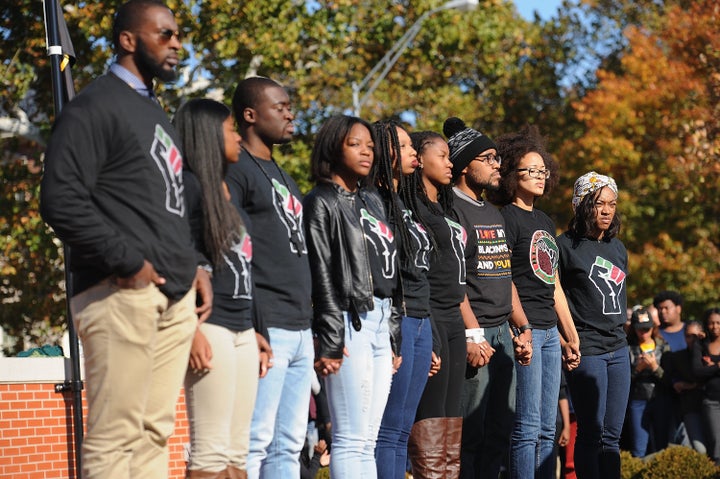 Americans are divided -- largely along party lines -- over whether colleges and universities have a responsibility to teach students about racism, promote diversity or prioritize free speech over stopping racially insensitive statements, a new HuffPost/YouGov poll reveals.
Many schools like Mizzou and the University of Oklahoma have responded to student demands by creating diversity offices.
But a HuffPost/YouGov poll shows that Americans are split on whether this is an important undertaking -- as 32 percent of respondents say -- or "a waste of money and resources," as 42 percent consider it.
Fifty-one percent of white respondents believed such efforts were not a worthy investment for schools, as did 51 percent of people over age 65. Among Republicans in the poll, that number jumped to 70 percent.
Survey respondents generally agreed that a college president does have a responsibility to personally address racist incidents that occur on campus, with 72 percent supporting the statement. Forty-five percent also supported the idea that colleges and universities have a responsibility to teach students about issues relating to racism, though 41 percent disagreed. This has been a principal concern among activists at schools like Mizzou and Ithaca College.
Two-thirds of Democrats in the poll said that colleges do have a responsibility to teach students about racial bias, while 62 percent of Republicans said they do not.
Another point of contention among activists has been whether schools should do more to punish racist behavior.
In the HuffPost poll, a majority of people -- 53 percent -- said that colleges should sanction students who make racially offensive statements. Black, Hispanic and Democratic respondents were more likely to agree with this idea than whites, Republicans or independents. (People in the Midwest were also more likely to agree with this sentiment than people in the Northeast, the West or the South.) Among white people in the poll, 48 percent said a student should be punished for racist statements, compared to 33 percent arguing they should not.
The poll also asked whether colleges and universities should prioritize for their students "an absolute right to free speech, even if that means allowing offensive or racist comments," or if it's more important that "students have an environment free from discrimination, even if that means placing some limits on what students can say."
Thirty-eight percent responded that an absolute right to free speech was more important, but 43 percent said an environment free from discrimination was more valuable.
Just 4 percent of black respondents said that an absolute right to free speech was their top concern, compared to 69 percent who said they valued an environment free from discrimination.
In a recent Pew Research Center survey, 40 percent of millennials said they were fine with censoring speech to prevent people from saying things offensive to minority groups -- a figure subsequently cited in a what-is-the-world-coming-to sort of way by many columnists. (For the record, a closer look at polling history on the subject suggests that Americans of all ages have actually felt pretty similarly about free speech for a long time.) However, the HuffPost/YouGov poll didn't find significant variation across different age groups on the question of whether students who say racist things should be punished. Similarly, people across different age groups all had fairly similar views about the importance of an absolute right to free speech. The greatest differences on these questions occurred between different races and different political party affiliations.
Forty-four percent of Republicans in the poll said colleges should not sanction students for making racist statements, while 71 percent of Democrats said they should.
The HuffPost/YouGov poll consisted of 1,000 completed interviews conducted Dec.16-17 among U.S. adults. It used a sample selected from YouGov's opt-in online panel to match the demographics and other characteristics of the adult U.S. population.
The Huffington Post has teamed up with YouGov to conduct daily opinion polls.You can learn more about this project and take part in YouGov's nationally representative opinion polling. Data from all HuffPost/YouGov polls can be found here. More details on the polls' methodology are available here.
Most surveys report a margin of error that represents some, but not all, potential survey errors. YouGov's reports include a model-based margin of error, which rests on a specific set of statistical assumptions about the selected sample, rather than the standard methodology for random probability sampling. If these assumptions are wrong, the model-based margin of error may also be inaccurate. Click here for a more detailed explanation of the model-based margin of error.
Related
Popular in the Community