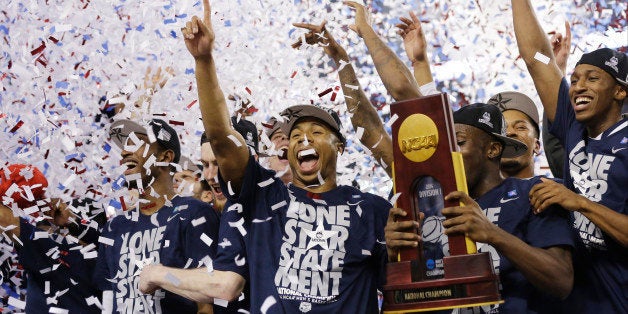 Two-thirds of Americans think colleges and universities with big-time sports programs place too much emphasis on athletics over academics, a new Monmouth University Poll found.
As the national college football championship approaches and NCAA basketball starts heating up, this apparent emphasis will be even more pronounced. Yet public opinion is mixed about whether the NCAA is to blame for stressing athletics over academics.
Among schools with sports teams but no major program, just 38 percent of those polled thought there was an overemphasis on athletics. Half of respondents thought these schools were able to strike an appropriate balance between academics and athletics.
"We as educators have a responsibility to prepare each student for the future," said Monmouth University President Paul R. Brown in the poll report. "For all but a tiny few, that means ensuring that we put the emphasis on the 'student' part of the student-athlete."
The Monmouth Poll also asked about the role of the NCAA in influencing a school's balance between athletics and academics. Overall, public opinion was split -- 39 percent said the NCAA does a good job encouraging proper balance, while 42 percent said it does a bad job.
However, among college graduates, just 29 percent said the NCAA does a good job, while 53 percent said it does a bad job promoting an athletic and academic balance.
But three-quarters of people agreed that the mass attention that high-profile college sports programs get influences other schools to "put more emphasis than they should" on their own athletics programs over academics.
Indeed, there is a sizable amount of attention to be gained from high-profile athletics.
On Jan. 12, Ohio State University and the University of Oregon will meet in the first College Football Playoff National Championship game. The Rose Bowl and Sugar Bowl games leading up to the finals brought in 28.2 and 28.3 million viewers, respectively. Meanwhile, NCAA's March Madness attracts millions of viewers throughout the month.
But the pressure to build up an athletic program can push administrators to favor athleticism over academic ability. The University of North Carolina-Chapel Hill is still reeling from the revelation of nearly two decades of academic fraud perpetuated by school officials for athletes.
Calling all HuffPost superfans!
Sign up for membership to become a founding member and help shape HuffPost's next chapter
BEFORE YOU GO