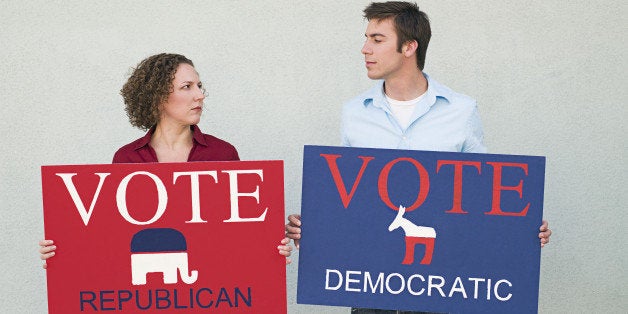 A few weeks ago, much of the mainstream media was engrossed in the most recent study that released by the Pew Research Center that discussed a detailed version of (Generation Y) millennials -- those Americans born between 1980-1998 -- in regards to their racial and ethnic makeup, attitudes toward technology, older generations, the economy, religion, politics, social issues, and the future in general. The New York Times, The New Republic, TIME magazine, Yahoo, Salon and The Daily Beast were just a few publications who adamantly reported on and dissected the study.
As someone who has written on generational culture and politics, I deeply immersed myself in the study and was surprised by a few of the report's findings, but totally unsurprised by other conclusions. What the Pew Research Center study did in fact confirm was that millennials are the most diverse, pluralistic group of people in American history. This fact alone, along with their sheer numbers, (95 million) makes them a group of men and women who are worthy of intense study.
What was most interesting, (at least to me), was the apparent positions that many young Republican millennials harbor on social issues. It was found that 61 percent of young Republicans under 30 approve of same-sex marriage as opposed to 35 percent who oppose it. In fact, the Pew Report found that 82 percent of these same conservative Republican millennials were in favor of gay parents raising children. This rate was almost identical to Democratic millennials at 84 percent. Viewpoints on interracial marriage and similar social issues were notable as well. While White millennials were not as liberal as non-White millennials, they were still far more liberal than Whites in older generations, including baby boomers.
Politically speaking, the report found that the majority of young Republicans were dissatisfied with the current state of their party's performance. In fact, only 28 percent of those interviewed expressed satisfaction with the current state of the GOP. While an overwhelming majority, 70 percent stated dissatisfaction with the Republican Party. On the contrary, 49 percent (almost half) of Generation Y Democrats believed that their party was on the right track. While the slight majority of young democratic voters felt that their party was doing a less than adequate job, the operative word here is "slightly." It is much better for a political party to be at an almost 50-50 position as opposed to being 30 to 70 negative

Moreover, the number of young voters who identify themselves as Republicans has decreased from 27 percent a decade ago to 17 percent today in 2014. The number of millennials who identify as independents is at 50 percent. This is a 12 percent increase since 2004. Slightly more than one quarter 26 percent of Americans born between 1980-1998 consider themselves conservative. This is a percentage that is lower those of Generation X at 35 percent, (those born between 1965-1979), baby boomers (those born between 1946-1964) at 41 percent and the silent generation (those born between 1925-1945) at 45 percent. This mindset transcends to social issues in that many (48 percent) of millennials saw themselves as possessing liberal views and 42 percent indicated that they more likely harbored conservative views in this area.
Moreover, the majority of those young people polled argued that their views have become more liberal over time. History shows that most people tend to become more conservative as the age. Remarkably, this has not been the case with Generation Y. In fact, this group is the only age demographic where liberal views surpass the 50 percent mark. These numbers are ominously problematic for the Republican Party.
Recent and ongoing incendiary rhetoric by House representative and former Vice Presidential Paul Ryan, South Dakota lawmaker Phil Jensen and grossly insensitive comments by other Republican politicians have done little to endear the majority of young people (as well as people of all races) with progressive viewpoints to embrace the Republican party. This is a likely factor that will remain a significant hindrance for the GOP as it moves into the future. Future demographics certainly indicate so.
REAL LIFE. REAL NEWS. REAL VOICES.
Help us tell more of the stories that matter from voices that too often remain unheard.