Fifty-three percent of those polled said they favored allowing same-sex marriages, reflecting steadily rising support over the past decade. In late 2009, just 41 percent of Americans supported same-sex marriage; in 2004, just 30 percent did.
Today, 63 percent said that the federal government should recognize gay marriages performed in states that have legalized them. But the majority also said they'd prefer to have one federal standard defining marriage than for the issue to be left up to the states.
Nearly 8 in 10 Americans said they knew someone who was gay or a lesbian, and just over half said they knew a couple in a long-term gay or lesbian relationship. Most, however, said knowing these people didn't affect their views on gay marriage.
Other surveys have found similar or wider backing for gay marriage. A recent Washington Post/ABC News poll found that a record 58 percent were in favor, with support increasing among virtually all parties and demographics.
Although support for gay marriage has risen in recent years, support for abortion hasn't followed suit. In the latest poll, which covered various social issues, 45 percent of Americans said abortion should be legal most or all of the time, while 52 percent said it should be illegal, either with or without exceptions. In January, for the first time, a majority supported legal abortions, according to NBC.
As a Washington Post chart shows, while attitudes on gay marriage have changed significantly since the 1990s, views on abortion have remained relatively fixed. Opinions on gay marriage are hugely divided by generation, while differences on abortion by age group are increasingly small.
The NBC/WSJ poll also found that Americans were more than twice as likely to say they disagreed with Republicans on "their approach to social and cultural issues" than to agree with them. They were split about evenly on whether or not they agreed with the Democratic Party.
The poll surveyed 1,000 adults by phone between April 5 and 8.
Before You Go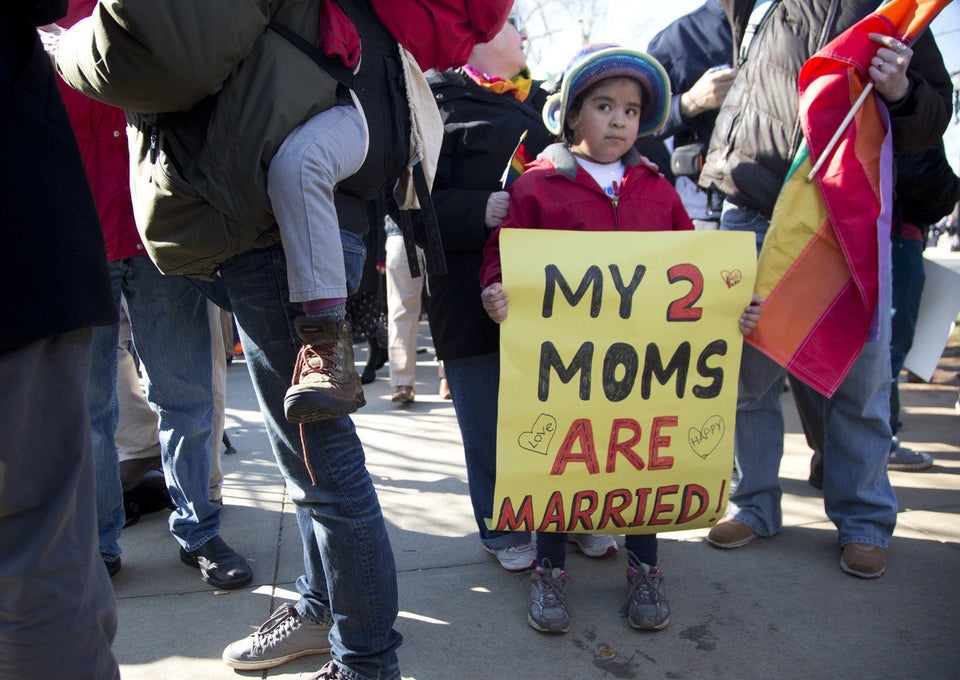 Best Protester Signs At SCOTUS Rallies
Popular in the Community