By a 27-point margin, 49 percent to 22 percent, Americans who had heard at least something about Monday's presidential debate said that Clinton did a better job than Trump. Twenty-two percent said neither had done a better job, while 8 percent were unsure.
Seventy-seven percent of those polled, including a majority in both parties, said that Clinton prepared well enough for the debate, compared to just 27 percent who said the same for Trump. Even 43 percent of Republicans said that Trump should have done more preparation.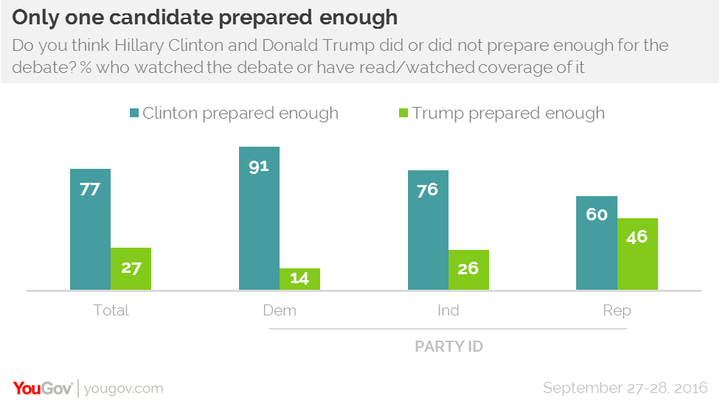 A majority, 56 percent, said that Clinton displayed a presidential temperament during the debate. Just 34 percent said the same of Trump, who claimed during the debate that his temperament was his "strongest asset."
Clinton led on laying out her positions, with half of those polled saying she did a better job of explaining her policies, 28 percent naming Trump, and 22 percent unsure. But asked which candidate's policies they most agreed with, respondents sided with her by a far narrower margin, giving her 44 percent to Trump's 40 percent.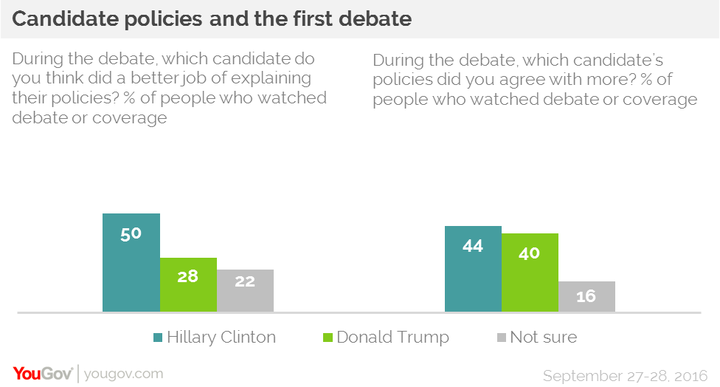 There was also less perceived difference in the candidates' honesty. Twenty-four percent of those polled said that Clinton said untrue things very often, and 46 percent that she did so at least somewhat often. A third said that Trump very often said things that were untrue, with 53 percent saying he did so at least somewhat often.
Two-thirds of Americans polled said they'd watched at least part of the debate, while 10 percent had watched only clips or highlights, and 11 percent had only read or watched news stories about it. The opinions of those in the latter groups matter because, as research has found, coverage of a debate can have just as much impact as the debate itself, and because even those who didn't tune in may still turn out to vote. And there's generally a perception that coverage was friendlier toward Clinton. Sixty-six percent said that Clinton received more positive news coverage after the debate, while just 6 percent believed that Trump had.
There were, however, considerable differences between those who watched at least parts of the debate and those who watched only clips or news coverage, not least because the latter group was significantly more Republican. Those who watched at least part of the debate said by a 30-point margin, 53 percent to 23 percent, that Clinton won, while those who watched highlights or read news stories said so by a narrower 17-point margin, 35 percent to 18 percent.
While Democrats who'd paid attention to the debate saw it as a win for Clinton, Republicans were less enthusiastic about Trump's performance. Eighty-two percent of Democrats polled said that Clinton won, and similar percentages gave her high marks for preparation, temperament, truthfulness and policy chops.
In contrast, just 43 percent of Republicans polled said that Trump did better, with 17 percent believing that Clinton outperformed him, and 35 percent that neither candidate won the debate. A fifth said that the debate worsened their opinion of the Republican nominee. Less than a third said they believed that most Americans would say Trump had won.
Independents who were polled also favored Clinton, saying by a 14-point margin, 39 percent to 25 percent, that she won the debate over Trump. Forty-four percent felt she displayed a presidential temperament, while just 35 percent said the same of Trump.
But they reported that the debate had worsened, rather than improved, their opinions of both candidates ― by a 16-point margin in Clinton's case, and by an 11-point margin in Trump's. Majorities also thought that both candidates lied at least somewhat often during the debate.
It's still too early to know exactly how much bearing Clinton's performance in the debate will have on her performance in the polls, which gave her only a tight lead in the run-up to the event. While the debate worsened views of Trump among respondents overall, it did relatively little overall to change views of her: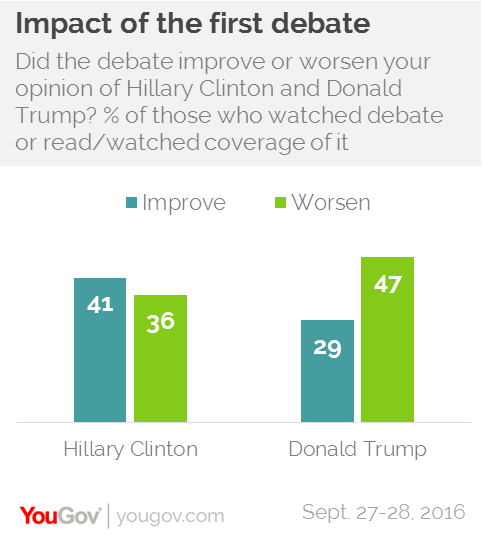 Americans, though, are already anticipating a rematch. Sixty-one percent say that they're looking forward to watching future debates.
The HuffPost/YouGov poll consisted of 1,000 completed interviews conducted Sept. 27-Sept. 28 among U.S. adults, using a sample selected from YouGov's opt-in online panel to match the demographics and other characteristics of the adult U.S. population.
The Huffington Post has teamed up with YouGov to conduct daily opinion polls. You can learn more about this project and take part in YouGov's nationally representative opinion polling. Data from all HuffPost/YouGov polls can be foundhere. More details on the polls' methodology are available here.
Most surveys report a margin of error that represents some, but not all, potential survey errors. YouGov's reports include a model-based margin of error, which rests on a specific set of statistical assumptions about the selected sample, rather than the standard methodology for random probability sampling. If these assumptions are wrong, the model-based margin of error may also be inaccurate. Click here for a more detailed explanation of the model-based margin of error.
Popular in the Community