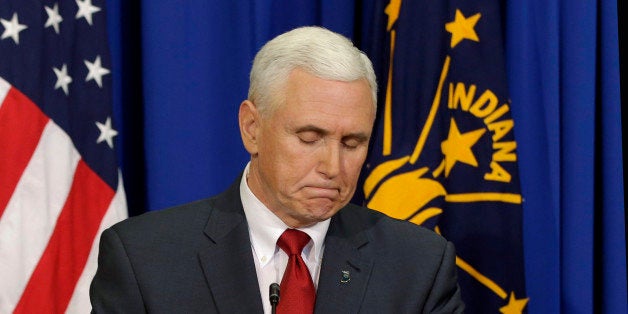 WASHINGTON -- Indiana amended its controversial new religious freedom law on Thursday to clarify that it does not specifically allow businesses to turn away lesbian, gay, bisexual and transgender customers, nudging the state back in line with Americans' increasingly accepting view of gay rights.
Many Americans are sympathetic to the need for laws protecting religious convictions, and a recent Pew poll that asked about wedding-related businesses found people evenly split on the issue of whether these companies should be allowed to refuse to work with same-sex couples. But a new HuffPost/YouGov poll finds that a clear majority of Americans do not think that all businesses should be allowed to refuse customers because of their sexual orientation, and many people said they would be less inclined to patronize businesses that do so.
The HuffPost/YouGov poll found a nearly equal divide when it comes to concern over religious protections and discrimination, with 36 percent more concerned about people being forced by law to violate their own religious beliefs, and 39 percent more worried about people citing their religion as a way to discriminate.
Similarly, 35 percent are more concerned that they'd personally be discriminated against, while 37 percent fear being forced to act against their own beliefs.
However, most people agreed that the Indiana law went too far. Taken before legislators voted to amend the law, the poll found that 55 percent of people think businesses should be required to provide the same services to LGBT customers, while 31 percent said businesses should be allowed to refuse on religious grounds. The remaining 15 percent were undecided.
Opinions break down along the usual fault lines seen in gay rights issues, with younger Americans and Democrats more concerned about discrimination, and older, more conservative and more religious Americans worried about religious freedoms. More than half of the people in every age group, however, said businesses should be required to serve all customers, as did a majority of Catholics and non-evangelical Protestants.
Indiana -- where nearly one in three residents is a white, evangelical Protestant -- is somewhat less supportive of gay rights than the nation as a whole, according to the Public Religion Research Institute. However, a survey conducted by the institute in 2014 found that a majority of the state's residents still agree that gays and lesbians face discrimination, and support laws that would protect them from being discriminated against in the workplace.
"A lot of the people who don't agree with gay marriage have said that they are not in support of this law," said Tyler Langdon, a gay 29-year-old who's planning his wedding this fall in his small hometown of Plymouth, Indiana, not far from the now-contentious Memories Pizza. "You know, it's one thing to have a personal disagreement with gay marriage, but to more or less legalize discrimination is a step too far for them."
After the law passed, Langdon said he scrambled to make sure his DJ, caterer and other wedding vendors didn't mind that he was marrying another man.
"It's awkward, because it's almost like coming out to a stranger every single time you do it. It's not that I'm ashamed to be gay, but it's definitely an uncomfortable conversation when you don't know if the person on the other end of the line is going to have a very strong negative reaction to it," Langdon said Wednesday. But the business have taken the news well. "The response we got was really reassuring from a lot of them, because they went out of their way to say, 'That doesn't matter to me whatsoever,'" he said.
Both Indiana's law and a similar bill in Arkansas have faced substantial opposition from business groups. The new poll results suggest that taking a public stance against serving LGBT customers has far more of a potential to backfire than actively supporting gay marriage.
Forty-four percent of Americans said they'd be less likely to shop at a business that refused to serve LGBT people, while just 23 percent would avoid a business that publicly backed gay marriage.
The HuffPost/YouGov poll consisted of 1,000 completed interviews conducted March 31-April 2 among U.S. adults using a sample selected from YouGov's opt-in online panel to match the demographics and other characteristics of the adult U.S. population.
The Huffington Post has teamed up with YouGov to conduct daily opinion polls. You can learn more about this project and take part in YouGov's nationally representative opinion polling. Data from all HuffPost/YouGov polls can be found here. More details on the poll's methodology are available here.
Most surveys report a margin of error that represents some, but not all, potential survey errors. YouGov's reports include a model-based margin of error, which rests on a specific set of statistical assumptions about the selected sample, rather than the standard methodology for random probability sampling. If these assumptions are wrong, the model-based margin of error may also be inaccurate. Click here for a more detailed explanation of the model-based margin of error.
Popular in the Community