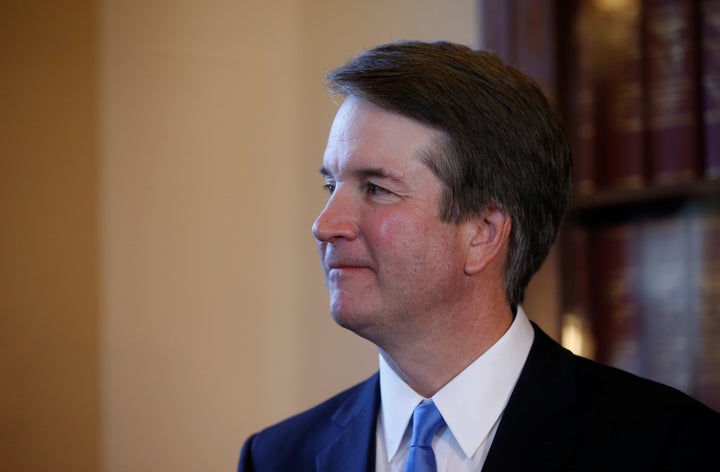 Judge Brett Kavanaugh, Trump's choice for the Supreme Court, is drawing mixed initial reviews, starting out with less support than Neil Gorsuch did in 2017, a new HuffPost/YouGov poll finds. And unlike a year ago, when conservative enthusiasm far outweighed liberal opposition, the intensity of opinions on the latest brewing judicial controversy appears closer to being evenly matched.
Americans are split roughly in three on Trump's decision to nominate Kavanaugh: about a third approving, a third disapproving, and another third saying they're not sure. They're similarly divided on what action they'd like their senators to take, with 33 percent saying they want them to vote in favor, 31 percent against him, and 36 percent unsure.
Views are deeply politicized: 81 percent of Donald Trump voters approve of the president's decision, while 74 percent of Hillary Clinton voters disapprove. A 54 percent majority of voters who stayed home in 2016 or picked a third-party candidate say they don't know enough about the decision to say.
Asked whether the Senate should hold confirmation hearings this fall, or whether it should wait until after the midterms, Americans say by a 5-point margin that it should act before the election. But, after being reminded that Republicans blocked Obama nominee Merrick Garland from receiving a hearing in 2016, they say by an 8-point margin that Democrats would now be justified in doing the same.
Relatively few other surveys have yet been released testing reaction to Kavanaugh. A Fox News poll released Thursday night found voters favored Kavanaugh's confirmation by a 6-point margin, compared to a 12-point margin for Gorsuch. It also found that a sizable fraction of the electorate remained undecided. By an 8-point margin, voters in that poll said the Senate should consider Kavanaugh prior to the November midterms.
A 57 percent majority of those who approve of the nomination say it's because they think Kavanaugh would make a good Supreme Court justice, while 38 percent say it's more because they trust the president to make a good decision. Those who disapprove are more likely to cite Trump as the main factor ― 56 percent say they don't trust Trump with the nomination, while just 34 percent say their opposition lies mostly with Kavanaugh himself.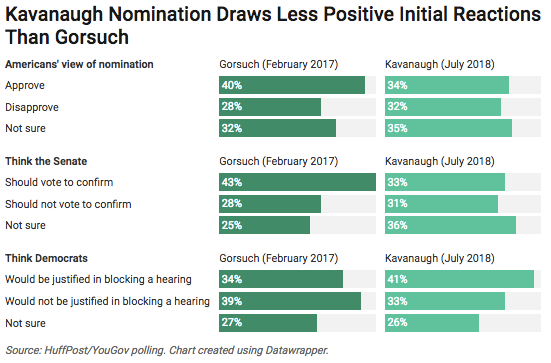 There's also an apparent difference in the way partisans are reacting to the latest nomination fight.
The days following the president's pick of Gorsuch in 2017 found Trump voters broadly enthusiastic, with Clinton voters' reactions ranging between furious and tepid. This time around, the intensity gap is narrower on some questions and nonexistent or reversed on others. In the first HuffPost/YouGov survey after Gorsuch's nomination, 76 percent of Trump voters strongly approved, compared to the 49 percent of Clinton voters who strongly disapproved. On Kavanaugh, that gap is virtually erased ― 57 percent of Trump voters strongly approve, and 60 percent of Clinton voters strongly disapprove.
Clinton voters are slightly less likely than Trump voters to be following stories about the confirmation very closely, and they're less unified in support for blocking Kavanaugh than Trump voters are in support for getting him through. Just two-thirds of Clinton voters say that the Senate should wait until after the midterms, while 81 percent of Trump voters say they should hold the vote before the election. But Clinton's backers are also 34 points likelier than Trump voters to say Kennedy's retirement will have a lot of impact on American politics, and 17 points likelier to say the Supreme Court will be very important to their vote in this year's midterms.
There's still a lot of time for things to change. Supreme Court nominees start off largely unknown, and Americans' first impressions are often tentative, with partisanship playing an increasing role in forming opinions as time goes on. The level of opposition Democrats in Washington put up to Kavanaugh is also likely to play a role in informing the resistance put forward by rank-and-file members of the party. But, as we noted earlier this month, the Supreme Court has generally been an issue of considerably more interest to Trump's supporters than his adversaries. If the latest poll is any indication, the erosion of that gap is something to keep an eye on.
The HuffPost/YouGov poll consisted of 1,000 completed interviews conducted July 10-11 among U.S. adults using a sample selected from YouGov's opt-in online panel to match the demographics and other characteristics of the adult U.S. population.
HuffPost has teamed up with YouGov to conduct daily opinion polls. You can learn more about this project and take part in YouGov's nationally representative opinion polling. More details on the polls' methodology are available here.
Most surveys report a margin of error that represents some, but not all, potential survey errors. YouGov's reports include a model-based margin of error, which rests on a specific set of statistical assumptions about the selected sample rather than the standard methodology for random probability sampling. If these assumptions are wrong, the model-based margin of error may also be inaccurate. Click here for a more detailed explanation of the model-based margin of error.
Popular in the Community