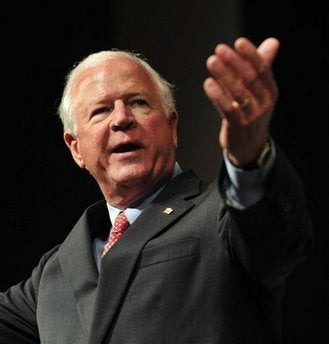 The Democratic Senatorial Campaign Committee has a poll showing Georgia challenger Jim Martin within two points of his Republican rival, incumbent Sen. Saxby Chambliss in their runoff election.
Georgia Democratic Senate candidate Jim Martin is within two points of Republican Senator Saxby Chambliss and holds Chambliss to just 48% of the vote, according to a new poll taken for the Democratic Senatorial Campaign Committee and the Martin campaign. Chambliss leads Martin 48% to 46% in the poll, which was taken by the Mellman Group from November 21 to 23.

"With just a week to go until Election Day, Jim Martin is well-positioned to win this campaign," DSCC spokesman Matthew Miller said. "As every day brings more proof of just how badly Saxby Economics has failed, Georgians are showing they want a leader who will work with Barack Obama to fix the economy, not a politician who blocks change for the middle class."

The poll of 600 likely voters has a 4% margin of error.
But a Public Policy Polling survey finds Chambliss has expanded his lead to six points, leading Martin 52% to 46% with increased support from independents.
Popular in the Community