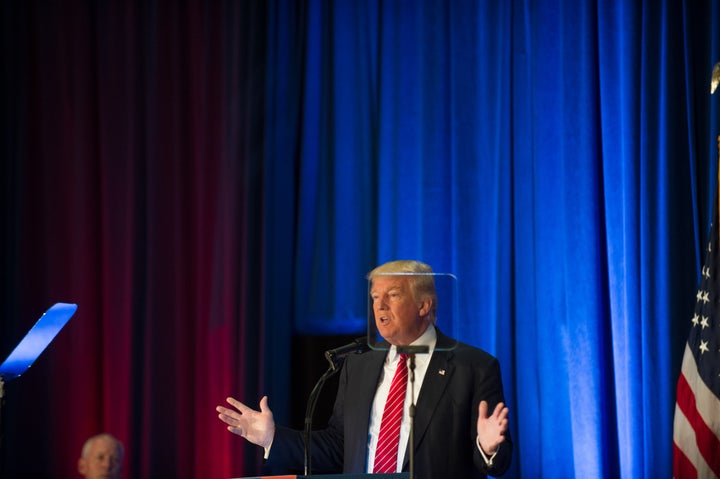 Speaking in Altoona, Pa. earlier this month, Donald Trump sprang the rarely-discussed subject of poll monitoring into the presidential campaign, telling his supporters to go to polling places on Election Day to "watch and study and make sure other people don't come in and vote five times." The Trump campaign launched a "Trump Election Observer"  program later that day, vowing to stop "rigging" of the election.
The need for poll monitors – sometimes called election observers – is very real, but it's not what Donald Trump thinks it is. I should know: I organize them. This is what poll monitors actually do and why they matter.
My organization, Asian Americans Advancing Justice - Asian Law Caucus, and other civil rights and advocacy organizations like Common Cause and Lawyers' Committee for Civil Rights, recruit and train thousands of volunteer lawyers and community members to act as guardians of voters' rights on Election Day. These poll monitors flood voting places across America, equipped with legal training and resources, to protect those casting their ballots from both intimidation from other members of the public and disenfranchisement at the hands of incompetent and sometimes discriminatory poll workers and elections officials. None of this is partisan: If a voter's ability to vote for Donald Trump is being endangered, we will fight to have their rights upheld.
In California, we are lucky. Elections officials generally care about maximizing voter access and very rarely take part in voter disenfranchisement. But as one of the most diverse states in the nation, California must build extensive language assistance into its elections to ensure equal access to the ballot. Sometimes that goes awry.
Here's a recent example: During California's primary election on June 7, 2016, Asian Americans Advancing Justice - Asian Law Caucus sent poll monitors to a county in the Sacramento Valley that we had reason to believe would not meet its legal obligation to provide translated materials to voters who speak Spanish and various Asian languages.
Our monitors met an elderly Chinese American woman at one polling place who had just cast her ballot but looked frustrated and lost. The voter was a largely monolingual Cantonese-speaker, and one of our poll monitors was a young, Mandarin-speaking attorney based in Oakland. Together they were able to piece together what happened. The voter hadn't been able to get translated assistance, either verbally or via translated materials, even though her language limitations were clear to the poll workers present. She said she took great pride in voting in every election, but because she had been forced to cast her vote using English-only materials, she had left several contests blank. Our poll monitor got her contact information so a Cantonese-speaking attorney could follow up after Election Day.
Our poll monitors, who are trained on what federal and state law requires regarding translated materials and language assistance for voters who are not proficient in English, also took immediate action at the polling place. They asked the poll workers about the Chinese-language copy of the ballot that state law says have been posted in a conspicuous place within the polling place. The polling place had the right materials ― but they were buried below other paperwork behind the polling place's main table. Staff admitted they hadn't shown it to the woman when she came to vote just moments earlier. Our monitors asked the poll workers to display the translated ballot, as required by law. They refused.
Our poll monitors then called our organization's centralized command center to report the situation. I was the lawyer staffing the center that day, and I collected a variety of details on the incident before contacting the head of elections in the county directly, an arrangement we had worked out after months of communication with the elections office.
The problems our monitors find at polling places aren't, as Donald Trump would have you believe, people voting again and again because voter ID laws aren't strict enough (California, thankfully, doesn't have one at all). Though claims to the contrary are persistent, in-person voter fraud is exceedingly rare. One comprehensive study, by Loyola University law professor Justin Levitt, found a total of 31 incidents of potential (not confirmed or even prosecuted) cases of voter fraud out of over 1 billion votes cast in 15 years of general, primary, municipal and special elections. The problems organizations like ours see are much less flashy and much, much more common.
Here are the real problems. Long lines at a polling place may force voters to wait an hour or more to cast a ballot. An elections office, short on time and resources, might rush low-quality translated materials that leave non-English speakers confused and underprepared to vote. An elections official short on polling places in a neighborhood might choose a location that is too small to accommodate a wheelchair. A poll worker unfamiliar with non-Anglo names may force Latino and Asian American voters to show identification to prove their identities. Another poll worker might fail to provide provisional ballots when appropriate.
Finding and fixing these problems is no joke. This November, our organization will visit up to 500 polling places across 18 counties in Northern California and the northern Central Valley. Our sister organization in Los Angeles will be in hundreds more across eight counties in Southern California and the southern Central Valley. This work requires a small army of well-organized, well-trained poll monitors, armed with checklists and translated "Know Your Voting Rights" resources stacked on clipboards. Poll monitors will identify problems, attempt to fix those they can, and report those they can't. Issues that can't be resolved may result in a rush to the courts, and widespread failures in a county often need to be litigated after Election Day.
Donald Trump's cavalier comment that his supporters should go to the polls and hunt for non-existent voter fraud trivializes the very hard and very important work of protecting voters' rights at the polls. If he'd like to know what it's really like, I have a clipboard with his name on it.
Jonathan Stein is staff attorney and program manager for voting rights at Asian Americans Advancing Justice – Asian Law Caucus in San Francisco, CA. He is also the Chair of the Board of Directors at California Common Cause.
Calling all HuffPost superfans!
Sign up for membership to become a founding member and help shape HuffPost's next chapter