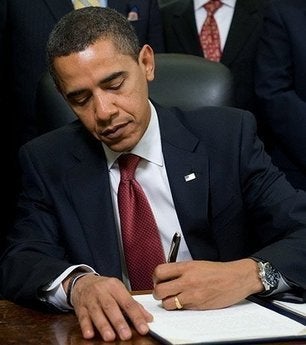 [Editor's Note: Recently, The Borowitz Report has received a number of letters from readers complaining about columns that have seemed to satirize the nation's 44th president. These readers have pointed out that with all of the challenges facing President Obama, the time for such juvenile shenanigans is over. At The Borowitz Report, our response couldn't be clearer: "We hear you." In keeping with the nation's new, post-satirical spirit, we offer the following column, which represents the new and more positive direction we intend to adopt for the next four years.]
One week into his presidency, Barack Obama gets high marks in a new poll, with a majority of Americans agreeing with the statement, "Barack Obama is even more awesome than I originally thought."
The percentage of voters who believe that Mr. Obama is awesome surged during his first week in office, with 82% thinking he is awesome now compared to 77% who deemed him awesome last week.
And in the latest measure of his popularity, Mr. Obama receives higher approval ratings in the new poll than either leprechauns or unicorns, mythical beings that almost everyone agrees are totally awesome.
In a head-to-head contest, Mr. Obama beats leprechauns and unicorns combined, garnering 64% compared to 21% for leprechauns, 14% for unicorns, and 1% for Congressman Ron Paul.
Mr. Obama remains wildly popular among women, with 72% of the women polled saying that they have experienced longer, more powerful orgasms since he was sworn in as president. "I definitely won't have to fake them like I did for the last eight years," said housewife Tracy Klujian of Madison, Wisconsin, who reported having a four-minute climax while watching the inauguration on MSNBC. "That's change I can believe in."
Andy Borowitz is a comedian and writer whose work appears in The New Yorker and The New York Times, and at his award-winning humor site, BorowitzReport.com. He is performing at the 92nd St. Y on April 30 at 8 PM with special guests Judy Gold, Hendrik Hertzberg, and Jonathan Alter. For tickets, go to 92y.org.

REAL LIFE. REAL NEWS. REAL VOICES.
Help us tell more of the stories that matter from voices that too often remain unheard.