Nearly half of Americans have already gotten into a political argument this year, a new HuffPost/YouGov survey finds.
During last year's campaign, it wasn't until September that 45 percent of Americans reported they'd had an election-related fight with a friend, co-worker or family member.  But less than three full months into 2017, an equal 45 percent already say they've clashed with someone in one of those groups over politics.
Thirty-seven percent say they've argued with a friend, 29 percent with a family member and 13 percent with a co-worker. Seven percent have managed to get into a tiff with at least one person in all three categories.
People who approve of President Donald Trump and those who disapprove are about equally as likely to say they have been in an argument.
But certain demographics ― notably, the highly educated and the highly ideological ― are especially pugnacious. Sixty percent of Americans who describe themselves as "very liberal," and 50 percent of those who say they're "very conservative," have gotten into arguments, compared to just 44 percent of self-described moderates. A 54 percent majority of college graduates report having been in disagreements, compared with 42 percent of those without college degrees.
Views of Trump, which were deeply polarized throughout last year's campaign, have remained so in the early days of his presidency. Many Americans, especially those who disapprove of Trump, say they can't understand how anyone could reach a conclusion different from their own.
While 48 percent of Americans who personally approve of Trump's job performance say they understand why someone would disapprove of him, 43 percent say they can't understand that, the poll finds. Trump's opponents are even more vehement, with two-thirds of those who disapprove saying they can't understand why anyone would approve of him, and just 23 percent that they can understand his supporters.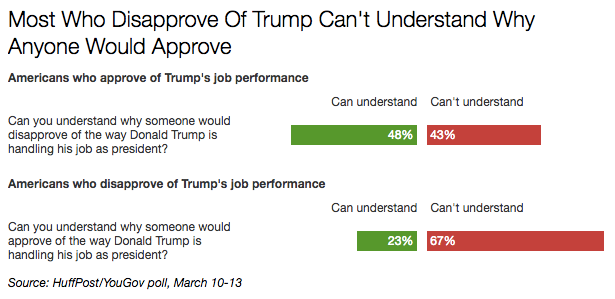 Perhaps that's in part because a lot of Americans aren't close to many people who hold different opinions.
People generally say their closest circle mostly shares their views of the president: 60 percent of those who approve of Trump's job performance say most or all of their family and close friends also approve, while 76 percent of those who disapprove of the president say that opinion is shared by most or all of their friends and family.
Use the widget below to further explore the results of HuffPost/YouGov's survey, using the menu at the top to select survey questions and the buttons at the bottom to filter the data by subgroups:
The HuffPost/YouGov poll consisted of 1,000 completed interviews conducted March 10-13 among U.S. adults, using a sample selected from YouGov's opt-in online panel to match the demographics and other characteristics of the adult U.S. population.
The Huffington Post has teamed up with YouGov to conduct daily opinion polls. You can learn more about this project and take part in YouGov's nationally representative opinion polling. Data from all HuffPost/YouGov polls can be found here. More details on the polls' methodology are available here.
Most surveys report a margin of error that represents some, but not all, potential survey errors. YouGov's reports include a model-based margin of error, which rests on a specific set of statistical assumptions about the selected sample, rather than the standard methodology for random probability sampling. If these assumptions are wrong, the model-based margin of error may also be inaccurate. Click here for a more detailed explanation of the model-based margin of error.
Calling all HuffPost superfans!
Sign up for membership to become a founding member and help shape HuffPost's next chapter