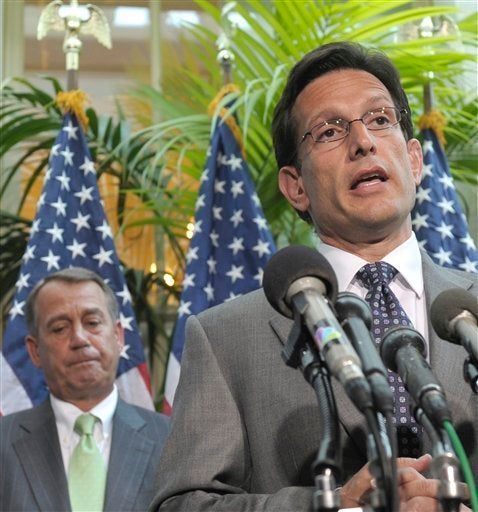 WASHINGTON -- The country may not default on its debt obligations for another three weeks, but that hasn't stopped the public from getting ready to place blame should a debt ceiling agreement not be reached in time.
A plurality of registered voters said congressional Republicans are to blame in the event the debt ceiling is not raised in a poll conducted by Quinnipiac University from July 5-11.
When asked to whom they would assign responsibility should the limit not be raised, 48 percent of respondents chose the congressional Republicans; 34 percent said they would blame the Obama administration.
These results echo a Pew Research Center poll conducted from June 16-19 which asked the same question as the Quinnipiac poll. According to that survey, 42 percent of respondents said they would blame Republicans in Congress if the debt ceiling were not raised; 33 percent chose the Obama Administration.
The findings highlight the political repercussions that the GOP could confront should default occur. They also may explain Senate Minority Leader Mitch McConnell (R-K.Y.) recent decision to author a plan that would place the burden for raising the debt ceiling squarely on President Obama, by giving him the power to continue to borrow money, which could only be vetoed by a two-thirds majority in Congress. Explaining his concept the day after it was introduced, McConnell bluntly admitted that it was driven by political calculations.
"If we go into default he [Obama] will say Republicans are making the economy worse," McConell concluded. "And all of a sudden we have co-ownership of a bad economy."
The numbers provide a bit of good news for the White House, which has seemingly convinced the public of the president's willingness to compromise on the debt ceiling even as Obama continues to press for a deal that raises revenue in addition to cutting spending. But the positive numbers may also be owed to the fact that respondents tend to favor the administration's approach.
A recent Gallup survey conducted from July 7-11 asked how respondents would like to Congress reduce the federal budget deficit. 52 percent of respondents want either mostly spending cuts or a balanced approach, while only 20 percent want only spending cuts.
Popular in the Community