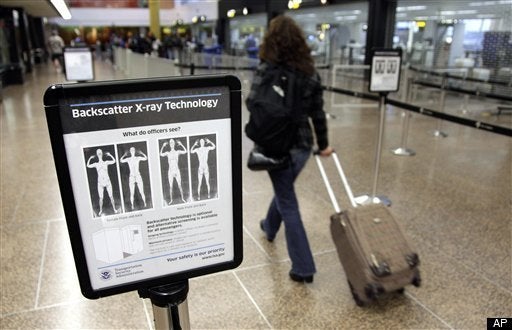 A new poll released on Wednesday shows that most adults in the U.S. support the TSA's new electronic screening procedures, but a slight majority thinks the alternative pat-down procedures go too far.
The ABC News and Washington Post poll found that 64% supported the use of body-scanning machines while 32% were opposed. However, 50% of respondents said that the hand searches for those who do not want to be searched electronically or those selected for additional screening go too far in invading personal privacy, whereas 48% said that they were justified to prevent terrorism. That number is well within the poll's 5% margin of error.
The new poll was conducted Nov. 21 among 514 adults.
The poll is the first to ask a national sample about the new procedures since they were widely implemented and criticized, but an earlier CBS News poll just after TSA began using the new procedures in some airports found that 81% of respondents said that the agency should use the machines and 15% said they should not.
While it's tempting to assume that the different results reflect waning support for the procedures as the public comes to better understand their implementation, different wording in the questions asked makes it impossible to directly compare the results of the two polls. Whereas the ABC/Post poll explained arguments for and against the new measures ("Supporters say these machines improve the ability to spot hidden weapons and explosives, and reduce the need for physical searches" vs. "Opponents say these machines invade privacy by producing x-ray images of a passenger's naked body that security officials can see, and don't provide enough added security to justify this"), the CBS News poll simply stated that digital X-ray machines were now being used by some airports and asked whether they should or should not be used.
The new ABC/Post poll found that those who fly at least once a year are less likely to support either the use of electronic scanners (by 12 percentage points) or the pat-downs (by 8 percentage points). Overall, 47% of respondents said that they fly at least once a year.
The poll also found broad support for using profiling to select passengers for additional screening -- 70% said they supported using profiling and 25% said they were opposed -- but profiling based on some characteristics received more support than others. About 86% in the poll supported profiling based on personal behavior, and 78% supported profiling based on travel history. Respondents supported profiling by nationality by a 55% to 43% margin, and by personal appearance by an even narrower 50% to 48% margin. More respondents opposed than supported using profiling based on sex, race or religion.
Thirty percent of respondents to the poll said that they personally felt either very or somewhat worried about plane travel because of the threat of terrorism, while 66% said they were not worried. Since ABC News and The Washington Post polls started asking that question just after the September 11, 2001 terrorist attacks, this is the lowest percent who have said they are worried about that threat. However, 68% of those surveyed said that it is important to investigate threats even if it resulted in invading privacy, while 26% said that it is more important to avoid intruding on personal privacy.
Clarification: The ABC News/Washington Post poll was produced by Langer Research Associates.
Calling all HuffPost superfans!
Sign up for membership to become a founding member and help shape HuffPost's next chapter