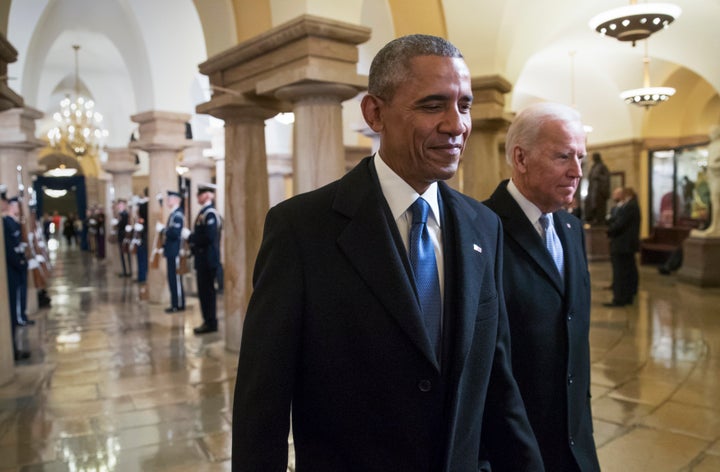 Depending on whether you ask a Democrat or a Republican, Barack Obama's eight years in office left the nation either dramatically better off, or practically a shambles.
Overall, Americans are about evenly split as to how Obama's presidency personally affected them, according to a HuffPost/YouGov poll taken during his final days in office: 32 percent say things have gotten better, 30 percent that they've gotten worse and 30 percent that they've stayed mostly the same. By a 10-point margin, 42 percent to 32 percent, they think the economy has gotten better rather than worse. By a 20-point margin, 42 to percent to 22 percent, they think the nation's position internationally has grown weaker rather than stronger. 
Democrats, however, overwhelmingly say they've seen improvements in their own lives, the American economy and the country's strengths abroad. Republicans disagree on all counts. Practically the only thing both sides agree on is that partisanship has gotten worse.
 A survey taken last year, as Obama delivered his final State of the Union address, found the partisan divide over his legacy outstripping the divide along racial, class or generational lines. In the intervening months, while his personal popularity has rebounded, that rift has remained vividly intact.
"For too many of us, it's become safer to retreat into our own bubbles, whether in our neighborhoods or on college campuses or places of worship or especially our social media feeds, surrounded by people who look like us and share the same political outlook and never challenge our assumptions," Obama acknowledged in his farewell speech last week, calling the trend a "threat to our democracy."
Sixty percent of Democrats say that things have gotten better for them personally since Obama was elected, with 54 percent sayings that things have gotten better for most others in the country as well. About three-quarters think that the economy has improved, and 46 percent say that the country has improved its standing internationally.
In contrast, 58 percent of Republicans say things have personally gotten worse for them since Obama was elected, and 51 percent say that very few others have seen improvements. Sixty-three percent say the economy has declined, and nearly 80 percent say that the U.S. has become weaker in comparison to other countries.
Theoretically, independents are in the middle: 24 percent, for instance, say things have gotten better for them, 32 percent that things have gotten worse and 36 percent that things have stayed about the same. Independents are also split on the economy, with 38 percent saying it has improved, 34 percent that it has declined and 20 percent that it hasn't much changed.
But even independents are politically polarized. Those who lean toward the Democratic Party are 48 points likelier than those who lean toward the GOP to say that their lives improved and 69 points likelier to think the economy got better over the course of Obama's presidency.
Use the widget below to further explore the results of HuffPost/YouGov's survey, using the menu at the top to select survey questions and the buttons at the bottom to filter the data by subgroups:  
A majority across partisan lines ― 59 percent of Democrats and just over three-quarters of Republicans ― as well as two-thirds of independents, say the relationship between the two parties has gotten worse since Obama was elected.
Those fissures seems unlikely to heal anytime soon. While Obama first took office on a broadly based tide of goodwill, views of President Donald Trump are already deeply polarized, as are views of the state of affairs he inherits. Democrats, who were far more likely than Republicans to believe the country was heading in the right direction during Obama's presidency, are now adamant that it's on the wrong track.
"The importance of party and presidential loyalty in basic views of the country could be even stronger under Trump, whose own support has stayed sharply partisan through the typical 'honeymoon' period after the election," pollsters at The Washington Post wrote Friday, noting that as recently as the 1990s, partisanship played far less of a role.  
Political parties also play a crucial role in Americans' image of themselves. According to a November HuffPost/YouGov poll, people are more likely to say they share common interests and concerns with others in their political party than they are to feel connected to those of the same gender, race, class, religion, geographical region or age group.
The HuffPost/YouGov poll consisted of 1,000 completed interviews conducted Jan. 13-17 among U.S. adults, using a sample selected from YouGov's opt-in online panel to match the demographics and other characteristics of the adult U.S. population.
The Huffington Post has teamed up with YouGov to conduct daily opinion polls. You can learn more about this project and take part in YouGov's nationally representative opinion polling. Data from all HuffPost/YouGov polls can be found here. More details on the polls' methodology are available here.
Most surveys report a margin of error that represents some, but not all, potential survey errors. YouGov's reports include a model-based margin of error, which rests on a specific set of statistical assumptions about the selected sample rather than the standard methodology for random probability sampling. If these assumptions are wrong, the model-based margin of error may also be inaccurate. Click here for a more detailed explanation of the model-based margin of error. 
How will Trump's first 100 days impact you? Sign up for our weekly newsletter to find out.
REAL LIFE. REAL NEWS. REAL VOICES.
Help us tell more of the stories that matter from voices that too often remain unheard.