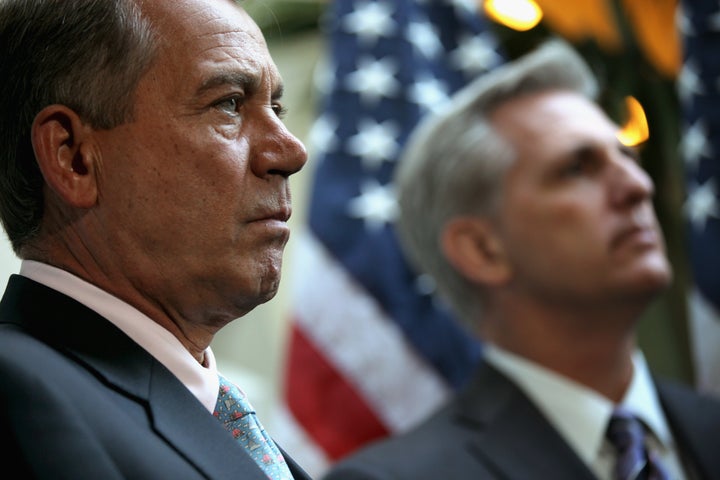 WASHINGTON -- A new survey sponsored by a Democratic super PAC reveals that several Republican-held House seats could be competitive next year as Democrats look to gain 25 seats to take back the House of Representatives.
The poll, conducted by Public Policy Polling on behalf of the Democratic super PAC, "House Majority PAC," shows 12 Republican incumbents in a vulnerable position heading into their reelection campaigns: fewer than 50 percent of voters in their districts would vote to reelect them.
"These polls illustrate that Republican incumbents running in swing districts across the country are in serious trouble and Republican control of the House is in serious jeopardy," House Majority PAC Executive Director Alixandria Lapp said in a press release.
The poll comes as Democrats have retaken the lead on the generic House ballot question, which answers whether voters want to support a Democratic or Republican candidate in their district. An Oct. 10 Reuters poll showed Democrats ahead 48 percent to 40 percent over the Republicans, and an NBC/Wall Street Journal poll also on Oct. 10 found the Democrats with a 45 percent to 41 percent lead.
"The national numbers point to the possibility for Democrats to reclaim a majority in the House next year, and a series of polls conducted by PPP in 12 individual Congressional districts last week backs up what the national numbers are showing," Director of PPP Tom Jensen said in an email.
Despite these numbers, Larry Sabato of the University of Virginia has cautioned not to look too much into them given President Obama's unpopularlity.
1. In none of the 20 previous House elections did one party win a large share of the presidential vote and lose a large number of seats in the House. It would seem quite unlikely that President Obama could go down to defeat, while the Democrats win the 25 seats necessary to regain the House.

2. In the 10 elections since 1952 in which the president's party did not control the House, the largest seat gain for either party has been 21. It would seem that in the past 60 years voters have been unwilling to reward or blame either party too greatly when faced with split government. They tend to like the status quo.

When we combine these two facts with President Obama's low approval ratings, history tells us that the Republicans appear to be in a very good position to keep control of the House.
A recent CBS/New York Times poll showed Congress with just a 9 percent approval rating and a staggering 84 percent disapproving, suggesting that Americans are looking for new candidates to support in 2012.
"The reality at the district level matches the reality at the national level: Americans think John Boehner and the new majority have gone to far," said Jensen.
The race for the House will not be finalized for a few months though; several large states such as Ohio, Florida and North Carolina have yet to finalize their new redistricting lines.
The districts polled in the survey were AR-1, AR-2, CA-7, CA-10, CA-26, CA-36, CA-52, IL-10, IL-11, IL-14, IL-17, and WI-7.
The surveys were conducted in states where the redistricting process has already occurred and had a sample size ranging from a low of 500 registered voters to a high of 1,866 registered voters. The survey was conducted using automated telephone responses and had a margin of error ranging from 2.3 percent to 4.4 percent.

REAL LIFE. REAL NEWS. REAL VOICES.
Help us tell more of the stories that matter from voices that too often remain unheard.