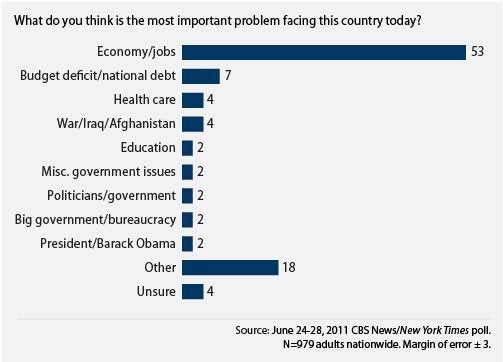 In Washington, talks center around whether and under what conditions lawmakers should raise the nation's debt ceiling. Elsewhere, though, Americans find themselves more preoccupied with the state of the broader economy and, more specifically, jobs.
According to a late-June poll by CBS/New York Times, 53 percent of those surveyed said that the economy or jobs was the most important problem facing America today. Only 7 percent said the budget deficit.
The results reinforce sentiments shared elsewhere, specifically that Americans consider jobs a more immediate priority when compared to deficit reduction. Take another recent poll by Bloomberg that found 42 percent of Americans said they are most worried about job creation. Just 13 percent of respondents said federal deficit.
In June, the U.S. economy only added 18,000 total jobs, and the unemployment rate remains high at 9.2 percent. That lack of job creation could spell trouble for Barack Obama come election time. Of those surveyed by Bloomberg, 44 percent of those polled said that the country is worse off than it was when Obama took office.
Still, large numbers of Americans don't blame Obama for getting the country into this mess. The CBS/New York Times poll, for example, finds that the Bush administration (26 percent) and Wall Street (25 percent) are most to blame for the state of the current economy. Only 8 percent blame the Obama administration.
Indeed, Bush is considered even more culpable according to a recent poll by Quinnipiac University. In that, a full 57 percent place the blame for the current economy on his administration alone.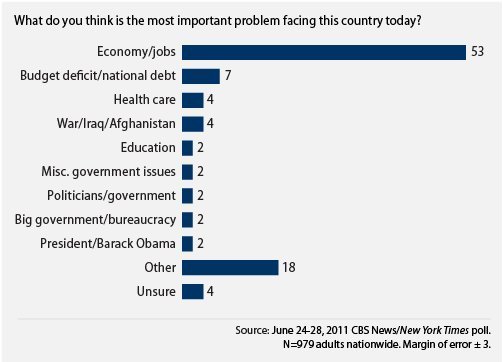 .
Popular in the Community