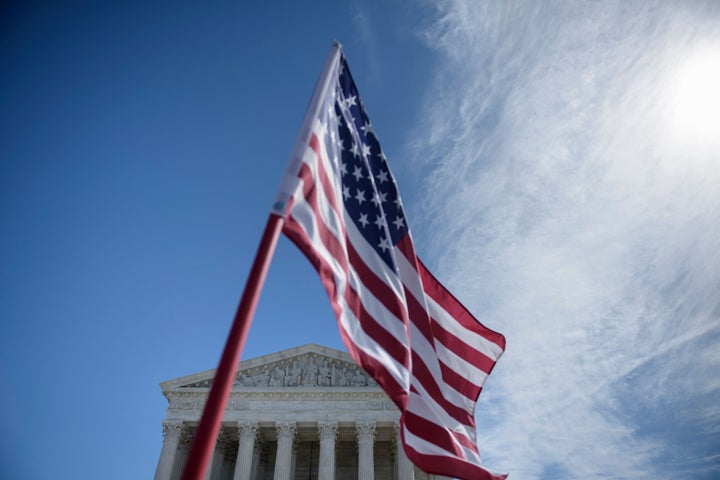 Most Americans want Republicans in the U.S. Senate to consider the president's Supreme Court nominee, new surveys show.
GOP leaders have pledged not to consider Merrick Garland, President Barack Obama's nominee, saying they want to leave the seat vacant until a new president takes office next year. "I can't imagine that a Republican-majority Congress, in a lame-duck session, after the American people have spoken, would want to confirm" Garland, said Senate Majority Leader Mitch McConnell (R-Ky.) on Sunday.
But in a new HuffPost/YouGov poll, Americans approve by a 13-point margin of Obama's decision to nominate Garland, an appellate judge, to the Supreme Court. Fifty-two percent want Republicans in the Senate to hold hearings, while just 28 percent say they shouldn't do so.
While Americans are divided along partisan lines, the split is less dramatic than one might expect. Sixty percent of Democrats want the Senate to hold hearings, as do 49 percent of Republicans and 46 percent of independents.
Other recent surveys concerning Garland find even broader agreement that the Senate should act. Monmouth University found that 69 percent of Americans want the Senate to hold hearings, while NBC/SurveyMonkey found that 61 percent of Americans want senators to vote on the nominee.
You might think those numbers -- 52 percent to 69 percent -- range pretty widely, and you'd be right. The discrepancy has a lot to do with how the question is asked. Phrasing is especially key in polls where the average American isn't likely to hold strong opinions -- and as the HuffPost/YouGov survey shows, the nominee himself is still largely a cipher to the public.
A 48 percent plurality say they don't know how Garland would perform if confirmed, according to the HuffPost/YouGov poll. Fifty-seven percent are unsure about his political leanings. (For anyone who's curious about that, The New York Times offers a good primer.)
Of those who don't want the Senate to hold hearings, just 6 percent say it's because Garland wouldn't be a good justice. Thirty-nine percent instead say they don't think the Senate should consider any nominee appointed by a president whose term is almost over. Another 31 percent cite even more obviously political reasoning: They don't trust Obama to nominate someone who would do a good job.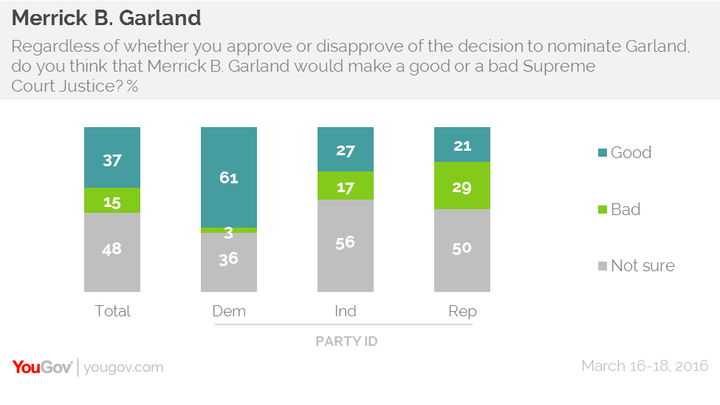 Those who blame their discomfort on Obama's limited time left in office may also be overstating their case. For all the Sturm und Drang surrounding Garland's nomination, public opinion looks strikingly like it has in the past.
"Although the political context surrounding Garland's nomination is different from the context for any other recent Supreme Court nominee, the public's reaction is similar to what it has been for past nominees," Gallup's Jeffrey M. Jones wrote Monday, noting that the percentage of people who favor Garland's confirmation is squarely in line with the polling on other nominees in the past 25 years.
The HuffPost/YouGov poll consisted of 1,000 completed interviews conducted March 16-18 among U.S. adults, using a sample selected from YouGov's opt-in online panel to match the demographics and other characteristics of the adult U.S. population.
The Huffington Post has teamed up with YouGov to conduct daily opinion polls. You can learn more about this project and take part in YouGov's nationally representative opinion polling. Data from all HuffPost/YouGov polls can be found here. More details on the polls' methodology are available here.
Most surveys report a margin of error that represents some, but not all, potential survey errors. YouGov's reports include a model-based margin of error, which rests on a specific set of statistical assumptions about the selected sample, rather than the standard methodology for random probability sampling. If these assumptions are wrong, the model-based margin of error may also be inaccurate. Click here for a more detailed explanation of the model-based margin of error.
Calling all HuffPost superfans!
Sign up for membership to become a founding member and help shape HuffPost's next chapter
BEFORE YOU GO