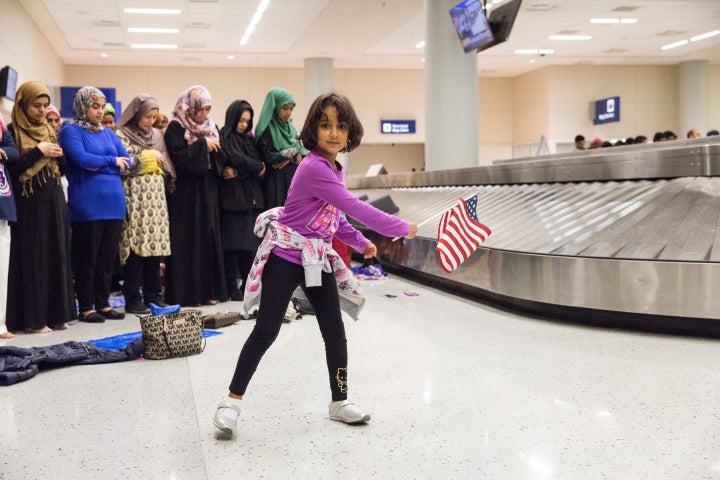 A 48 percent plurality of Americans approve of Trump's executive order banning travel for people from seven Muslim-majority countries ― Iran, Iraq, Libya, Somalia, Sudan, Syria and Yemen ― for 90 days, and suspending the admission of refugees for 120 days, while 44 percent disapprove. Intensity is nearly equal on both sides, with 33 percent strongly approving, and 34 percent strongly disapproving.
Views on implementation of the ban are also divided, with 41 percent saying the government has done a somewhat or very good job carrying it out, and 38 percent that the government's handling of it has been not very good or not good at all.
About a third of the public, 34 percent, say the ban is "good the way it is," with 19 percent saying "it's basically a good idea, but it goes too far" and 36 percent that it's "basically a bad idea."
Despite the administration's insistence otherwise, a 52 percent majority of Americans say the ban is intended to target Muslims, with just 29 percent saying that they don't think it is.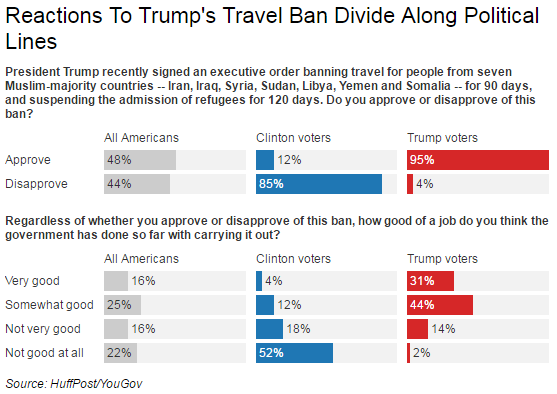 The results are only the latest in decades of polling to show Americans generally opposed to taking in refugees, from Jewish children fleeing the Holocaust in the 1930s to Vietnamese "boat people" seeking refuge in the late 1970s.
Trump's 2015 statement calling for a broader "total and complete shutdown of Muslims entering the United States until our country's representatives can figure out what is going on" met with general disapproval. But support for the idea rose, especially among the GOP, after Trump became the party's front-runner and eventual nominee. Since then, high-ranking GOP figures who spoke out against the initial proposal, including House Speaker Paul Ryan (R-Wis.) and now-Vice President Mike Pence, have backed away from that public opposition, leaving the Republican Party mostly in lockstep on the issue.
Trump and Clinton voters take opposing views
Ninety-five percent of Americans who voted for Trump in 2016 approve of his executive order, compared with just 12 percent of Hillary Clinton voters and 44 percent of those who didn't vote in last year's election.
"He's doing exactly what he said he'd do," Tony Collins, a 72-year-old Trump voter living in a deeply Republican pocket of West Virginia, told HuffPost's Dave Jamieson. "I feel safer already."
While 16 percent of Clinton voters think the government did at least a somewhat good job of implementing the order, 75 percent of Trump voters say the same. Trump voters' level of support for the ban itself, however, doesn't extend to how it's been handled in practice. Although 81 percent strongly approve of the order, just 31 percent say the government has done a very good job of carrying it out.
Eighty-two percent of Trump voters say the order is "good the way it is," while 76 percent of Clinton voters call it "basically a bad idea." Non-voters are split multiple ways, with 25 percent saying it's good the way it is, 24 percent that it's a good idea taken too far, and 30 percent that it's a fundamentally bad idea.
Most Americans don't personally know a refugee
Just 24 percent of Americans say they know an immigrant from any of the seven countries affected by the order, and just 30 percent that they know anyone who came to the country as a refugee. Four percent say either that they or someone in their families emigrated from one of the countries affected, or that they or someone in their families is a refugee.
Clinton and Trump voters are both about equally likely to know someone fitting the description ― 28 percent of Clinton voters and 27 percent of Trump voters say they know an immigrant from one of those countries, while 35 percent of each candidate's supporters know a refugee.
Such familiarity may have a modest impact on opinions of the travel ban. Half of Americans who know either a refugee or an immigrant from one of the seven countries disapprove of the ban, compared with 42 percent of those who do not.
Why polling on the ban is challenging
Surveys attempting to gauge public support for a policy sometimes vary significantly in their results. That's particularly true on this topic, which has proved to be sensitive to small changes in wording and possibly to differences in methodology.
In late 2015, for example, when Trump first proposed a temporary "total and complete shutdown of Muslims entering the United States," polls found support ranging from 25 percent to 45 percent among all Americans, and from 42 percent to 69 percent among Republicans.
How each question was worded seemed to make a substantial difference. The survey finding the least support used Trump's language about a "total and complete shutdown" without implying that the move would be in any way temporary; the one finding the highest support omitted Trump's name, while also noting that the proposed shutdown would last "until our country's representatives can figure out what is going on."
Surveys conducted online or using automated phone calls also found generally higher support for a ban than did those using live interviewers, raising the possibility that some respondents are more loath to admit their backing for the ban when speaking to another person.
While few surveys taken in response to Trump's executive order have been released at this time, it's likely that they may also show some similar variance. There's not necessarily a "right" way of wording the question, but many small decisions ― whether to use Trump's name, for instance, or whether to use the term "executive order" or "travel ban"― could help to shape reactions.
An online Reuters/Ipsos survey, conducted Monday and Tuesday, found that Americans agreed 48 percent to 41 percent with the order, which the survey described as an "Executive Order that President Trump signed on Friday that blocked refugees from entering the U.S. for at least 120 days and banned people from seven Muslim countries from entering the U.S. for at least 90 days."
A survey by the Democratic firm Public Policy Polling, which conducts its polls largely through automated phone calls, found that 47 percent of Americans supported "Donald Trump's executive order banning refugees and citizens of certain countries from entering the United States," with 49 percent opposed. Gallup, which uses live interviewers, found substantially less support, with 42 percent of Americans approving of ordering a "temporary ban on entry into U.S. for most people from seven predominantly Muslim countries," and 55 percent opposed.
Some wording choices are almost guaranteed to make a difference in how a policy is perceived in a survey. Such is the case with a survey from Rasmussen Reports, conducted before the issuance of the order, which found 57 percent of likely voters in favor of a ban. White House press secretary Sean Spicer cited those numbers at a briefing on Wednesday, as proof that "the American people as a whole are very supportive of the action that the president is taking."
Rasmussen's poll, however, didn't just pre-date the implementation of policy it was asking about. The survey, conducted largely through automated phone calls, also asked for opinions on a ban that would be put in place "until the federal government improves its ability to screen out potential terrorists from coming here," a bit of phrasing almost certain to juice support for the order.
Use the widget below to further explore the results of HuffPost/YouGov's survey, using the menu at the top to select survey questions and the buttons at the bottom to filter the data by subgroups:
The HuffPost/YouGov poll consisted of 1,000 completed interviews conducted Jan. 31-Feb. 1 among U.S. adults, using a sample selected from YouGov's opt-in online panel to match the demographics and other characteristics of the adult U.S. population.
The Huffington Post has teamed up with YouGov to conduct daily opinion polls.You can learn more about this project and take part in YouGov's nationally representative opinion polling. Data from all HuffPost/YouGov polls can be found here. More details on the polls' methodology are available here.
Most surveys report a margin of error that represents some, but not all, potential survey errors. YouGov's reports include a model-based margin of error, which rests on a specific set of statistical assumptions about the selected sample, rather than the standard methodology for random probability sampling. If these assumptions are wrong, the model-based margin of error may also be inaccurate. Click here for a more detailed explanation of the model-based margin of error.
This post has been updated with results from additional surveys.
Popular in the Community