And in spite of the reported "chaos" enveloping his administration, perceptions of the president's competence remain essentially unchanged, although Trump supporters may be feeling less enthusiastic about his ability to get things done.
Americans remain divided over Trump's performance, with slightly more expressing disapproval than approval in SurveyMonkey's ongoing national tracking. Our presidential approval number has varied only slightly (between 43 and 46 percent) in surveys conducted over the past month, with roughly 90 percent of Republicans expressing approval and roughly the same proportion of Democrats expressing disapproval each week.
Perceptions of Trump on more specific measures have also remained mostly unchanged. This past week, for example, we again provided respondents with a list of characteristics and qualities and asked them to select those that best apply to President Trump. While all selections are down slightly from earlier in the month, fundamental perceptions of Trump remain unchanged, as reflected in the nearly identical rank order of results.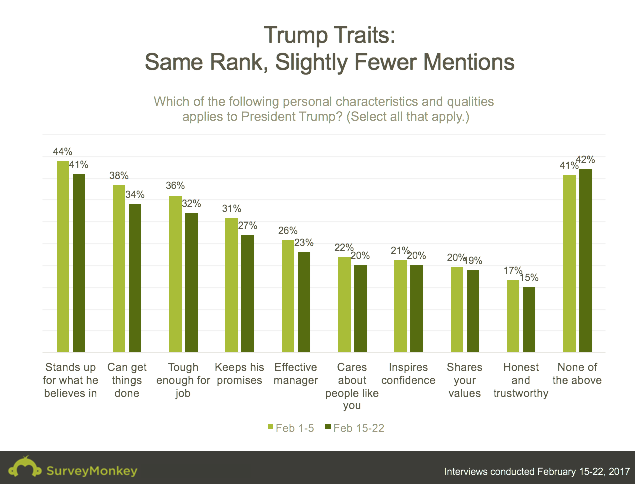 The characteristics cited most often produced the biggest declines, especially "can get things done" (down from 38 to 34 percent), "tough enough for the job" (from 36 to 32 percent) and "keeps his promises" (from 31 to 27 percent). While the changes are modest, as we noted two weeks ago these perceptions are critical among people who only "somewhat approve" of Trump. A sustained change in judgements of his ability to "get things done" could cause a significant drop in his overall approval rating.
Although responses were down for each of the nine characteristics, the percent of respondents who didn't choose any increased by just a single percentage point (from 41 to 42 percent)—not a large enough difference to be statistically meaningful. Taken together, these results may indicate a slight decline in enthusiasm among Trump's supporters, despite their overall approval of him.
This pattern shows up in the data in other ways, as well. On a separate question asking how competent the Trump administration has been in managing the federal government, Americans remain divided: 49 percent say very or somewhat competent, and 48 percent say not too or not at all competent. Earlier in the month, the numbers were virtually identical. The biggest change is a drop from 30 to 25 percent for those who consider the administration "very competent."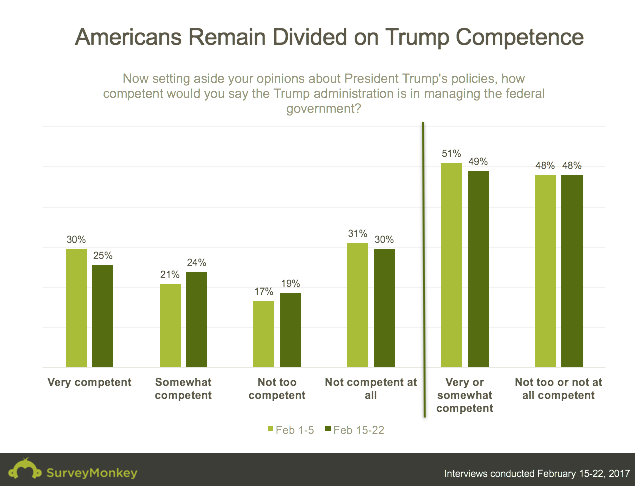 On another "check all that apply" question, reactions to Trump as President are very similar to those expressed a month ago regarding Trump's inauguration. The numbers feeling hopeful (35 percent), fearful (33 percent), excited (18 percent) or proud (13 percent) were nearly identical to responses a month ago, while increasing for those feeling ashamed (up from 25 to 33 percent), or angry (from 17 to 20 percent).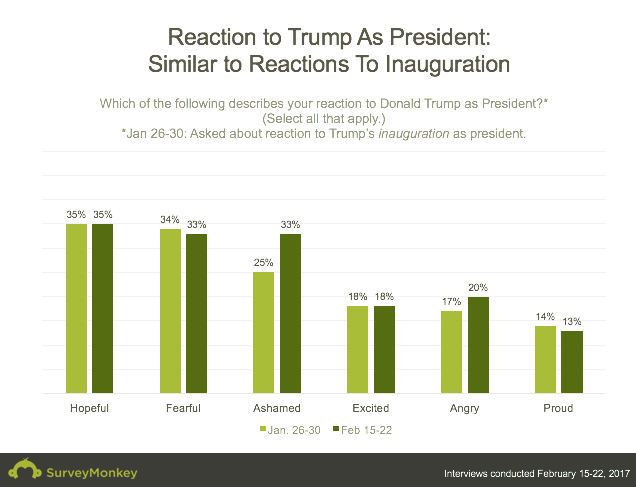 Perhaps in reaction to ongoing crisis stories, a larger number of Americans – 46 percent, up from 41 percent just after the inauguration – now say the news media has been "too critical" in their coverage of Trump. Even with the change, Americans remain divided on the issue, with slightly more (52 percent) who feel the coverage has been either fair or not critical enough than those who feel it has been too critical (46 percent).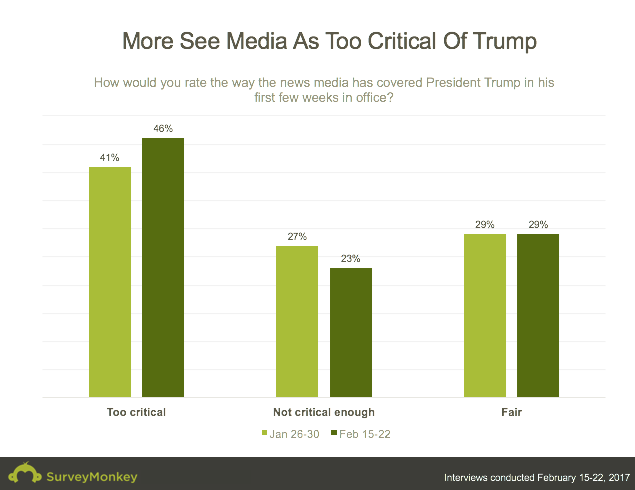 Methodology: This SurveyMonkey Tracking poll was conducted online January 15-22, 2017 among a national sample of 6,958 adults ages 18 and up. Respondents for this survey were selected from the nearly 3 million people who take surveys on the SurveyMonkey platform each day. Data for this week have been weighted for age, race, sex, education, and geography using the Census Bureau's American Community Survey to reflect the demographic composition of the United States. Full topline results and detailed demographic breakdowns can be viewed here. This entry is cross-posted to the SurveyMonkey tracking blog.
Popular in the Community