President-elect Donald Trump's use of Twitter to make provocative comments about national and international affairs has put the world in a conundrum over whether to take his tweets seriously. And once he's inaugurated, should those tweets be considered official presidential statements?
Americans are divided on the issue. A new poll from Politico/Morning Consult shows that only 44 percent of registered voters think tweets are an effective way for a president (or their administration) to communicate with the people and the press. That includes 17 percent who say tweets are "very effective" and 27 percent who say they are "somewhat effective." Forty-seven percent think Twitter isn't an effective form of communication, and 9 percent don't know or don't have an opinion.
That stands in stark contrast to other, more traditional forms of presidential communication. More than 8 in 10 voters think presidential speeches and press releases or official statements are effective forms of communication. About three-quarters think press briefings, television appearances and interviews with journalists are effective ways for a president and his or her administration to communicate with the public.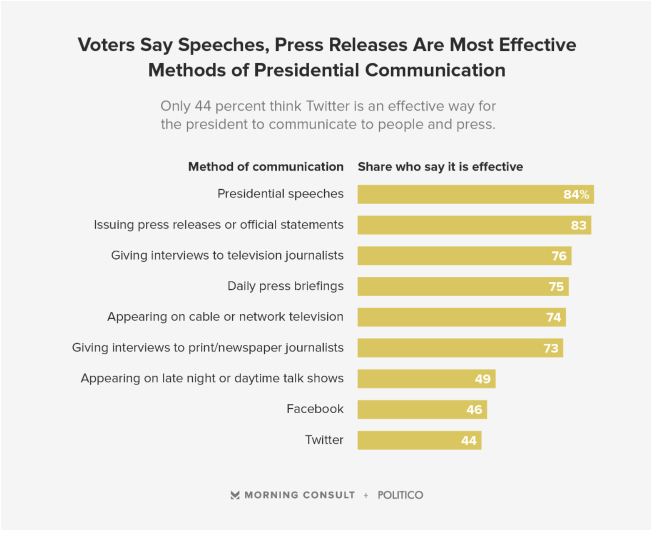 In addition to skepticism about Twitter, fewer than half of voters think that posts on Facebook, or appearances on late-night or daytime talk shows, are effective forms of communication.  
There is a generational divide in views of social media as effective communication, though. Younger voters are more likely to view Twitter as a viable medium ― 55 percent of 18- to 29-year-olds, and 50 percent of 30- to 44-year-olds, think tweets are an effective way of communicating. Just under half of people ages 45-54 say the same. Among people 55 and older, the proportion who think of Twitter as effective communication dips below 40 percent.
Similar age differences are evident in the responses about how effective Facebook and talk show appearances are for communicating with the public. But all voters, regardless of age, view the more traditional communication methods as generally effective.
Trump's use of Twitter once he's inaugurated will almost certainly continue to shape people's views about whether the social media platform is an effective way for a president to communicate. In the meantime, the president-elect is apparently still tweeting out his opinion on any topic that comes to mind. Here are the tweets he sent just while I was writing this article:
The Politico/Morning Consult poll of 2,000 registered voters was conducted online Dec. 28-29, 2016, and has a margin of error of +/- 2 percentage points. Full results and crosstabs are available here. 
Calling all HuffPost superfans!
Sign up for membership to become a founding member and help shape HuffPost's next chapter