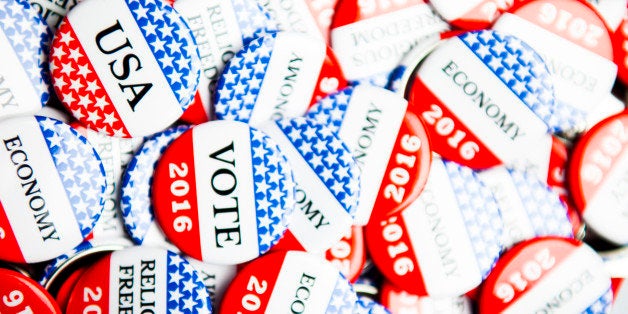 For those Illinois Democrats who have been trusting in Hillary Clinton's skirt tails as the 2016 Democratic presidential nominee to help sweep Illinois House and Senate Democratic incumbents back into office and to perhaps topple some GOP lawmakers, uh, knock it off.
An Illinois juggernaut the Clinton campaign is not.
As a raft of new Iowa and New Hampshire polls reveal, Clinton is struggling against Vermont U.S. Senator Bernie Sanders in those looming primary contests. In Iowa, A January 15-20 CNN-ORC poll CNN-ORC gave Sanders 51% to Clinton's 43%. In December, CNN-ORC had Clinton leading Sanders by 18 points.
Closer to home, a January 18-19 poll of 570 likely Democratic voters, conducted by KBUR-AM (Burlington, IA) and Monmouth College shows that Clinton leads Sanders 48% to 39%, but, like CNN-ORC, it is a steadily diminishing lead from a 63% to 20% advantage in June and 46% to 32% lead in October.
Former Maryland Governor Martin O'Malley - yes, he's still campaigning - has 7% of the vote, a slight increase from 5% support in both June and October.
"There's no question Sanders has gained momentum and has steadily gained on Clinton," KBUR-AM "Talking Politics" host Robin Johnson said.
Clinton's dismal standing in the polls has unleashed another round of hand-wringing among national Democrats over the durability and draw of her candidacy.
Additionally, a new Illinois poll from The Illinois Observer's subscription e-newsletter, The Insider, that pits Clinton against Donald Trump as the GOP nominee should also cause Illinois Democrats to wring their hands too over voter enthusiasm for the former First Lady who grew up in suburban Park Ridge, Illinois.
The January 9 survey of 502 likely 2016 Illinois voters finds that Clinton edges Trump 36.5-27.5% - or 9 lousy points - and with 36.1% undecided.
The poll had a +/- 4.46% margin of error.
If Clinton can't cross 50% in blue Illinois against Trump and can't scrape together at least a 10-point lead against the blow-hard billionaire, she - and House Speaker Michael Madigan and Senate President John Cullerton - have plenty to worry about.
Since Bruce Rauner's win in 2014, Democratic campaign operatives and lawmakers have invested much faith for 2016 in the "Democratic presidential turnout" theory as a fire-wall against Rauner's expected money tidal wave that will crash against them.
In 2012, Barack Obama defeated Mitt Romney 57.6-40.7% in Illinois, a victory which helped hand Madigan and Cullerton supermajorities in both chambers.
At this point, Clinton, despite being from Illinois, is generating nowhere near Obama-level of enthusiasm. As the Democratic nominee, almost no credible observer would suggest that Clinton could lose Illinois, but a lackluster Clinton and Rauner's cash combined could easily whittle away Madigan and Cullerton's supermajorities.
For those top Democrats, a Democratic state representative and state senator are far more valuable to their political fortunes than a Democratic President of the United States.
davidormsby@davidormsby.com
Calling all HuffPost superfans!
Sign up for membership to become a founding member and help shape HuffPost's next chapter