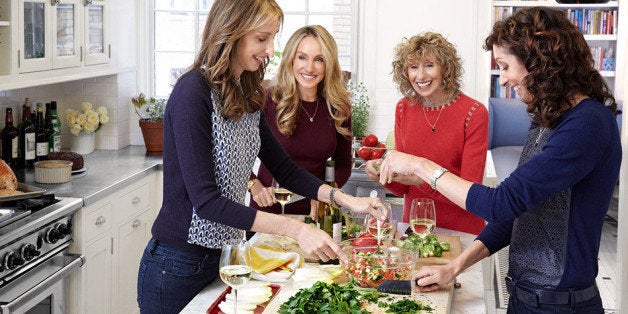 This elegant Manhattan apartment -- its tall ceilings, bisque walls hung with grand oil paintings, and windows overlooking the thrilling green of Central Park -- is full of warm, familiar sounds, like bare feet on wood floors and knives drumming against cutting boards and the snapping pops of delicious fried things becoming delicious fried things. But the smell in here, a combination of roast turkey, olive oil, fresh herbs and caramelized sugar, is the place's most extraordinary feature by far. Follow it through the front door and you'll find yourself in the kitchen, where food magazines are stuffed in every nook, the cupboards contain everything from corkscrew pasta to coriander, and four women who look remarkably alike are making Thanksgiving dinner.
Well, sort of. Today the women of the Pollan family -- Corky, the matriarch and daughters Dana, Lori and Tracy -- have assembled to fine-tune the Turkey Day menu, using Tracy's apartment (which she shares with her husband, the actor Michael J. Fox, and their four children) as a laboratory. Perfecting the meal is no small matter -- this is a family that takes its culinary cred seriously. Corky, a former shopping columnist at New York magazine and onetime style director of Gourmet, is an accomplished cook. All three Pollan sisters have followed in her footsteps, and their brother, food writer Michael Pollan, is, well, food writer Michael Pollan, the author of The Omnivore's Dilemma (perhaps best known for coining the essential eating advice "Eat food. Not too much. Mostly plants.").
But he's not the most recent author in the clan. The new cookbook The Pollan Family Table was a joint effort undertaken by Corky and her three daughters, who felt it was high time they collected their go-to recipes in one volume. "We said to one another, 'Wouldn't it be great to gather all the recipes we love? '" Dana says as she folds cubes of Granny Smith apple into cinnamon-flecked cake batter.
They weren't the only ones with an interest in the project. "We all had friends asking us, 'What's that great thing you make? '" Tracy says, grating sweet potatoes on the kitchen island. "And it became a running joke. People would say, 'Just write a cookbook so we don't have to ask all the time.'"
The art of cooking for one's family is slowly getting lost, the sisters believe. The culprit? A misunderstanding that it's just too complicated. "I know people who say, 'I can't cook. You don't know my schedule! '" Lori says. "But our philosophy is that something is better than nothing. If you eliminate just one processed food from your dinner, right there the quality of your diet has gone up." The Pollans' cookbook makes simple switches even simpler, with recipes for staples such as salad dressing and tomato sauce, which are almost as easy to make as they are to buy.
Of course, the benefits of a home-cooked meal extend beyond nutrition—as the Pollan sisters, who have ten children between them, know firsthand. "We ate dinner together every night as kids," Lori continues. "It was the highlight of the day. Mom was always trying new things. Our friends would come for dinner and exclaim over her artichokes, which they had never seen before."
"Nobody else was making artichokes at home in the '70s!" Tracy says. "Or Mexican food, Indian food or Italian food."
"She made it look effortless," Dana says.
Cooking for your family may be simpler than you think, but choosing what to make every night can be a challenge—though being part of a clan as tightly knit as this one does help. The Pollan women, all but one of whom live within walking distance of one another, have quite the culinary phone tree going on.
"We're constantly calling each other up to ask, 'What are you doing for dinner tonight? I don't know what to make. I can't even think!'" Lori says. She peeks into the oven to see how the pecan tartlets are coming along.
This crowdsourcing strategy makes sense, considering that each member of the family has her own specialty. Dana is known for unfussy cooking, Lori for vegetables. Corky is the queen of sweets.
"I do more desserts than the girls do," she says. "That didn't used to be true, but now I have grandkids." Corky spoons cucumber, red bell pepper and feta into little endive boats for an inventive take on Greek salad, transforming it into a two-bite (and very tasty) hors d'oeuvre.
"It sounds funny," Tracy says, "but I'm known for my sandwiches."
"Yeah!" she says. "They're crazy intricate -- all kinds of combinations of herbs and dressings. The downside is that now everybody wants me to make their sandwiches for them."
Sandwich skills will come in handy at Thanksgiving because the Pollans make a ton of food, and like any sane American family, they know the best way to enjoy leftovers is between two slices of bread.
"We divide and conquer at Thanksgiving," Tracy says. "My mom does one turkey. My brother gets an heirloom one from a farm. They each do their own gravy. It's like the grand tasting of the birds."
"There are certain classics" -- such as the family's beloved garlic mashed potatoes -- "but we always try new sides and desserts."
This year the menu has come together nicely: the endive boats, a savory-sweet turnip and pear puree, sweet-potato pancakes, spinach gratin and the apple cake with crumbly brown-sugar topping. (The pecan tartlets are on the holiday table every year, but the Pollan women whipped them up anyway -- they were just in the mood.) The ladies look around at their spread and marvel: Thanksgiving is good to go. All that's left to do is gather in the breakfast nook, have a chat, and, of course, dig in.
The ladies' new cookbook, The Pollan Family Table, features time-honored recipes beloved by the entire clan, plus easy, healthy takes on an array of classic dishes.
REAL LIFE. REAL NEWS. REAL VOICES.
Help us tell more of the stories that matter from voices that too often remain unheard.