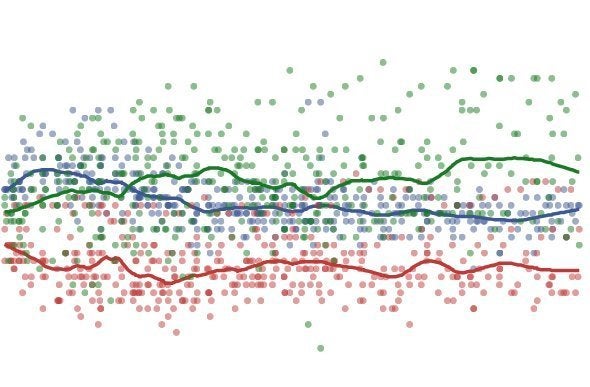 As the presidential race heats up, Americans are increasingly turning to political polls to try to understand the current opinions of the electorate. With that scrutiny have come calls for greater transparency, both for pollsters and for those who aggregate and report polls, as we do at the Huffington Post.
While there are several news organizations that aggregate and analyze polling data, as of yet none have made the underlying numbers that they collect available in a format for other software developers to build programs with. We hope that in making this data accessible we can not only help journalists, researchers and policy analysts better understand current opinions and trends, but also empower them to shed greater light on the limitations and biases of polls and the organizations that conduct them.
This initial release includes data from more than 215,000 responses to questions on subjects ranging from broad impressions about the direction of the country ("In general, how satisfied are you with the way things are going in the nation today?") to specific policy issues ("Do you think Barack Obama's health care plan is a good idea or a bad idea?") to horse race questions about upcoming elections ("If the election for Senator were being held today, and the candidates were Bill Nelson the Democrat and Connie Mack the Republican, for whom would you vote?").
The numbers come from more than 13,000 polls, which we've organized by subject and geography into more than 200 charts. The data feeds operate in real time, so shortly after we add a new poll to our database, it'll appear in the HuffPost Pollster API's responses and calculations.
We're publishing the data as an HTTP-based application programming interface, or API, with JSON and XML responses. For researchers, journalists or anyone who might have trouble using an API, we will soon make the data available through Atom feeds and Excel-ready CSVs.
We're looking forward to seeing what people build with this data. Please send us suggestions on how we can improve the HuffPost API and let us know if you use it in your work.
Popular in the Community