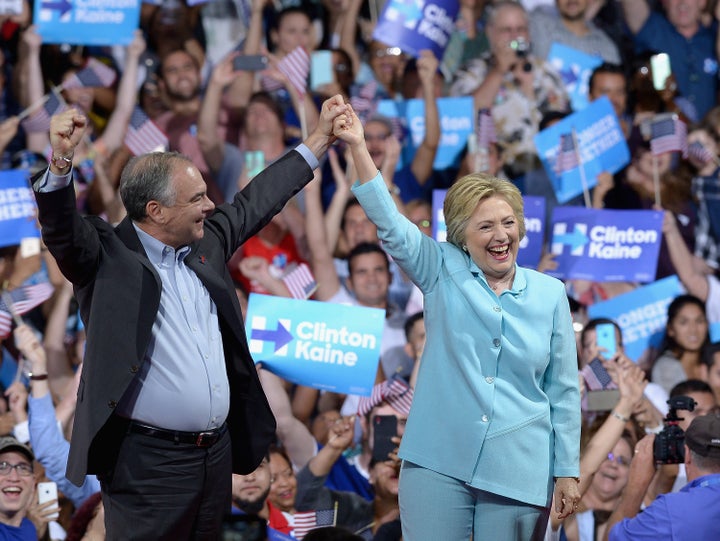 The American public was historically opposed to the idea of a woman as president. Hillary Clinton's favorable rating dipped heading into the convention. And GOP activists have reluctantly decided to support Donald Trump. This is HuffPollster for Wednesday, July 27, 2016.
AMERICANS HAVE COME A LONG WAY TO NOMINATE A WOMAN - HuffPollster: "'If the party whose candidate you most often support nominated a woman for President of the United States, would you vote for her if she seemed best qualified for the job?' pollsters from Gallup asked the American public in 1945, two years before Hillary Clinton was born. Just a third said yes. Seventy years later, in 2015, Gallup asked the same question again. This time, 92 percent of voters said they would….The shift in responses across the past seven decades cuts through the partisanship and polarization surrounding the 2016 campaign to demonstrate the American public's steadily growing consensus that a woman is capable of leading a nation." [HuffPost]
WOMEN WILL BE A CRITICAL VOTING BLOC FOR CLINTON IN NOVEMBER - Democracy Corps (D): "[W]omen will determine the outcome of this election. They are repulsed by Donald Trump, and 63 percent view him unfavorably, (58 percent very unfavorably). Hillary Clinton was 3 points ahead of Donald Trump in a 3-way ballot in Democracy Corps' national likely voter survey right before the Republican Convention; that grew to 7 points ahead in a 2-way ballot. But consolidated support among key groups of women and gains with white working class women are likely to propel her further ahead in the days after the Democratic National Convention….College educated women will count for 27 percent of the 2016 electorate, up from 23 percent in 2004, and they are delivering a 20 point margin for Clinton in a 3-way ballot (up from +13 for President Obama in 2012)....The white working class women, by comparison, will count for only 17 percent of the 2016 electorate and 64 percent are voting for Trump in the 3-way ballot. The 35 point margin for Trump is fairly recent and has allowed Trump to move ahead of Romney's margin (39 Obama, 59 Romney, +20 Romney). Thus, persuadable white working class women are also an important target for progressives, as women play such a critical role in 2016." [Democracy Corps] 
CLINTON'S FAVORABILITY AMONG HER PARTY HAS DROPPED WHILE TRUMP'S HAS IMPROVED- Harry Enten: "A look at the recent polling shows that Clinton and Donald Trump are now about equally popular, both with their respective bases and with the American public at large. Even after becoming the presumptive Democratic nominee, Clinton has seen little improvement in her standing among Democrats and Democratic leaners. According to Gallup, Clinton's favorable rating among those groups was 68 percent on the day of the California primary (June 7). Today, it stands at 70 percent. In other words, nearly a third of Democrats don't hold a favorable view of her…. Even if most Democrats prefer Clinton to Trump, a sizable portion of them do so at this point without liking her. Trump's popularity with Republican and Republican leaners, meanwhile, has spiked since he wrapped up the Republican nomination. Gallup pegged Trump's favorable rating at just 58 percent with Republicans on the day of the Indiana primary (May 3). Now, it's 72 percent….But as Trump has improved his image on the right and Clinton has failed to improve hers on the left, they now find themselves in the same spot." [538]
Trump and Clinton are both flawed candidates - Sean Trende: "Now we are in the post-convention phase of the campaign. Trump leads by .2 percent in the RCP Average and has cleared 44 percent of the vote. FiveThirtyEight gives Trump a 46.1 percent chance of winning overall and a 54.5 percent chance of winning on Election Day, if things look then the way they do today. Yet we continue to hear arguments as to why he just won't win... It should be obvious by this point that, yes, there really is a winning Trump coalition with a non-trivial chance of coming together…. I don't think people fully appreciate just how damaged Clinton is as a candidate…. For example, pages have been written about Trump's atrocious favorable ratings, which currently sit at 36.3 percent positive, 56.6 percent negative. But Clinton's favorable ratings are not much better: She has a 38.4 percent positive rating and a 55.4 percent negative rating. That difference isn't exactly meaningless, but it comes close. What's happened is that, amazingly, this race has been transformed into a race between a generic Republican and a generic Democrat. Right now, the so-called "fundamentals" of economic growth, presidential approval and incumbency point toward a slight Republican advantage. The polls simply reflect this." [RealClearPolitics]
GOP ACTIVISTS BEGRUDGINGLY BACK TRUMP - HuffPollster: "More than 80 percent of GOP activists plan to vote for Trump for president...and most believe he'll win. But far fewer see this year's outcome as ideal. Forty-four percent say Trump was the party's best option for a nominee, while 48 percent believe they could have done better. Forty-four percent say that the primary made them feel worse about the Republican Party. Just 24 percent say it left them feeling better. While most national polls attempt to provide a snapshot of the full American electorate, The Huffington Post partnered with YouGov to focus on a more specific constituency: Republicans who have run for or held office, served as party officials, worked on campaigns or volunteered their time to the party before elections. These people don't resemble average voters, and their opinions shouldn't be taken as representative of all Republicans nationwide. They're highly informed about and engaged in the political process ― the kind of activists who play crucial roles in campaigns' get-out-the-vote and fundraising efforts." [HuffPost]  
HUFFPOLLSTER VIA EMAIL! - You can receive this daily update every weekday morning via email! Just click here, enter your email address, and click "sign up." That's all there is to it (and you can unsubscribe anytime).
WEDNESDAY'S 'OUTLIERS' - Links to the best of news at the intersection of polling, politics and political data:
-Tim Kaine's image suffers when voters hear about gifts he received while in office. [Morning Consult] 
-Michelle Obama is the most liked among the Democratic convention speakers. [Gallup]
-Emily Guskin assess how many Bernie Sanders supporters Hillary Clinton could lose to third party candidates. [WashPost]
-Michael Traugott explains the Pew poll that shows Sanders voters supporting Clinton. [The Hill]
-Very few ordinary citizens in the Arab world are sympathetic to ISIS. [WashPost]
-Americans are skeptical of biomedical technology. [Pew]
Calling all HuffPost superfans!
Sign up for membership to become a founding member and help shape HuffPost's next chapter