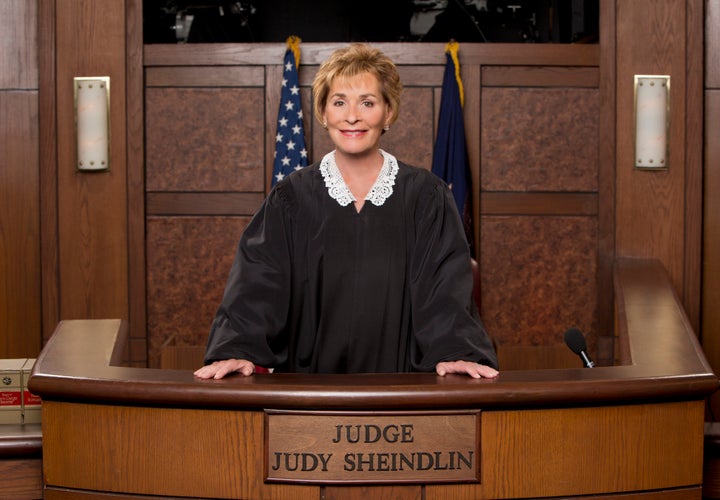 Do you think Judge Judy is a member of the Supreme Court? Yes? Maybe?
Doesn't matter. Anything less than "absolutely not" shows you've been failed by higher education, and our country is therefore in a state of peril. Oh, and you probably don't understand the First Amendment, either.
"If 'Judith Sheindlin' is a name that could be confused with one of the justices, something's gone badly off," the group's vice president of policy, Michael Poliakoff, told HuffPost. Indeed, that's the part that many major publications focused on in reports about the poll.
But before we decry the state of the American higher education system, let's take a look at the actual question:

The majority of college grads, 61.6 percent, correctly chose Elena Kagan. The second-most selected option was Lawrence Warren Pierce, a former federal judge with a name that's relatively unknown to the general public.
Almost as unknown is "Judith Sheindlin," the real name of "Judge Judy." While the hugely popular, nationally syndicated TV judge's moniker has become somewhat of a household name, "Judith Sheindlin" is just another vaguely familiar name on a list.
Studies like this show how pollsters can focus on relatively peripheral results to inflate their findings and call attention to their studies. Last month, another organization's survey showed Americans were divided over whether they wanted to bomb Agrabah, the fictional home of Aladdin. Most people said they weren't sure, but the fact that anyone fell for the trick was the widely reported "troubling" outcome.
Some universities have been in turmoil over their handling of complaints of racism. Racial slurs and threats have become so prevalent that some students have publicly said they're uneasy about bigoted language being protected by the First Amendment.
"We did draw the connection between the basic gaps in people's knowledge about the Constitution and specifically about what we're seeing on college campuses," Poliakoff said.
But is 9.6 percent of people selecting the wrong answer to a multiple choice question about a different part of the Constitution really an indicator of campus "civic ignorance" that's leading to student calls for curbs on the First Amendment?
In short, no. That's a serious stretch. A few people messed up a poll question. Big whoop. A wrong answer happens to belong to a TV judge, but no one seemed to care that more people wrongly opted for a real judge.
This doesn't prove students are calling for increased safety on campus because they're "out of touch" with American history, or are incapable of understanding the First Amendment.
The American Council of Trustees and Alumni's goal of empowering young people with comprehensive historical knowledge and holding universities accountable for providing this education is noble.
But hyping a relatively irrelevant answer to a trick poll question doesn't prove the group's argument. It proves how easily polls can be twisted.
Popular in the Community