 WASHINGTON -- Two new polls show that when the U.S. Supreme Court hands down its much-anticipated ruling on President Barack Obama's signature health care law later this week, public reaction is likely to match views about the law itself: Divided, confused and unhappy.
Results from a new NBC News/Wall Street Journal poll released on Tuesday show that 37 percent of Americans say they will be pleased if the Supreme Court overturns the law, 22 percent say they will be disappointed, while about a third say they would have "mixed feelings."
The pollsters found a similar result when they asked a slightly different question. More than a third (35 percent) said they would be disappointed if the court upholds the law, while 28 percent said they would be pleased.
But either way, results will leave a majority of Americans less than pleased.
Another survey conducted earlier this month by the Pew Research Center found a very similar result. They asked three questions to probe reactions to different scenarios: That the Supreme Court would uphold the entire law, throw out the entire law, or just throw out the mandate that requires individuals to have health insurance. In each case, fewer than half (between 39 and 44 percent) said they would be happy, while far more (between 48 and 51 percent) said they would be unhappy.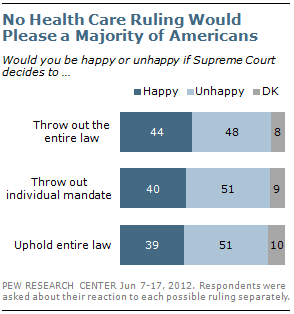 Not surprisingly, according to the Pew Research report, these results tracked along partisan lines. "Most Democrats would be happy if the law is upheld," they write, "while most Republicans would be happy if it is thrown out." Meanwhile, the possibility that the Supreme Court will reject just the individual mandate "does not satisfy either side."
These views correlate to more general opinions of the health care law. As has been the case all along, relatively subtle differences in the wording and format of questions have produced a range of responses. Most polls show more opposition than support, but the levels of each have varied widely, along with the percentage of those who are undecided in their opinion.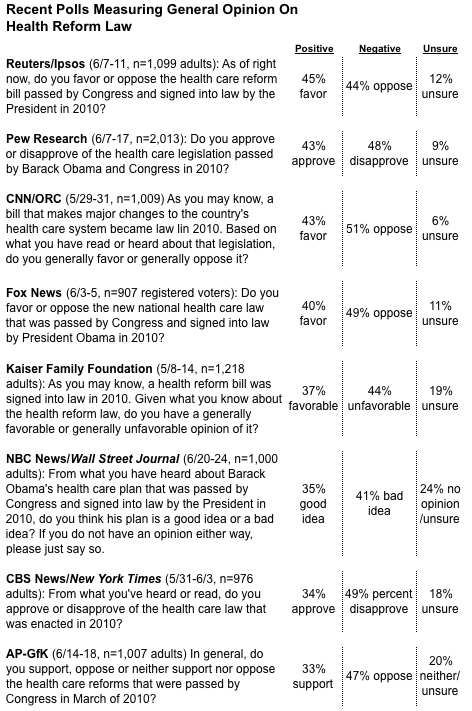 Despite the considerable spread of the results, those opinions have been holding steady over time. When summarized into a combined trend line in the HuffPost Pollster health reform law chart (below), the various public polls show that the general sense of support or opposition to the law formed in the Spring of 2010 has largely persisted.
Another consistent finding is that a non-trivial portion of expressed opposition comes from more liberal Americans who say they are disappointed that the Affordable Care Act does not go far enough. The CNN/ORC polls conducted over the past two years, for example, have found that between 50 and 59 percent say they are generally opposed to the "bill that makes major changes to the country's health care system [that] became law in 2010." However, the same surveys also asked a follow-up question, showing that between 10 and 14 percent of all Americans oppose the health reform law because they think its approach "is not liberal enough."
Public confusion about the complex law has been another constant. For most of the last two years, for example, the Kaiser Family Foundation has found just less than half of Americans -- ranging between 42 and 55 percent, with no apparent trend -- say that the word "confused" describes their feelings about the health care law. In March, the survey found 39 percent of Americans saying they felt the public did not have enough information about the law to understand how it will affect them personally.
That sense of confusion stands alongside the absence of a perceived personal benefit. On the most recent Kaiser Family Foundation survey in May, for example, just 23 percent of Americans said they would be better off under the new reform law, while most of the rest thought the law would make them worse off (31 percent) or would make no difference (37 percent).
The combination of confusion and division, combined with the lack of a perceived benefit, help explain why, no matter what the Supreme Court does about health care reform law, most Americans will be unhappy about it.
Below, the history of the legal challenge to Obama's health care reform law:
PHOTO GALLERY
Legal Battle Over Health Care Law
REAL LIFE. REAL NEWS. REAL VOICES.
Help us tell more of the stories that matter from voices that too often remain unheard.
BEFORE YOU GO