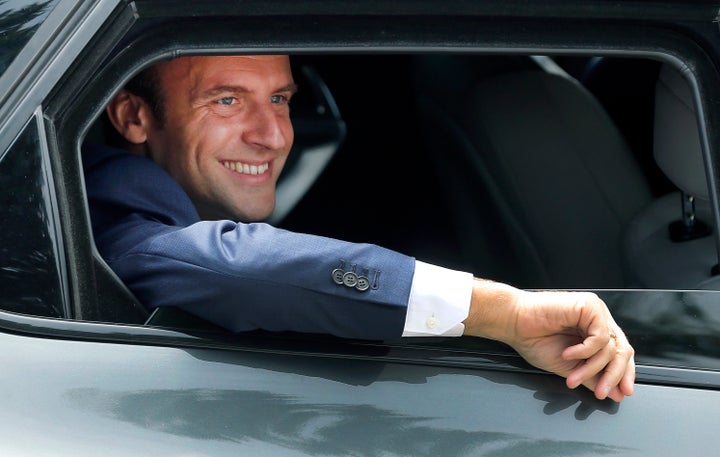 PARIS, June 11 (Reuters) - French President Emmanuel Macron's party and its allies have won the biggest share of the vote in the first round of legislative elections on Sunday, according to official figures published by the Interior Ministry and based on a partial count of votes.
Macron's Republic on the Move party (LREM) and its allies were set to win over 30 percent of the vote, the ministry said shortly after voting stations closed, a result that pollsters say could deliver him as much as three quarters of lower house seats when the second round results come in next week. 
The figures did not include votes from France's biggest cities and such early counts tend to be less precise than pollsters' estimates, which put Macron's party close to 33 percent.
The emergence of LREM little as a start-up movement just over a year ago has triggered a major shift in the political landscape in France. The ministry said the abstention rate on Sunday was a high 51.4 percent.
The results are another blow to the country's mainstream Socialist and conservative parties already reeling from Macron's election in May, which blew apart the left-right divide that has shaped French politics for the past century.
Macron professes to be neither right nor left. His one-year-old Republic on the Move (LREM) party fielded more than 400 candidates, bringing together seasoned veterans and political novices including a former bullfighter, fighter pilot and ex-armed police commander.
"It's a renewal of the political class," said Jose Jeffrey, a health ministry administrator who voted LREM. "I've known people who have been MPs for 40 years."
At the close of voting, pollster Elabe projected Macron's Republic on the Move and its center-right Modem ally would win 32.6 percent of the first round vote.
Trailing behind, the conservative party The Republicans and their allies were forecast securing 20.9 percent support; the far-right National Front 13.1 percent; and the Socialist Party and a grouping of left-wing parties 9 percent.
Elabe projected this would translate in the second round into a massive 415-445 seats for LREM-Modem. The Republicans would become the largest opposition force with 80-100 seats, Elabe projected, with the National Front seen winning 1 to four seats and the Socialist Party and other leftists 30-40 seats.
Other polls predicted similar outcomes - results that would give France's youngest leader since Napoleon a powerful mandate with which to make good on his campaign pledges to revive France's fortunes by cleaning up politics and easing regulations that investors say hobble the euro zone's No.2 economy.
Turnout was low, interior ministry data showed.
(Additional reporting by Cecile Mantouani, Antoine Boddaert in Paris, and Gabriela Baczynska and Charlotte Steenackers in Brussels; writing by Ingrid Melander; editing by Richard Lough and David Evans)
Calling all HuffPost superfans!
Sign up for membership to become a founding member and help shape HuffPost's next chapter