A January poll conducted by Reuters and research firm Ipsos found that 82 percent of registered Republicans are in support of Trump's ban, which also halted the entire U.S. refugee resettlement program. Less than a quarter of Democrats answered the same.
A recent HuffPost/YouGov poll similarly found that 95 percent of Trump voters approved of the ban, compared to 12 percent of Clinton voters.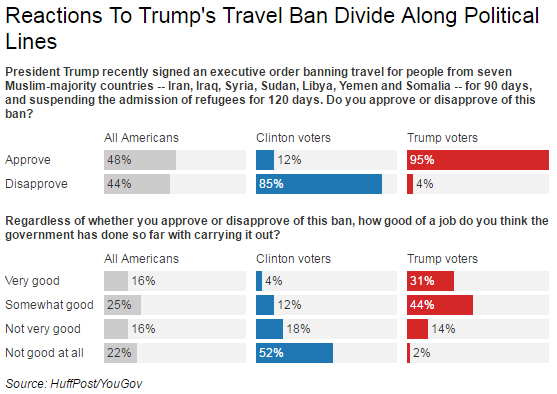 The Reuters/Ipsos poll also revealed that a majority of Republicans believe banning people from Muslim-majority countries is necessary to prevent terrorism. Just 20 percent believe singling out a group based on religion violates American principles.
Trump has said that persecuted Christians will be given priority over other refugees seeking to U.S. entry ― a plan that 42 percent of Republicans favor and 46 percent oppose. Seventy-two percent of Democrats are against the U.S. welcoming Christian refugees but not Muslim ones.
The measures of Trump's order are remarkably strict and have impacted thousands already. The Trump administration provisionally revoked 100,000 visas as part of the ban, a government lawyer said in court on Friday. With exceptions for legal permanent residents and some others, people from the seven countries cannot enter the U.S., and those already here can't leave and come back.
But according to a 2016 survey conducted by Public Religion Research Institute, the ban might not be strict enough for some Republicans. Fifty percent of Republicans said they believed immigration from Muslim-majority countries is too high. Nearly a quarter of them said immigrants from predominantly Muslim countries shouldn't be allowed to come to the U.S. at all.
Among Democrats, just 23 percent said they believed immigration from Muslim-majority countries is too high. Nine percent said they thought it should be stopped altogether.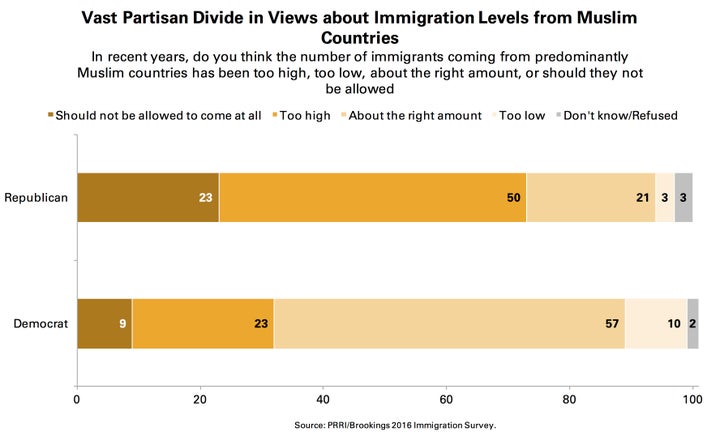 American attitudes toward immigration from Muslim-majority countries is also split along religious and racial lines. PRRI found 68 percent of white evangelical Protestants, 60 percent of white Catholics and 59 percent of white mainline Protestants said the number of immigrants coming to the U.S. from predominantly Muslim countries is either too high or should be stopped.
Fewer than one-quarter of non-Christians echo this sentiment. And just 39 percent of black Protestants, 37 percent of Hispanic Catholics, and 34 percent of religiously unaffiliated Americans felt the same.
Despite the zeitgeist of anti-Muslim sentiment among their ranks, some Republicans and Christians have spoken out against the ban. A group of more than 800 Christian leaders released a letter on Wednesday calling on the president to "protect the downtrodden" and "the migrant." Several days earlier, five Republican members of Congress broke with Trump and most of their party by condemning the executive order.
Before You Go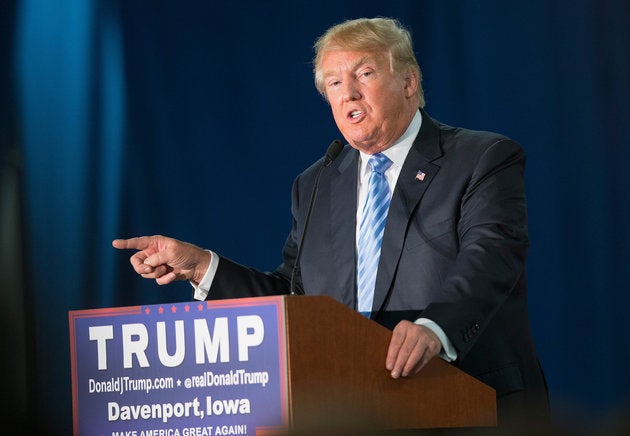 Evolution Of Trump's Muslim Ban
Popular in the Community