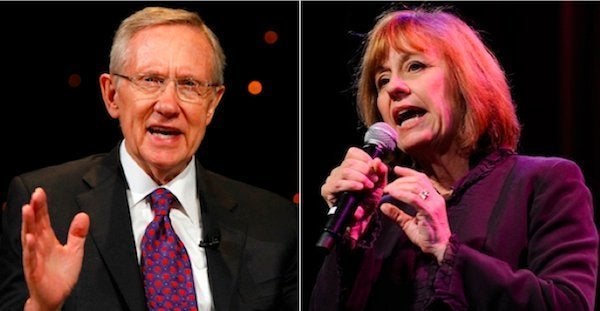 Can Senator Harry Reid hang on in Nevada? Polls there have shown a very close race since Labor Day, and a win by challenger Sharon Angle could put Republicans within one seat of a Senate majority. Although two new surveys out this week give Angle tiny nominal leads, neither is large enough to attain statistical significance, and we continue to consider Nevada very much a toss-up race.
A new CNN/Time poll in Nevada released yesterday gives Republican Sharon Angle a two-point advantage (42% to 40%) that falls well within the survey's margin of sampling error. The poll also found one in ten voters (10%) opted for "none of the above," an unusual choice offered on the Nevada ballot that rarely draws more than single digit support in contested races.
The CNN/Time poll is the second this week to show Angle with a slight nominal advantage. A Fox News/Pulse automated survey gave her a 49% to 46% edge earlier this week. Reid now has a 0.9 point advantage on our standard trend estimate (45.9% to 45.0%). Our more sensitive estimate, which gives greater weight to the more recent polls, puts Angle up by 0.7 (44.9% to 44.2%). Either way, this is the closest Senate race in the nation.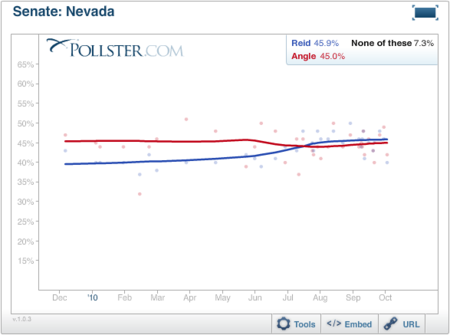 Rasmussen Reports released another automated West Virginia poll yesterday, this one showing Republican John Raese leading Democrat Joe Manchin by six points (50% to 44%). A Fox News survey released on Tuesday by Rasmussen subsidiary Pulse Opinion Research showed Raese up by five (48% to 43%). Rasmussen's methodology has now produced six of the seven polls in West Virginia since Late August, and those surveys now give Raese enough of an advantage to merit our "lean Republican" classification.
After Nevada, the next closest Senate race is in Illinois, where two new polls out this week by Rasmussen Reports and Suffolk University give Republican Mark Kirk nominal margins of 4 and 1 percentage points respectively over Democrat Alexi Giannoulias. The Kirk campaign also released an internal survey conducted in late September showing their candidate leading by nine points (42% to 33%), a wider margin than any other public poll. With the Kirk poll included, our trend estimate gives him a 2.3 point advantage (41.1%); without it, Kirk's edge narrows to 1.1 (40.7% to 39.6%). Either way, the race is a toss-up.
The various new polls show that these three states could help put Republicans within one seat of taking control of the Senate. They need to gain ten states to win an absolute majority. As the following table shows, current polling shows Republican candidates with comfortable leads in six states currently represented by a Democratic Senator (North Dakota, Arkansas, Indiana, Wisconsin and Pennsylvania), with two more (Colorado and West Virginia) now leaning Republican. That leaves Illinois, Nevada and Washington in the toss-up category.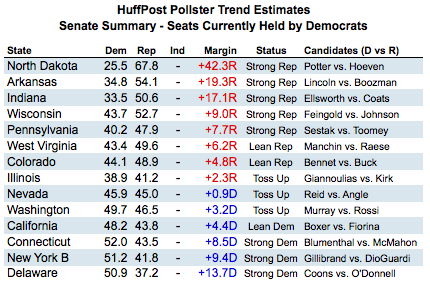 Republicans are now leading in all of the states currently represented by Republicans. If they win all of the Democratic seats currently rated as at least "lean Republican" plus Nevada and Illinois, the Senate would be divided 50-50 (with Vice President Biden breaking the tie).
While the seat count math is frightening, Democrats can at least find something to smile about in new polls showing comfortable Democratic leads in two states once considered potential Republican pickups, Delaware and Connecticut.
Two just released surveys in Delaware show Democrat Chris Coons running far ahead of Republican Christine O'Donnell. A Farleigh Dickinson University poll conducted last week shows Coons leading by 17 points (53% to 36%). A University of Delaware survey conducted over the last two weeks of September and released yesterday shows Coons leading among all registered voters by 19 points (49% to 30%) with a large undecided (20%). Our trend estimate, which includes other earlier polls showing closer margins, gives Coons a nearly 14 point margin (50.9% to 37.2%). The different polls may produce widely varying Coons margins, but even the narrowest strongly favor him to win. (Note: assistant professor David Wilson, a regular HuffPost Pollster contributor, oversaw the University of Delaware survey).
Two more surveys confirm that Democrat Richard Blumenthal is maintaining a healthy lead over Republican Linda McMahon in Connecticut. The new CNN/Time survey shows Blumenthal leading by 13 points (54% to 41%) and the latest Rasmussen automated poll puts him ahead by 11 (54% to 43%). Five surveys in the last week have shown Blumenthal leading by margins ranging from 7 to 13 points; our trend estimate gives him an 8.5 point margin (52.0% to 43.5%), enough to merit a "strong Democrat" designation.

Popular in the Community