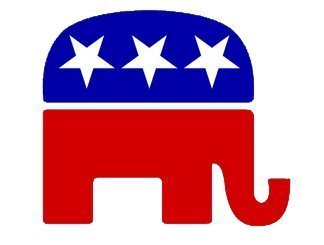 WASHINGTON -- On the basis of the latest public polls, Republicans stand to gain roughly a net half-dozen governorships this year, and possibly more. Right now, 26 of the nation's governors are Democrats and 24 are Republicans. Our trend-estimates based polls in the 37 states holding elections for governor this year now show Republicans on the verge of gaining a net five to nine state houses nationwide, depending on the outcome in a handful of "toss-up" races.
While national attention has focused on the battle for control of the House and Senate, the contests for governor "really matter" this year, as the Cook Political Report's Jennifer Duffy puts it (gated), because of the upcoming battle to redraw legislative district lines before the 2012 elections. The outcomes in the gubernatorial races, as Duffy writes, "will help determine which party controls the redistricting process; that, in turn, can affect which party is the majority in state legislatures and among congressional delegations."
Of the 37 states that will hold elections for governor next week, a larger than usual number (24) involve open seats, which makes for a greater potential for switches in party control, and that is exactly what we are seeing in the current polling. Right now, as many as 20 states appear poised to switch party control of their governor's mansion, with Republicans standing to gain more than Democrats.
Democratic candidates are now leading in four of the 24 states currently represented by Republicans: California, Connecticut, Minnesota and Hawaii. The margins are narrow enough in all four cases to be merit "lean" status meaning that the outcome is still potentially in doubt.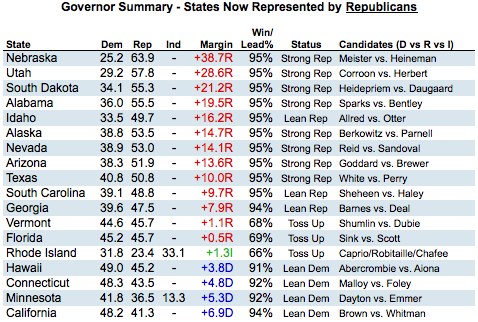 However, two Democrats and an independent are still threatening to take control from Republicans in three states where the current polling shows very close toss-up margins.
In Florida, our most recent trend estimate shows Republican Rick Scott running less than a percentage point ahead of Democrat Alex Sink (45.7% to 45.2%). Four surveys released in the last week have shown margins ranging between a 6-point Scott lead (Rasmussen) and a 7-point Sink advantage (Suffolk University), although three of the four give Scott a nominal advantage.
Vermont has produced just one public poll so far in October, a Mason-Dixon survey showing a one-point contest between Republican Brian Dubie (44%) and Democrat Peter Shumlin (43%). A September Rasmussen survey gave Shumlin a 3-point edge (49% to 46).
The three-way race in Rhode Island, which has so far yielded just three polls in October, is another wild card. Earlier in the month, an NBC 10/Quest survey showed Republican John Robitaille leading independent Lincoln Chafee by four points (37% to 33%), with Democrat Frank Caprio in third (at 22%), while two Rasmussen polls have given Chaffee the edge, with their most recent survey last week showing Chafee leading by seven (35% to 28%). Our current trend estimate gives a slight edge to Chafee (33.1% to 31.8% with Caprio at 23.4%), but the race is very much a toss-up.
The impact of this year's overall political environment is evident in the races in states currently represented by Democratic governors. Republicans are leading by near-certain, double digit margins in six of these states (Wyoming, Kansas, Tennessee, Oklahoma, Iowa and Michigan), with another six leaning Republican by single digit margins of four or better (New Mexico, Wisconsin, Illinois, Maine, Pennsylvania and Ohio).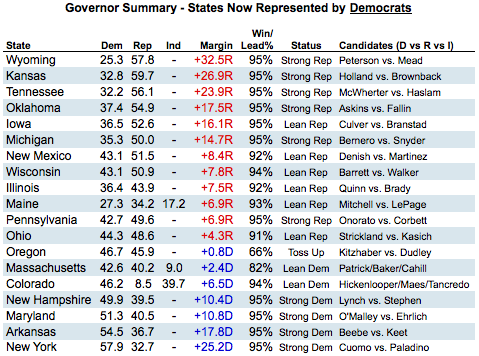 In Oregon our trend estimate shows a razor-thin, "toss-up" margin separating Democrat John Kitzhaber (at 46.7%) and Republican Chris Dudley (at 45.9%).Three polls released in the last two weeks, by SurveyUSA, DailyKos/PPP and The Oregonian, all show Kitzhaber leading by nearly identical one-point margins. It doesn't get much closer than this.
In Massachusetts, most independent polls continue to show Democratic Governor Deval Patrick leading Republican challenger Charlie Baker by margins of 4 to 8 percentage points, but Baker has gained since the summer as independent Tim Cahill has faded. Our trend estimate, which also considers an internal Baker poll showing him with a seven-point advantage, continues to give Patrick enough of a lead to merit "lean" Democrat status.
One potential surprise among the races is Ohio, where polls have varied widely. Surveys released last week by the respected University of Cincinnati Ohio Poll showed Democratic Governor Ted Strickland trailing Republican challenger John Kasich by just two points (49% to 47%), while a CNN/Time poll had Strickland ahead by one (48% to 47%). The Quinnipiac University survey released just this morning shows Kasich ahead by six (49% to 43%), but Quinnipiac has consistently shown Kasich leading by larger margins that than other polls. Another new poll out this morning from Fox News/Pulse Opinion Research puts the margin at 4 points (47% to 43%), roughly the same margin as our current trend estimate (49.1% to 44.8).
Note: Our newly-updated trend estimate model assesses the trends across all races, so whenever we add a new poll in any state, the probabilities and trend estimates for all races will change very slightly (usually no more than a tenth of a percent or two for the trend estimates).
Correction: The original version of this article mislabeled the party affiliations of the candidates in Rhode Island.

Calling all HuffPost superfans!
Sign up for membership to become a founding member and help shape HuffPost's next chapter