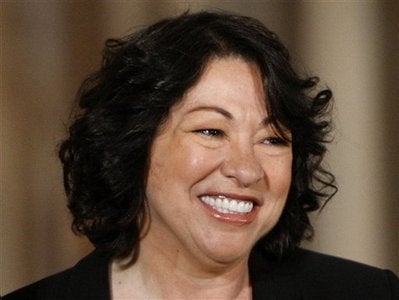 The early public response to Supreme Court nominee Sonia Sotomayor is strong. President Obama's choice for the bench is receiving polling numbers comparable to those awarded Chief Justice John Roberts, whose nomination was widely praised. Perhaps more importantly, Sotomayor seems to have avoided the rocky roll-out that plagued the last failed Supreme Court nominee, Harriet Miers.
Americans' first reactions to the news of President Obama's nomination of Judge Sonia Sotomayor to serve on the U.S. Supreme Court are decidedly more positive than negative, with 47% rating the nomination as "excellent" or "good," 20% rating it "only fair," and 13% rating it "poor."
Perhaps most remarkably, nine percent of Republicans rated Sotomayor as an "excellent" choice, and 20 percent rated her as good. Combined, that total is one percent point more than those who deemed her "poor," though 24 percent said she was "only fair." For comparison sake, Gallup found that 31 percent of Democrats viewed Chief Justice Roberts as excellent or good when he was nominated.
Eighty-seven percent (87%) of voters nationwide believe Judge Sonia Sotomayor will be confirmed as the next U.S. Supreme Court justice. That figure includes 59% who believe her confirmation is Very Likely.
Ultimately, of course, Sotomayor's fate comes down the to perceptions of the 100 (or 99, with the Minnesota contest still unresolved) senators who will vote on her nomination. That said, the public perception of a candidate for the Court has the potential to drastically alter the course of his or her nomination. Clarence Thomas made it to the bench during George H.W. Bush's administration, but only after taking a massive personal and political blow for allegations of sexual harassment and an inadequate legal mind. Miers' appointment, meanwhile, fizzled in large part because she was not held in high opinion among conservative voters.
When Gallup polled Miers' nomination in the days after it was announced, 44 percent of the public said they had an excellent or good immediate reaction. That total was not too far off Sotomayor's 47 percent. However, Miers was viewed as an only fair or poor choice by 41 percent of respondents, far higher than Sotomayor's 33 percent.
The difference, interestingly enough, may have been among woman. Fifty-four percent of female correspondents say they had an excellent or good immediate reaction to Sotomayor's nomination. Only 44 percent of woman had the same feedback to the Miers appointment (39 percent responded in kind to Justice Samuel Alito and 50 percent to Chief Justice Roberts).
Calling all HuffPost superfans!
Sign up for membership to become a founding member and help shape HuffPost's next chapter