Pollsters can't agree on how stable ― or unstable ― voter preference has been this year. Latino voters are leaning heavily toward Hillary Clinton. And the race in New Hampshire is shaping up to be a tight one. This is HuffPollster for Friday, November 4, 2016.
MANY PUBLIC POLLS LOOK MORE VOLATILE THAN CAMPAIGNS' DATA - Steven Shepard: "Campaign professionals say the run-up to the election is exposing key flaws in the public polling conducted by news organizations and academic institutions.The most obvious flaw is that the polls are overstating sudden fluctuations to the American people, say campaign pollsters whose own data is far more stable — even amid news events that rival the most creative political fiction…. Campaign pollsters point to a handful of factors to explain the volatility of public polling, compared with their own private data. First, public pollsters don't apply controls to their samples for partisan inclination. That's a point of contention: Public pollsters argue that partisanship isn't a fixed trait and using it as a demographic parameter could predetermine the result the poll is designed to measure. But campaign pollsters argue that this is a cause of much of the volatility — especially in states where historic turnout rates of registered partisans are relatively consistent. And when partisan inclination bounces around from poll to poll — especially around major news events — it's mostly a function of voters choosing not to respond." [Politico]
Other polling shows partisan stability - Benjamin Lauderdale: "About 85% of voters in the 2016 election will be people who voted in 2012. This is not everyone who will vote in 2016... But the vast majority of the electorate are those who voted for Obama or Romney four years ago, and so you can learn a lot about what is happening at the individual-level in this election by focusing on how many and which of those people are switching sides…. Based on our polling and analysis, 88% of voters who voted for Obama or Romney in 2012 and who will vote in 2016 are voting for the same party as last time. Romney supporters almost all support Trump; Obama supporters almost all support Clinton. This is not a pattern that has only emerged in the final days of the campaign… However, while these rates of switching are low in absolute terms, they are higher than the corresponding figures were in our polling just before the 2012 election, when compared to 2008.  In that election, Obama and Romney both retained over 90% of the 2008 vote for their parties…. So switching is actually up by 50% versus 2012, from about 8% to 12% of previous election voters. Much of the increase can be attributed to the relatively successful third party candidates, direct switching between the major party candidates is about the same." [YouGov]   
The ABC/Washington Post tracking poll shows more movement -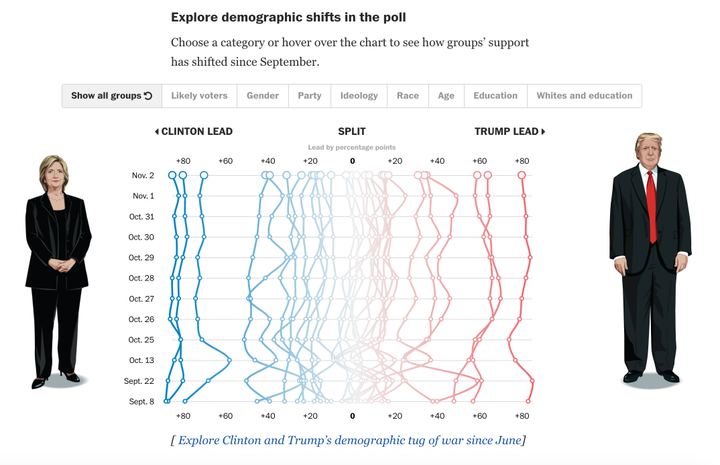 FORECAST UPDATE - The presidential forecast still gives Hillary Clinton a 98 percent chance of winning the presidency. In the Senate, Democrats have a 63 percent chance of taking 51 or more seats. Republicans have a 10 percent chance of maintaining the majority. [Presidential forecast, Senate forecast]
LATINO VOTERS FAVOR CLINTON IN CRUCIAL STATES - Daniel Morcate, Mariano Zafra and Luis Melgar: "The race between Hillary Clinton and Donald Trump is red-hot in a dozen tightly contested states. And in at least two of them, Nevada and Arizona, Clinton is set to win the Hispanic vote by an overwhelming majority while she'll likely win it in Florida by a two-to-one margin, according to an exclusive new poll by Univision Noticias. The poll gives Clinton a resounding 72 percent of the Latino vote in Nevada, against 19 percent for Trump, and a 67-18 percent edge in Arizona….One factor that contributed to Clinton's better image among Hispanics was her constant courting of their votes during the current campaign. Asked which of the two candidates had been most actively tried to win their votes, the overwhelming majority of respondents in all three states pointed to the Democrat." [Univision]
Latino voters' low opinions of Trump could cause bigger problems for the GOP. [WashPost]
HuffPost Pollster's model gives Clinton about a 3-point lead in the state, reflecting both her stronger showing in the SurveyMonkey poll and her better numbers in earlier surveys. If, instead of using the model, the poll average is turned to "less smoothing," its most sensitive setting, Clinton's edge shrinks to just over 1 point. [New Hampshire chart]
POLL FINDS TRUMP AHEAD IN ARIZONA AND TEXAS, CLOSE TO DEADLOCKED IN GEORGIA - Mark Murray: "Donald Trump holds the advantage in the reliably Republican states of Arizona and Texas five days until Election Day, but he's running neck and neck with Hillary Clinton in Georgia, according to a trio of new NBC News/Wall Street Journal/Marist polls. In Arizona, where Clinton campaigned Wednesday night, Trump leads Clinton by five points among likely voters, 45 percent to 40 percent, while Libertarian Party nominee Gary Johnson is at 9 percent and the Green Party's Jill Stein is at 3 percent... In Georgia, however, Trump is ahead by just one point among likely voters, 45 percent to 44 percent, with Johnson at 8 percent. (Stein isn't on the ballot in the state.) In September, Trump was up two points, 44 percent to 42 percent…. in Texas, Trump's advantage over Clinton is nine points, 49 percent to 40 percent, with Johnson at 6 percent and Stein at 2 percent….One of the biggest reasons why Georgia is more competitive than Arizona is due to the African-American vote in Georgia being a larger - and more lopsided - force than Latinos in Arizona. According to the poll, African Americans make up 29 percent of likely voters, and they're breaking for Clinton by a 91 percent to 6 percent margin. In Arizona, by contrast, Latinos make up 21 percent of likely voters, and they're supporting Clinton by a smaller 66 percent-to-26 percent clip." [NBC]
HUFFPOLLSTER VIA EMAIL! - You can receive this daily update every weekday morning via email! Just click here, enter your email address, and click "sign up." That's all there is to it (and you can unsubscribe anytime).
FRIDAY'S 'OUTLIERS' - Links to the best of news at the intersection of polling, politics and political data:
-James Hohmann sees college-educated white women as Hillary Clinton's "firewall." [WashPost]
-Nate Cohn doubts "missing white voters" will propel Donald Trump to victory. [NYT]
-Alan Abramowitz argues that incumbency poses a bigger obstacle to a Democratic House majority than gerrymandering does. [Sabato's Crystal Ball]
-Distrust between the U.S. and Russia is at a post-Cold War high. [Chicago Council]
-Civically engaged Americans are more likely to pay attention to local news. [Pew]
REAL LIFE. REAL NEWS. REAL VOICES.
Help us tell more of the stories that matter from voices that too often remain unheard.