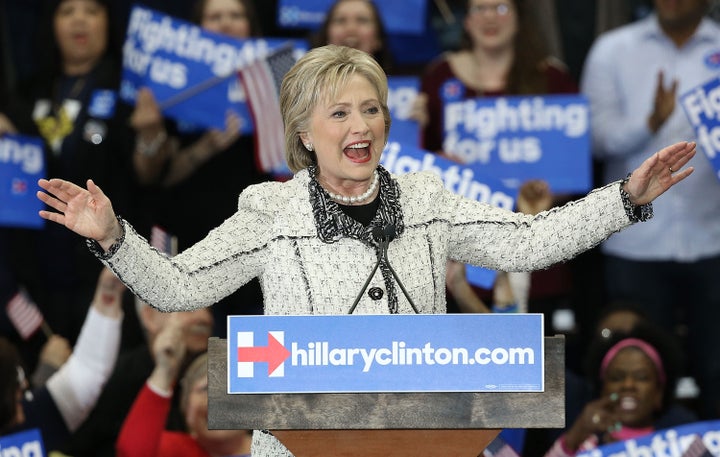 Democratic presidential candidate Hillary Clinton holds a massive lead over rival Sen. Bernie Sanders (I-Vt.) heading into Super Tuesday -- the day the greatest number of states hold primary elections -- according to a set of three new NBC News/Wall Street Journal/Marist polls of Georgia, Tennessee and Texas.
On the Republican side, Donald Trump is making a strong showing in Georgia and Tennessee while Sen. Ted Cruz (Texas) leads in his home state.
The polls, released Sunday morning, show Clinton with 64 percent of the vote among likely primary voters in Georgia, while Sanders has just 30 percent.
In Tennessee, Clinton holds 60 percent of the vote to Sanders' 34 percent, a 26-point lead. She leads by 21 points in Texas, with 59 percent to Sanders' 38 percent.
HuffPost Pollster, which aggregates all publicly available polls, shows Clinton winning handily by similar margins in Georgia and Texas. Not enough polls have been conducted in Tennessee to form an aggregate projection.
In the Republican race, Trump leads by 7 points among likely Georgia Republican primary voters with 30 percent of the vote. Cruz and Sen. Marco Rubio (Fla.) trail closely behind with 23 percent each.
In Tennessee, Trump is ahead by 18 points -- 40 percent to Cruz's 22 percent -- and Rubio trails with 19 percent.
Cruz seems to have a home state advantage in Texas, holding 39 percent of the vote; Trump is in second place with 26 percent, and Rubio follows with 16 percent.
Ben Carson and Ohio Gov. John Kasich (R) hold single-digit support in all three states.
HuffPost Pollster shows similar leads for Trump in Georgia and Cruz in Texas. Not enough recent polling has been conducted in Tennessee to draw any projection.
Super Tuesday is set for March 1. Eleven states will take to the polls or caucus for both parties: Alabama, Arkansas, Colorado, Georgia, Massachusetts, Minnesota, Oklahoma, Tennessee, Texas, Vermont and Virginia. Republicans will also have contests in Alaska and Wyoming, and Democrats will caucus in American Samoa.
A total of 661 delegates will be awarded on Super Tuesday in the Republican primary, and 880 in the Democratic primary. Various rules in each state determine how Republican delegates are assigned. Democrats assign delegates proportionally in each state.
Still, even after Super Tuesday, the primary race has a ways to go for both parties before a nominee is decided.
NBC/WSJ/Marist surveyed 543 likely GOP primary voters and 461 likely Democratic voters in Georgia from Feb. 18-23.
In Tennessee, 665 likely GOP primary voters and 405 likely Democratic primary voters were surveyed Feb. 22-25.
In Texas, 537 likely GOP primary voters and 381 likely Democratic primary voters were surveyed Feb.18-23.
Popular in the Community