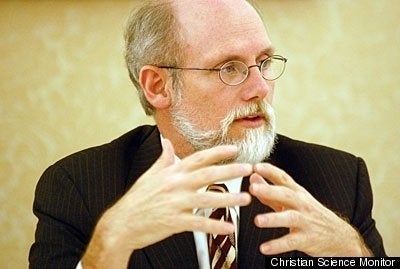 The Republican half of the bipartisan team of pollsters behind a new, controversial poll on health care has longstanding ties to the health insurance industry that critics say biased the results.
An NBC/Wall Street Journal poll released on Tuesday, authored by Republican pollster Bill McInturff and Democratic pollster Peter Hart, showed a majority of respondents opposing a public option for insurance coverage. McInturff is one of the most respected pollsters in Washington, and his work is often treated as straightforward and honest. But the pollsters' decision to alter the language of their August survey has raised the eyebrows of industry observers.
Instead of asking whether people should be given a choice between a public and private plan -- as NBC/WSJ had done in its June 2009 survey -- the pollsters dropped the word "choice" in their July and August polls. In its place they asked whether people favored or opposed creating a public plan to compete with private insurers. Whereas two months ago, 76 percent of respondents said they felt it was either extremely or quite important to have a public option, in August that number was down to 43 percent.
"I think it's a very big deal to drop the word," said Wendell Potter, a former vice president at the insurance giant CIGNA. "This has been a strategy the industry has had for many years. They ask questions in many ways, knowing the way they are asking the questions will skew the result. Dropping the word choice is very important. It plays into some of the fears some of the people have been hearing lately, that the government would leave them without an option."
As Potter pointed out, McInturff has done extensive work on behalf of America's Health Insurance Plans (AHIP) -- a major reform opponent. His firm, Public Opinion Strategies, played a leading role in crafting the industry's message and "voter empowerment" programs during the 2004 election. He himself has done fieldwork on AHIP's behalf and lists the insurance giant as a health care client. His work for AHIP, Potter says, extends back more than a decade.
"I think absolutely [McInturff's] work would be influenced," Potter said. "It's difficult not having a bias working for the industry. He knows a lot about word choice, he knows a lot about word choices the industry would want to use."
McInturff could not immediately return a request for comment, but said he'd have a response later in the day. In a statement on Tuesday night both he and Hart said that the "only agenda that we have is to accurately measure changes in public opinion."
Contemporaries of McInturff said that while his reputation as a pollster was outstanding, it was valid to look critically at his clientele. Along those lines, Hart Research has done work on behalf of a host of unions who support the public option, including the AFL-CIO, American Federation of State, County, & Municipal Employees, and the Service Employees International Union.
"Both McIntruff and Hart are always hugely conflicted in terms of partisan clients but almost always in opposite directions," said Democratic pollster Mark Blumenthal. "The long standing assumption is that each serves as a check on the other."
The debate sparked by McInturff and Hart's decision to drop the word "choice" from their survey extends well beyond questions of conflict of interests. Progressive proponents of health care reform insist that the change unfairly prejudiced the results.
"Poll after poll shows that large majorities of Americans support reform that offers a choice of a public health insurance plan or private insurance," said Celinda Lake, the president of Lake Research Partners. "In fact, Americans strongly support having that choice rather than access to only private insurance. Choice is a key value."
Even conservative pollsters -- while arguing that "choice" should never have been included in the survey in the first place -- acknowledged that switching the language likely had an effect.
"Absolutely," said Michael Maslansky, CEO of Luntz, Maslansky Strategic Research. "Effectively, in the first question they asked people if it was important to have a choice. That was the end of the question for all intents and purposes. People like choice. Most people likely didn't even value the back half of the question."
"To the core question of whether or not the use of the word choice matters, I think they made the right decision to drop it," he added.
In an appearance on MSNBC Tuesday afternoon, NBC News's White House Correspondent Chuck Todd echoed Maslanksy's remarks, arguing that "if you add the word 'choice' it can bias a poll question."
But some non-partisan experts on polling argue that the issue is not so cut and dried. While the wording the pollsters used may have been a suitable replacement for "choice," changing the language now would make it much harder to accurately chart the evolution of opinion towards the public option.
"Everybody is right," said Barry Sussman, editor of the Nieman Watchdog Project and a former Washington Post polling director. "First off, these surveys are not exact parallels, and they should be. But the second version of the question is not exactly unfair.
"The word 'choice' in the poll is like a trigger word. It draws people in. It just calls for support. Even if it wasn't valid [to include it], it would draw more support. But, in this case," Sussman said, "it is valid."
UPDATE: Chuck Todd writes in to note that McInturff's clients also include AARP, which has been generally supportive of Obama's health agenda. For the sake of complete transparency, McInturff's website lists the following health care clients, many of whom are critical of a public option.
The American Hospital Association, the Association of American Medical Colleges, the Blue Cross Blue Shield Association, America's Health Insurance Plans, the Kaiser Family Foundation, Pfizer, Inc., and the Robert Wood Johnson Foundation. His work on behalf of Health Insurance Association of America included conducting the message and advertising testing for their series of 'Harry and Louise' television commercials, called by Advertising Age "among the best conceived and executed public affairs advertising programs in history.
FURTHER UPDATE: McInturff writes in to stress that both he and Hart dropped the word "choice" back in July, not the current survey. "This means anyone had roughly three weeks prior to this survey to have expressed concern about this question language," he writes. "They did not."
As such, McInturff says, the trend data should be looked at differently. In July, 46 percent of the public said it would favor "a public health care plan administered by the federal government that would compete directly with private health insurance companies." Now the number is 43 percent.
Calling all HuffPost superfans!
Sign up for membership to become a founding member and help shape HuffPost's next chapter