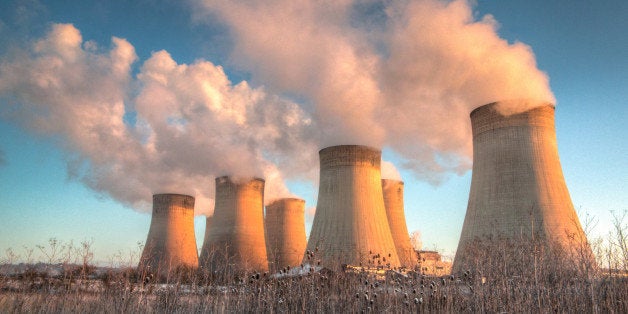 Climate change polluters don't have a lot to work with this election season. Since the vast majority of American voters have repeatedly said they support limiting the carbon pollution from power plants, fossil fuel companies and their allies are left trying to make even the weakest numbers sound good.
This week the Partnership for a Better Energy Future -- a mining, manufacturing, and agricultural coalition that includes frequent climate deniers like the U.S. Chamber of Commerce -- released a survey claiming that 47 percent of voters in oppose the Environmental Protection Agency's effort to reduce carbon pollution.
As if less-than-a-half was something to trumpet.
These results stand in sharp contrast to nearly every independent poll conducted this year.
An ABC/Washington Post survey found that 7 in 10 Americans view climate change as a serious problem and support federal action to reduce greenhouse gases.
A poll conducted for NBC News/The Wall Street Journal reported that two-thirds of American residents support the EPA's plan to reduce carbon pollution from power plants.
A Bloomberg News poll even found that 62 percent of Americans were willing to pay more for energy if it mean reducing carbon pollution.
And a survey done by Yale University said voters are three times more likely to vote against a candidate who opposes government action to address climate change.
NRDC Action Fund got similar results when we commissioned Harstad Strategic Research to poll voters in 11 swing states with close Senate races, including Georgia, Louisiana, and Arkansas. More than two-thirds of those surveyed said the EPA should limit carbon pollution from power plants. That includes 53 percent of Republicans, 63 percent of independents and 87 percent of Democrats.
Most Americans recognize that cleaning up dangerous pollution is good for their families and the economy. But that doesn't stop dirty industries from trying to hold on to their loopholes and giveaways.
The so-called Partnership for a Better Energy Future paid to poll voters in purple states -- many of them coal-heavy -- and even then, they couldn't muster a majority. It's like a punch line. They even tried to stack the deck by posing the kind of technical questions that tend to make respondents more inclined to say no, yet they had little to show for it.
In Iowa, for instance, the survey claimed that 45 percent of Iowa residents were less likely to vote for a candidate who supports the EPA's plan to reduce carbon pollution. Yet a recent survey from lowa Interfaith Power & Light, meanwhile, found that 75 percent of Iowans were more likely to support a candidate who promotes clean renewable energy. Iowa, after all, gets 27 percent of its energy from wind power and has more than 43,000 Iowans working in the clean economy.
The EPA's plan to reduce carbon pollution will bring the benefits of clean energy -- including good-paying jobs, safer air, and greater climate stability -- to more communities. That's why so many Americans support it and that's why smart candidates are running on clean energy and climate action. Even the polluters' own polling shows that the numbers favor climate champions.
REAL LIFE. REAL NEWS. REAL VOICES.
Help us tell more of the stories that matter from voices that too often remain unheard.