Imagine asking your phone to calculate the optimal route for cycling to work while enjoying the best air quality, or calculating whether it's better to just take the train or bus to reduce pollution. Similar requests might soon be possible.
On Tuesday, Google and Aclima, a San Francisco-based startup that makes environmental sensor networks, announced a new partnership to map air quality in cities, building on a one-month pilot program conducted in Denver in which three Google Street Cars collected 150 million data points over 750 hours.
Aclima and Google had already collaborated to map the indoor environments in 21 of Google's offices around the world over the past year. This new partnership is with the technology giant's Earth Outreach division, which provides tools to help nonprofits better achieve their missions.
Over the next year, more Google Street View cars will collect sensor data about the levels of methane, carbon monoxide, carbon dioxide, nitrogen dioxide, nitric oxide, ozone, black carbon, particulates and volatile organic compounds around the Bay Area.
The data will add another layer to Google's maps of the world. If this data is released to governments and the public at large, it will provide more insight beyond the air quality measurements that the U.S. Environmental Protection Agency and state departments of public health and the environment currently gather through stationary monitoring stations. Currently, for example, Colorado residents can view air quality reports at the state government website but not download the data from it.
"Our research partnership with Aclima is helping us understand air pollutants at the local and community level, and how they move in an urban area at the ground level," Dan Costa, national program director at EPA's Office of Research and Development, said in a statement. "New mobile air measurements can complement existing stationary measurements for a more detailed picture of personal and community air quality."
This kind of data could be used to make decisions about urban planning, such as where to plant trees to how to identify and improve areas of high traffic congestion.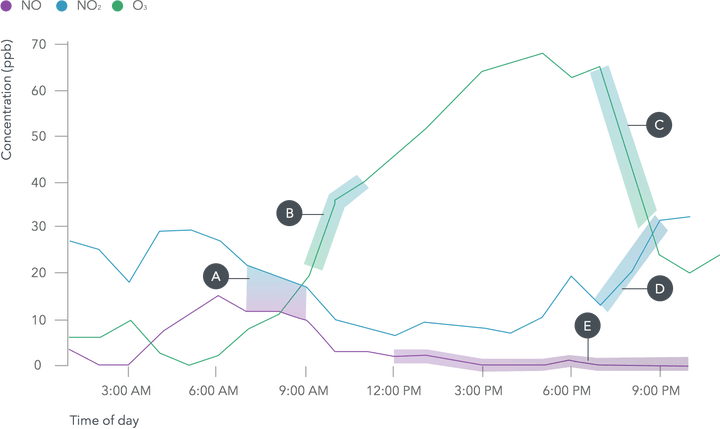 At present, however, there is no actual data available at Aclima's "insights" page, only pretty pictures and graphs.
"The primary focus for the Denver pilot was to test our mobile sensor platform and make sure it could collect quality data -- which we were able to validate with EPA's stationary sensors," Jessica Lass, a spokesperson for Aclima, told The Huffington Post. "The plan is to release data about the Bay Area driving later this fall."
That's good news. Open data about air quality at different times of day will enable journalists to produce sensor journalism that informs the public, as the Associated Press has done in Beijing.
All of that data will provide more insight into what's in the air we breathe. It'll also provide a counter-narrative to official accounts. It will then be up to governments and responsive institutions to apply that transparent data in meaningful ways to reduce congestion, combustion, power plant emissions or smoke from cooking.
Related