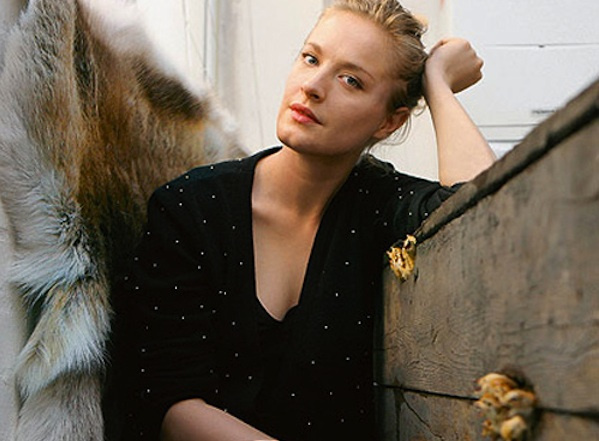 Polly Morgan may be credited for singlehandedly redefining the art world's antediluvian take on taxidermy. The artist -- once referred to as "Britain's hottest bird stuffer" by Banksy -- explores the reality of death, often with a hint of cheek in contrast to the Victorian tradition of using taxidermy to animate and lend life to dead animals.
Known for her often-macabre art, she explains that it's not death that fascinates her. "I remember my mother saying to me that she was a bit worried I was an abnormally morbid child because I used to write stories about death. But it was more about the intrigue and the plots around them that I was interested in, and the drama, not so much the death itself."
Video by
Despite being one of the leaders of the new generation of YBAs, Morgan didn't follow the typical art school pathway that her contemporaries did. Instead, she read English at Queen Mary, University of London, where she felt out of place. "I studied English and I hadn't quite fit into college at all. I felt like a fish out of water for quite a long time. The people I came across during my day-to-day life, I just didn't really feel much of a connection with," she admits.
It was while working at the Electricity Showrooms in Shoreditch, the popular YBA-haunt, that led to chance encounters with artists, inspiring her to create her own work. "I think the auspicious turn of events came when I walked into the Electricity Showrooms and asked for a job when I was 19. I needed to earn some money to pay my rent while studying in London. My entire social network started from that place and I suddenly found I was amongst like-minded people and I felt so much more comfortable in that environment. I was surrounded by these people who weren't following the kind of ordinary path that I had seen laid out before me." The first four pieces that she produced caught the attention of Banksy and catapulted Morgan into the limelight.
Morgan's sources of ideas are wide-ranging -- from taking long walks in the forest to going to Battersea Dogs & Cats Home to rescue a staffie. But for Endless Plains, her latest and largest exhibition to date at All Visual Arts, Morgan's inspiration came from further afield. "The starting point for the exhibition was a trip I made to the Serengeti last summer. I went on a safari," Morgan says. "I wanted to know what Serengeti meant. Our Masai leader told me that it meant Endless Plains in English."
"I was particularly taken by the dead bodies in the landscape as that's what I work with. They were often very perfectly preserved, apart from the stomachs that had been pulled out by vultures so they looked like cavernous interiors with dried skins; like a taxidermy animal lying dead on the ground," Morgan continues.
Upon returning from the Serengeti, Morgan had her own brush with death, developing life-threatening peritonitis and gangrene, which caused part of her own body to die. This experience is apparent in much of her work exhibited in Endless Plains, where bodies are rent wide, their cavities oozing life. The work is simultaneously savage and thoughtful in its portrayal -- piglets gorging themselves on dead trees, a fallen deer, its hollowed cavity full of bats peering back, a series of framed drawings of birds' nests, a namesake bird lolling precariously on top of each picture frame.
Her new work still captures the romantic narrative depicted in her earlier work, but it's clear that Morgan has come into her own as an artist, experimenting with other techniques beyond taxidermy, such as casting and sketching and tackling the themes of life and death in inventive and clever ways.
Popular in the Community