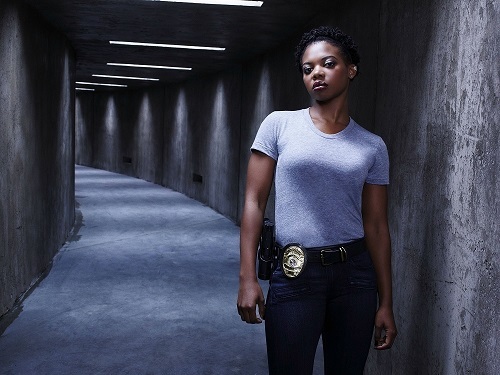 Susan Heyward stars in Martin Scorsese, Mick Jagger and Terence Winter's new HBO drama series "Vinyl" premiering February 14, 2016, and is returning as the lead in Sony's superhero juggernaut series "Powers" premiering March 2016.
Vinyl trailer.
Twitter: @susanheyward , Instagram: susanheyward
Photo courtesy of Anderson Group PR.
Down to earth and genuine describes this Philly-grown actress Susan Heyward! Now, she lives in my favorite place, New York! (Favorite place on Earth, that is ;) )
You play homicide detective, 'Deena Pilgrim' in the Sony PlayStation Network Series Powers. Tell us about your audition.
I'd just started working with a new agent six months before and told him I wanted to focus on television. Between him and one of the casting directors, Mele Nagler, who knew me from auditions in New York, I got the chance to read. An actor friend of my mine who I understudied with worked on the sides [pieces of script] with me. I work with him on every audition I can. There were three scenes, one of them was the scene where "Deena" meets "Calista" in a compromising position at a crime scene. My first instinct was to lead with compassion, with gentleness. He said, 'What are you doing? She's a cop. She sees this stuff all the time.' It was a major 'ah-ha' moment for me. I had to work to find "Deena's" toughness and how it hid any nurturing instincts. So I wore my favorite leather jacket that made me feel tough! I went to my agent's office and put myself on tape with one of my agents. I thought I did terribly! It felt so uncomfortable, searching for the mix of brains and mouth and we did each a few times. After getting a few takes of each scene, I finally gave up. I just wanted to stop thinking about it. I left the office and a few days later left for my trip to Cancun. A week later, when I got back to town, I had all these messages from my manager. "Where are you? They want you to read again!" Everything moved really quickly from there. Go figure.
What were your favorite books and authors when you were a kid?
Oh so many! The first one I remember loving was "I Can Do It Myself!" A Sesame Street story about all the characters doing things for themselves, like tying their shoes or cleaning up after themselves. I grew up hearing Bible stories, I loved the shepherd David who became a king and Sampson and Delilah. The way Madeleine L'Engle remixed the Noah story with Many Waters rocked my world. The American Girl Series, "Addy" was my girl. The True Confessions of Charlotte Doyle, this teenage girl becomes a pirate. Roll of Thunder, Hear My Cry. Summer of My German Soldier. All these stories of brave, smart, girls with integrity. I would read on the bus to school. I would read after bedtime with a flashlight under the covers and my mom would have to confiscate the lights. I could never get enough.
You played Sophie in the 2015 re-make of the 1982 horror movie Poltergeist. What was it like working on set of a film that viewers think is cursed?
I definitely said a few prayers before going on set! But I wasn't afraid. More than anything, I felt lucky to get a peek behind the scenes at how those moments are created. How do you create suspense? The coordination between all the technical departments is epic. And watching all the other actors' process was fascinating.
You recently finished working on Martin Scorsese, Mick Jagger and Terence Winter's HBO series Vinyl. Give us some background on your character.
My character is "Cece", the gatekeeper for "Richie Finestra", Bobby Cannavale's character. He's head of the record label and, as his secretary, "Cece" knows all the nuts and bolts that keep "Richie's" life running smoothly. When we meet her, she's fully immersed in the orderly, business side of the music. The glamour calls to her though, and she gets caught up in the excitement of the rock n' roll. It was so much fun! Researching women's roles in the work place at that moment was fascinating. This was pre-Anita Hill. Women were still fighting for their right to work and winning major anti-discrimination victories in the Supreme Court. But the wins were still fresh. Coming to set and dropping the sense of entitlement that I have as a 21st century woman was difficult sometimes. We wanted to hit the right note, that it was a good time for women, but there was (and is) a long road ahead. It's so easy to take our progress for granted.
Having lived in numerous places, what made you decide to settle down in New York? Do you still have your Philly roots?
I had this grand plan to move to NYC, audition for theater and bartend at night to make ends meet. So original, right? It didn't last for long. I abandoned that plan and left for a while. But it drew me back. New York felt like a place you could do anything; create work or watch the best in the business on the stage. And if you needed a break, you could walk and lose yourself in the architecture, or the music scene, or some random poetry reading at a college campus. A place that could make you stronger and more sensitive at the same time. It's harder now, the cost of living is ludicrous. Sometimes it feels like you live to work instead of the other way around. I have a few family friends in Philly that I'm shamefully bad at visiting. I'm such a workaholic, I would say "I should take a bus back and visit." But there's always work to do, work to see, rent to make. I'm still working on striking a balance. Facebook has helped me not become completely neglectful.
What is it about theatre that you love and is there anything you would change?
I love that strangers can walk into a room as individuals and go through an experience that makes them act as one. Laugh as one or gasp all together. All the labels drop for a while and we're all just humans watching these moments happen and responding without manipulation. No political correctness. No agenda. It's like the positive version of mob mentality.
I would change our government's relationship to theater and the arts in general. Support from the state would ideally help keep costs down. It can be expensive and anything to make it accessible to people who aren't rich, old and mostly white would be a step in the right direction. Without exception, the most extra ordinary moments I've had in a theater were with crowds that were intergenerational, and culturally and socio-economically diverse. If we can't all meet together at work, or at worship, or in commerce, it's the art house, the theater, the concert that becomes the places where we can meet people unlike ourselves. That's where we can understand each other and start conversations we desperately need to have. Don't tempt me to get on my soap box!
Anything else you'd like to say?
Just how grateful I am for all the communities that have poured into me. Family that have lifted me up, teachers who believed in me, church members who have prayed for me, artists who have inspired me, friends who have encouraged me (and fed me and let me crash on their couches), casting agents who kept calling me in. I'm very conscious that I've had lots of angels on the road thus far.
Popular in the Community