"Some people think little girls should be seen and not heard. But I think....OH BONDAGE UP YOURS!" ~ X-Ray Spex, 1977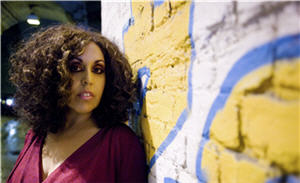 Photo Credit: Fabrizio Rainone
Poly Styrene was a shrieking teenaged force of nature, jumping and flailing about onstage and every once in awhile flashing an engaging grin full of braces. Her band, X-Ray Spex, flavored their thrash punk with a wailing sax effectively cutting through the AOR complacency of 1977 like an extra-sharp knife. Her impassioned rant against violence to women, Oh Bondage, Up Yours!, still resonates through the years - and even now sounds fresh and new - cementing her role as an icon, however reluctant, to Kim Gordon, Kathleen Hanna, and countless others. Though Styrene later insisted the sentiment was more of anti-capitalism than feminism, it was a stunning battle cry during the first wave of Punk Rock, which was anything but kind to women.
I asked Poly if the renewed misogyny and violence that many factions of punk fed into at the time had the effect of distancing her from her colleagues in the punk world. "I've never thought about it that much, but yes maybe I did come across a bit of misogyny now that I think about it...You go through it in music as a girl, they call it a bit of harmless banter now and it's up to you if you want to put up with it. I didn't put up with it at the time. I wasn't going to sit there and let someone make me feel bad about myself and I guess in this way, I got distanced and did what I wanted to do, otherwise I'd end up being a masochist." She remembered "getting a bit of misogyny" from Sid Vicious when she was visiting John Lydon's house, "John Lydon though was always a perfect gentleman."
X-Ray Spex were in fact only one of the many steps in a life journey so incredible that it aches to become a best-selling memoir. Styrene (given name, Marian Elliott-Said) grew up in Brixton and dealt with prejudice as a mixed-race child (her mother was British, her father Somalian). She ran away from home at 15 and was inspired to start a band after seeing a live gig by the Sex Pistols. The fame juggernaut took hold shortly thereafter and didn't stop for two years. The merry go round stopped when Styrene was diagnosed as bipolar. She lived for several years in the Hare Krishna community, had a daughter (Celeste Bell-Dos Santos, now a teacher and musician in Spain) who's care she had to give up for many years due to extreme mood swings that were later curbed by meds, and somehow came out the other side stronger and wiser than ever.
At the end of last year, mother and daughter wrote a neo-reggae anthem about holiday commercialism called Black Christmas and released it as a free download. Styrene had intended the track to be "a bit of fun," but with both the worldwide recession and a recent news story about a man in LA who committed murders while dressed as Santa Claus, "...I also wanted to comment on the fact that Christmas as well as being a festive time is also a time for introspection and reflection on the sad story of the birth and death of Christ."
Styrene announced in February that she was being treated for breast cancer, on the eve of a brand new record release planned for the spring. Generation Indigo, due out April 26 (available for pre-order now via Amazon and iTunes), was produced by Martin Glover AKA Youth (other productions include Wet Wet Wet, The Verve, The Orb, Maria McKee, P.M. Dawn, Depeche Mode). How did this collaboration come about? "My label Future Noise Music suggested I meet with Youth. I'd never met him although we have mutual friends," said Poly. "I had a body of work that I wanted to put out there and basically we met, I sang them to him, we got on and it all took off from there. My daughter Celeste does backing vocals on several of the tracks, Brother Culture does some vocals on the dubby ones, also my sister does backing vocals. Youth of course played bass on the tracks, oh and Viv Albertine did some guitar on Ghoulish. Michael Rendall, the engineer, did programming."
The 12 songs on Generation Indigo take on a number of contemporary themes ranging from racism (Colour Blind) to vegan shoes (I Luv Ur Sneakers) to love in the computer age (the catchy new single, Virtual Boyfriend) to an attractive but dangerous dark-eyed stranger (Ghoulish, a stand out track informed by a gorgeously ethereal girl-group sound). Styrene's voice, terrific throughout, particularly shines on the acappella closing number Electric Blue Monsoon. I asked her how she chose the theme for Virtual Boyfriend, which deals with how social media informs even our most intimate relationships.
"The theme chose me. I was just sitting at my computer and thinking about contemporary relationships, how in a way it's a safer place for girls / women to date, unless obviously they're being groomed. However, the down side is that relationships can become quite superficial, you can end something before you've even started it really, by pressing a button and ending the relationship without having had much human contact. A hug is necessary."
Due to her recent illness, the tour has been canceled. But in spite of the challenges she's currently facing, Poly's spirits are high and she's looking forward to the release of Generation Indigo. "It's been a bit of a battle fighting this cancer but hey ho I'm still alive," she recently tweeted, thanking her followers for the positive vibes they'd been sending her way. One thing we've learned from her remarkable life and career is that this woman is as resilient as they come.
Popular in the Community