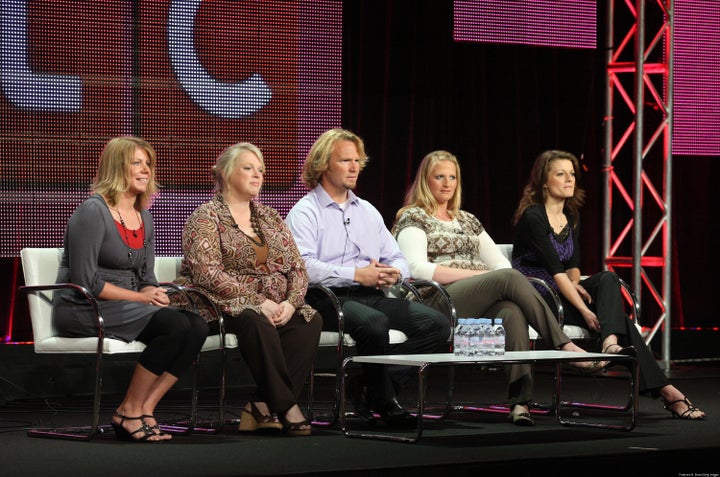 By Kimberly Winston
Religion News Service
(RNS) For a show that centers around a family in which polygamy is an article of faith, there's very little religion in TLC's new reality show, "Sister Wives."
But there were enough wives to pique the interest of Utah authorities, who are investigating felony charges of bigamy.
The show, which premiered Sunday (Sept. 26), follows Kody Brown, a 41-year-old advertising salesman, his three wives and 12 children, as they welcome a fourth wife into their Utah home.
By the end of the seven-part series, the family includes five adults and 16 children.
On Tuesday, police in Lehi, Utah, said they opened a preliminary probe when TLC announced the show several weeks ago. Bigamy is a third-degree felony in Utah. Under state law, Kody Brown is legally married only to his first wife of 20 years, Meri. They have one child together.
The police probe could ultimately divulge more than the show, which keeps the family's sex lives--and the religious faith that inspires their lifestyle--behind closed doors.
In the first episode, Meri Brown briefly mentions sleeping arrangements. "Christine and Janelle and I each have our own bedrooms, and Kody is welcome in each of those bedrooms," she says, referring to the two other wives. "Alone. That's just how it is, we don't go weird."
The show tackles religion just as quickly and succinctly.
"We're a fundamentalist Mormon family, not an LDS or Mormon family," Kody Brown says, referring to the more mainstream Church of Jesus Christ of Latter-day Saints. "They quit practicing polygamy 120 years ago. Big difference from us and them--similar to Catholics and Protestants."
The LDS church banned polygamy in 1890 as a condition of Utah statehood. No one knows how many fundamentalist Mormons live like the Browns; scholars estimate between 30,000 and 50,000 people live in plural marriages, mainly in Utah and other Rocky Mountain states.
Because polygamy is illegal, such families tend to keep their lifestyles a secret--as the Browns did until now.
Bill Hayes, president of Figure 8 Films, which produced "Sister Wives" for TLC, said placing the family's faith in the background was a deliberate decision made by the producers.
"We decided not to go there because the story was more about their family, not about the religion in any way shape or form," Hayes said. "(Religion) is such a complicated thing that if you touch on it one time you have to go, go, go with it. You cannot do that in a show like this or everyone gravitates to that and forgets about what an interesting family life they have."
Hayes said the family also requested that their faith, like their sex lives, be kept out of the series as much as possible. Film crews were not present for the marriage ceremony of Kody Brown to his fourth wife, Robyn, because "it was private," Hayes said.
Figure 8 also produced "19 and Counting," another TLC series, about a couple with 19 children that initially made only glancing references to the family's Christianity. Later episodes revealed the family as part of the Quiverfull movement, a Christian movement to create large families.
The Browns are shown praying twice in the debut episode, once before a meal and once kneeling together with their arms crossed over their chests. One wife says she received a "spiritual witness" about the coming of the fourth wife, but there is no explanation.
Mormon fundamentalists are a fractured group, with many different branches, churches and even independents, and the Browns don't say which branch, if any, they belong to. Kathryn Danes, an assistant professor of family history at Brigham Young University, says an educated guess points to the Apostolic United Brethren.
"The AUD is one of the most liberal of all of the polygamous groups," Danes said. "They look just like anybody else, though the women usually wear three-quarter sleeves. If you saw them in a store you would not look twice at them."
Indeed, the Brown women look nothing like the women in prairie dresses associated with the Fundamentalist Latter-Day Saints church formerly run by Warren Jeffs, who was convicted of statutory rape for arranging the wedding of a 14-year-old girl to an older man. (The conviction was overturned in June and Jeffs awaits a new trial). They wear contemporary clothes, hairstyles and one works outside the home. Another studies psychology. They surf the Internet.
The Browns did not grant interviews after the announcement about the police investigation, but issued a statement through TLC.
"We are disappointed in the announcement of an investigation, but when we decided to do this show, we knew there would be risks," it reads. "But for the sake of our family, and most importantly, our kids, we felt it was a risk worth taking."
Calling all HuffPost superfans!
Sign up for membership to become a founding member and help shape HuffPost's next chapter