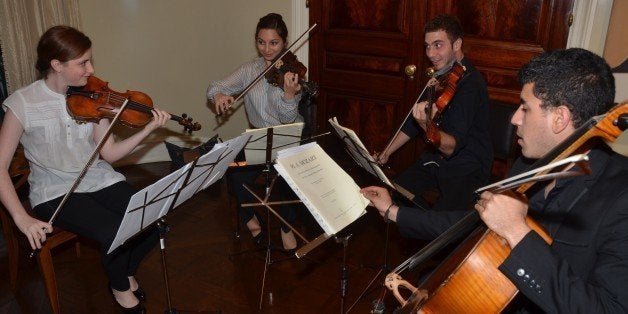 The Polyphony Foundation is spreading classical music across Israel -- and bringing Jewish and Arab people together in the process.
Polyphony began as a small school in 2007 in Nazareth, with the intention of bringing classical music education to the Arab community. After establishing that, co-founder Nabeel Abboud-Ashkar wanted to expand the school's mission. He started the nonprofit Polyphony Foundation in partnership with Deborah and Craig Cogut in 2011 with the goal of creating positive shared experiences between Arab and Jewish communities in Israel.
"Within the challenges that the Israeli society is facing, we thought that classical music can play an important role," Abboud-Ashkar told The Huffington Post.
Polyphony provides basic music education in schools in addition to running conservatories, orchestras and traveling ensembles. It currently serves over 6,000 students in 73 kindergartens and 26 elementary schools across the country. Next year, they expect to nearly double the number of students.
The Huffington Post spoke with Abboud-Ashkar and four young musicians from the program's quartet while they were in New York City for performances in May. The members of the quartet range from 18 to 20 years old. Two of them are Arab and two are Jewish. Giddy from jetlag, the group members giggled together as they talked about their experience.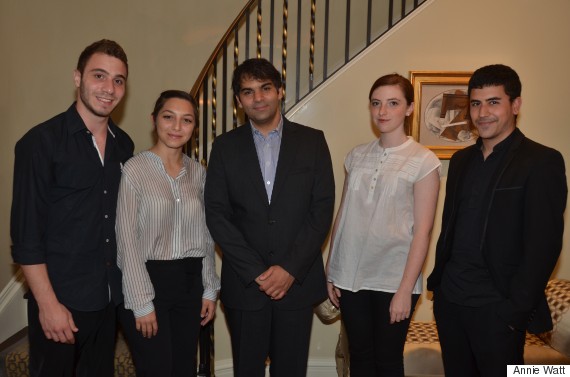 From left: Feras Machour, Revital Bendersky, Nabeel Abboud-Ashkar, Shir Hayat and Mahdi Saadi in New York City on May 27, 2015.
"We always had different stereotypes, each one had a stereotype about the other, and we didn't accept each other," said Mahdi Saadi, a cellist from Nazareth who has been a part of Polyphony for about seven years. "When the project began, it just broke all the stereotypes."
The quartet has rigorous weekend rehearsals in Nazareth, a city populated mostly by Arab citizens. For Shir Hayat, a violinist new to the program, the first time she saw the city was when she came for a rehearsal.
"We do have stereotypes and prejudice about the other side -- bad, good, we do have stuff," Hayat said. "It kind of changed how I look at things because I came to the city and saw some different things that really weren't like what I thought. People were amazing that I met."
The musicians are ostensibly involved to make beautiful music, not to form relationships and reach across a divide. When asked what the best part of being in the group was, violist Feras Machour said it's simply the satisfaction of successfully performing a piece after intense preparation. But in collaborating to make music, the musicians are doing something extraordinary.
"I personally never thought of [the differences], because we're doing music and we're having fun. We're meeting new people," said violinist Revital Bendersky. "It's fun!"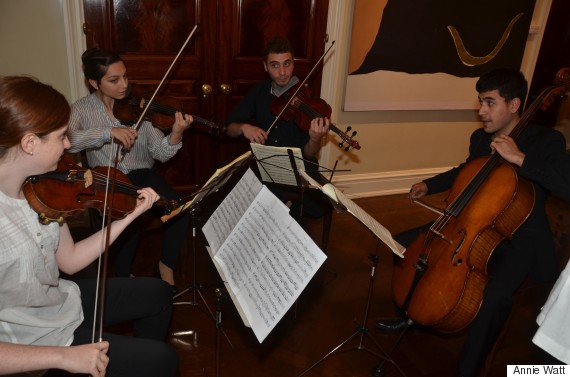 The members of the quartet said they would enthusiastically tell people back home about their experience with Polyphony and what they learned about each other.
"It broke all the stereotypes, and it changed my way of thinking and how I behave, how I see things," Saadi said. "I see it now differently, I see it now more [like] living in peace."
Abboud-Ashkar realizes the program has limitations in terms of bringing Arab and Jewish people together, but he is proud of the swift growth and success the foundation has had so far.
"If you get people to engage in discussions about history and what happened and what is wrong, that's a dead end," Abboud-Ashkar said. "Not saying that's not important -- and we're not ignoring what's happening on the ground and also not being naive and saying, 'Oh, with the music everything is wonderful now.' What we're saying is, 'Let's start by creating positive shared experiences, and let's see where that takes us.'"
Calling all HuffPost superfans!
Sign up for membership to become a founding member and help shape HuffPost's next chapter