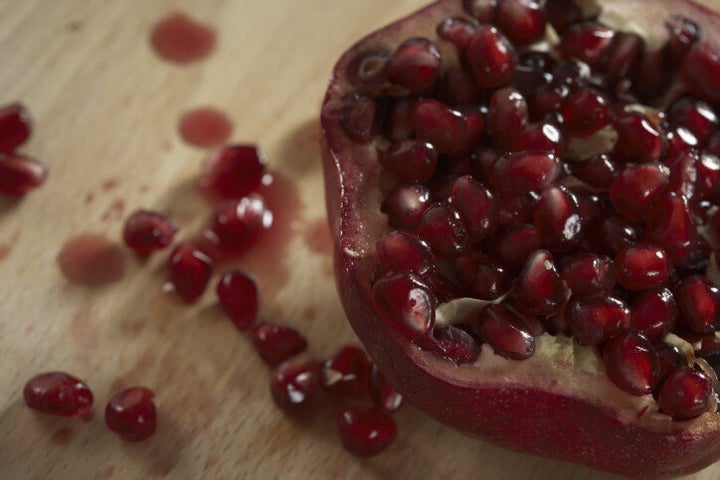 Pomegranates are making a big splash in nutrition research, with scientists in the U.S., Portugal, Israel, India and other nations searching for the latest health benefits of this antioxidant-rich fruit.
Once an exotic item rarely seen in the supermarket, the popularity of ruby red pomegranate juice has made it easy to get the pleasure and benefits of this sweet fruit.
The enthusiasm for pomegranates stems from the high concentration of antioxidants that accompanies the sweetness of its juice.
Pomegranate Heart Health Benefits
One active area of research has looked at the potential heart health benefits of the pomegranate.
These studies indicate that daily consumption of pomegranate juice, about 8 ounces a day for three months or more, can help:
Reduce dangerous LDL-cholesterol in blood
Improve blood flow to the heart in patients with coronary artery disease
Reduce thickening of the arteries that supply blood to the brain
Lower the level of systolic blood pressure
Laboratory studies have demonstrated that pomegranate juice can help maintain the health of blood vessels by several interacting mechanisms:
1) Reversing a process called LDL-oxidation. LDL, which stands for low-density lipoprotein, is the major protein responsible for transporting cholesterol in your blood and depositing cholesterol in the walls of blood vessels. The level of oxidized LDL in blood is emerging as a leading risk factor for cardiovascular disease.
2) Decreasing inflammation in the lining of blood vessels. Inflammatory cells called macrophages, found in the walls of your arteries, accumulate cholesterol and deposit it in the vessel wall, initiating a process called atherosclerosis, a major step in hardening of the arteries. Pomegranate juice prevents this type of inflammation and inhibits atherosclerosis.
3) Raising the levels of nitric oxide, a chemical that keeps your arteries supple and flexible. Many types of stress impair your blood vessels' ability to make nitric oxide. Pomegranate juice can prevent both reasons for reduced nitric oxide: impaired synthesis and rapid breakdown.
Research on Pomegranates and Cancer
Research is looking at the ways pomegranate juice and extracts of pomegranates may be able to help fight cancer.
The anticancer effects of pomegranate juice are related to its potential ability to induce cancer cells to self-destruct, a process called apoptosis. Laboratory research studies suggest that pomegranate juice may help induce apoptosis of human breast, prostate and colon cancer cells by activating genes and enzymes that regulate apoptosis.
Pomegranates Fight Inflammation
Whenever it's been studied, unsweetened pomegranate juice has been more effective than any single component.
Not only does pomegranate juice contain potent phenolic antioxidants, like other brightly colored fruits, but pomegranate juice contains unique complex sugars that are anti-inflammatory on their own.
Here is a delicious recipe featuring pomegranate juice that my son Jonathan Galland wrote for The Fat Resistance Diet.
Granola is a crunchy and satisfying comfort food. This recipe has a smart mix of whole grain oats, fruit and nuts, and is high in Omega 3's.
Preheat the oven to 325°F. In a big bowl, mix everything except the raisins. Spread the mixture over a nonstick baking pan and bake for 20 minutes, or until nice and brown, stirring occasionally to cook evenly.
Remove from the oven and toss in the raisins. Let cool and put in a glass container for storage in the refrigerator. Makes about 5 cups. Serve one cup granola with one cup nonfat plain yogurt, nonfat milk, or unsweetened soy milk per person.
I hope you enjoy the healthy pleasure of pomegranate juice throughout the year.
Now I'd like to hear from you:
Have you tried pomegranate juice?
Where do you shop for it?
What is your favorite pomegranate juice?
Please let me know your thoughts by posting a comment below.
Important: Share the Health with your friends and family by forwarding this article to them, and sharing on Facebook.
Leo Galland, MD is a board-certified internist, author and internationally recognized leader in integrated medicine. Dr. Galland is the founder of Pill Advised, a web application for learning about medications, supplements and food. Sign up for FREE to discover how your medications and vitamins interact. Watch his videos on YouTube and join the Pill Advised Facebook page.
References and Further Reading
Crit Rev Food Sci Nutr. 2011 Aug;51(7):626-34. "The bioactivity of pomegranate: impact on health and disease." Faria A, Calhau C. Biochemistry Department (U38-FCT), Faculty of Medicine, University of Porto, 4200-319, Porto, Portugal.
Nutr Rev. 2009 Jan;67(1):49-56. "Pomegranate juice: a heart-healthy fruit juice." Basu A, Penugonda K. Department of Nutritional Sciences, 301 Human Environmental Sciences, Oklahoma State University, Stillwater, Oklahoma 74078-6141, USA.
Drugs Exp Clin Res. 2002;28(2-3):49-62. "Pomegranate juice flavonoids inhibit low-density lipoprotein oxidation and cardiovascular diseases: studies in atherosclerotic mice and in humans." Aviram M, Dornfeld L, Kaplan M, Coleman R, Gaitini D, Nitecki S, Hofman A, Rosenblat M, Volkova N, Presser D, Attias J, Hayek T, Fuhrman B. Lipid Research Laboratory, Technion Faculty of Medicine, Rappaport Family Institute for Research in the Medical Sciences, Rambam Medical Center, Haifa, Israel, 31096.
Clin Nutr. 2004 Jun;23(3):423-33. "Pomegranate juice consumption for 3 years by patients with carotid artery stenosis reduces common carotid intima-media thickness, blood pressure and LDL oxidation." Aviram M, Rosenblat M, Gaitini D, Nitecki S, Hoffman A, Dornfeld L, Volkova N, Presser D, Attias J, Liker H, Hayek T. The Lipid Research Laboratory, Rappaport Family Institute for Research in the Medical Sciences, Rambam Medical Center, Haifa 31096, Israel.
Proc Natl Acad Sci U S A. 2005 Oct 11;102(41):14813-8. Epub 2005 Sep 28. "Pomegranate fruit juice for chemoprevention and chemotherapy of prostate cancer." Malik A, Afaq F, Sarfaraz S, Adhami VM, Syed DN, Mukhtar H. Department of Dermatology, University of Wisconsin, Madison, WI 53706, USA.
Nutr Cancer. 2009;61(6):811-5. "Cancer chemoprevention by pomegranate: laboratory and clinical evidence." Adhami VM, Khan N, Mukhtar H. Department of Dermatology, University of Wisconsin-Madison, Madison, Wisconsin 53706, USA.
J Ethnopharmacol. 2007 Jan 19;109(2):177-206. Epub 2006 Sep 10. "Punica granatum (pomegranate) and its potential for prevention and treatment of inflammation and cancer." Lansky EP, Newman RA. Punisyn Pharmaceuticals Ltd, Haifa, Israel.
J Inflamm (Lond). 2008 Jun 13;5:9. "Bioavailable constituents/metabolites of pomegranate (Punica granatum L) preferentially inhibit COX2 activity ex vivo and IL-1beta-induced PGE2 production in human chondrocytes in vitro." Shukla M, Gupta K, Rasheed Z, Khan KA, Haqqi TM. Division of Rheumatic Diseases, Department of Medicine, Case Western Reserve University, 10900 Euclid Avenue, Cleveland, OH 44106, USA.
Fitoterapia. 2005 Mar;76(2):181-6. 'Flavonoids from Punica granatum--potential antiperoxidative agents" Sudheesh S, Vijayalakshmi NR. Department of Biochemistry, University of Kerala, Thiruvananthapuram, 695581 India.
Full Text: "Diet and Inflammation" Leo Galland, MD, Nutr Clin Pract December 7, 2010 vol. 25 no. 6 634-640
Recipe by Jonathan Galland from The Fat Resistance Diet © 2005 Leo Galland, M.D., Reprinted by permission of the author.
This information is provided for general educational purposes only and is not intended to constitute (i) medical advice or counseling, (ii) the practice of medicine or the provision of health care diagnosis or treatment, (iii) or the creation of a physician--patient relationship. If you have or suspect that you have a medical problem, contact your doctor promptly.
Related