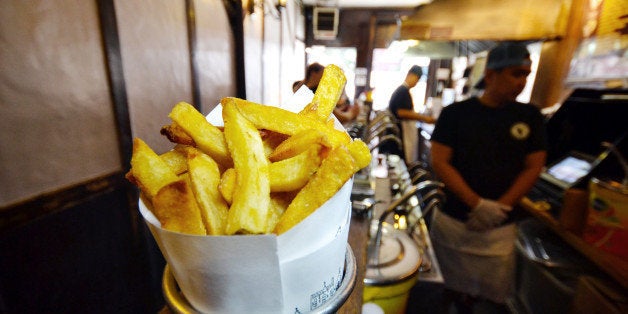 NEW YORK -- Pommes Frites is a phoenix.
Three months after flames from a gas explosion gutted the iconic French-fry shop -- an 18-year staple of Manhattan's East Village -- its owners plan to open a new location this fall.
Ethan Hartman, a Pommes Frites spokesman who is helping to organize an Indiegogo crowdfunding campaign on the owners' behalf, told The Huffington Post that the restaurant will move west to Greenwich Village, just south of Washington Square Park.
The new address, 128 MacDougal St., costs $9,000 a month -- the best deal owners Omer Shorshi and Suzanne Levinson could find after losing their old $5,000-a-month space. Still, the new spot will be bigger, with more seating.
"Finding a new location in New York is a challenge," said Hartman. "It's a big part of the big journey to getting the doors back open."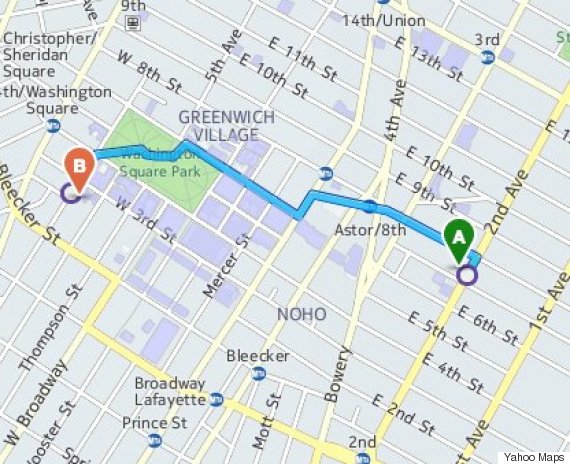 The new location, indicated with a B, is roughly a 15-minute walk from the previous one
Pommes Frites has also applied for a beer and wine license.
"They'll serve Belgian ales," Hartman said.
Now, the company needs to raise money for renovations in the new location. The owners hired Hartman to help film a video for the Indiegogo campaign after an earlier fundraising effort, via the mobile payment platform Square, only yielded about $2,500.
In April, Sorshi said he aimed to hire back all seven of his former staffers.
"We had people who worked for us for, like, eight years," he said. "In the fast-food business, that's unheard of. We try to take care of them as best we can."
But without generating income, Pommes Frites has not been able to pay those employees, so most are working other jobs in hopes of returning in the fall.
"The biggest goal is to be able to hire back the entire staff," Hartman said. "The crowdfunding campaign will let us make those hires more quickly."
Pommes Frites' long-standing East Village restaurant was destroyed in March when a gas leak ignited, causing an explosion to rip through the neighboring 121 Second Ave. near St. Mark's Place and killing two people. Fire engulfed the adjacent building where Pommes Frites was located.
Calling all HuffPost superfans!
Sign up for membership to become a founding member and help shape HuffPost's next chapter