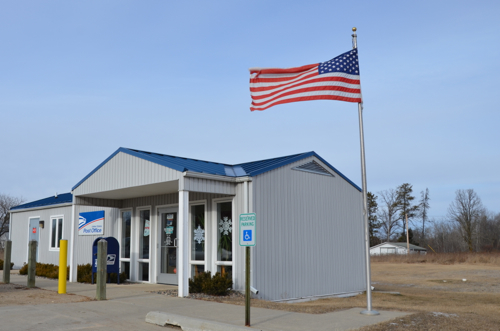 Ponsford, MN Post Office Photo: Georgianne Nienaber

While winter has spared remote areas of Minnesota this year, proposed budget cuts will slam the North Country if the U.S. Post Office abandons its location in Ponsford. Ponsford, also known as the Pine Point community, has approximately 500 residents, 200 of which live on the White Earth Indian Reservation, says 50-year resident Tim Willenbring, who was the rural carrier for 36 years. Now retired for 11 years, Willenbring is actively fighting the closure. We met with him just before Christmas in the tiny white metal building with a distinctive federal-blue roof at the end of State Highway 225.
Only 8.8 winding miles long, 225 is the main artery connecting Ponsford with nearby townships. "This is the most devastating thing that could happen to this area," Willenbring said. "Rural roadside boxes are not secure, and many people don't have cars or the ability to travel to the post offices in Osage (15 miles) or Callaway (45 miles)."
Besides the 117 Minnesota post offices on the federal budget cut block in Minnesota, another 80 closures are proposed in South Dakota, 76 in North Dakota, and 41 in Wisconsin.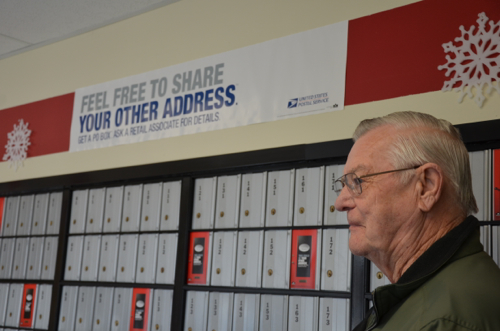 Tim Willenbring. Photo by Georgianne Nienaber
Author, former vice-presidential candidate, and Native activist Winona LaDuke resides at White Earth. Writing for the community Niijii Radio website, LaDuke says the closures will force hardships on the poor, especially Native and elderly communities, while saving a paltry sum for the postal service:
Post office closures in the Dakotas and Minnesota will impact many communities, but the White Earth reservation villages, and other tribal towns of Squaw Lake, Ponemah, Brookston in Minnesota, and Manderson, Wounded Knee and Wakpala (South Dakota) as well as Mandaree in North Dakota will mean hardships for a largely Native community. Eliminating some 3600 post offices - mostly rural- will save the USPS less than seven tenths of one percent of their operating budget, but nationally a number of tribal communities will be hit.
In an announcement last summer, Postmaster General Patrick Donahoe said, "More than 35 percent of the Postal Service's retail revenue comes from expanded access locations like grocery, drug, and office supply stores, as well as kiosks, ATMs and usps.com."
However, rural and native communities do not have reliable access to the Internet or transportation, and grocery stores, kiosks and ATMs are in short supply or non-existent. Less than 10 percent of White Earth residents have access to the Internet.
"Many of these communities have few other infrastructure options -- for instance in the South Dakota town of Porcupine loses its post office, residents will have to travel some 72 miles round trip to get money orders, or special services," LaDuke wrote. In South Dakota, ten out of eighty targets are tribal post offices.
Since the original list of 3,650 was released in July 2011, 380 facilities have been dropped. This does not include Ponsford, according to the office of Collin Peterson, the U.S. Representative for Minnesota's 7th Congressional District, which includes Ponsford and White Earth.
The moratorium on post office closing expires in March.
Peterson's office supplied us with a copy of a letter now circulating in Congress and addressed to Patrick R. Donahoe, the Postmaster General. The letter outlines "serious flaws with the analysis that call into question the USPS's current consolidations plans." Among many concerns, the letter points to incomplete data that hinders accurate cost analysis, inaccurate representations of usage and revenues for all Post Offices, and inaccurate representations of distances (using geographical measurements instead of actual driving distances).
Targeting rural post offices for discontinuance studies clearly violates 39 U.S.C. 101(b), which maintains that the USPS is required to provide effective and regular postal service to rural communities. The closure of Post Offices, stations, and branches will undoubtedly affect communities and lead to the loss of middle class jobs.
Peterson had a representative present at an October community meeting, Willenbring said.
We tried to reach the press office of Minnesota Sen. Amy Klobuchar for a comment, with no success.
Slide Show Photos by Joey Halvorson and Georgianne Nienaber

Related
Popular in the Community