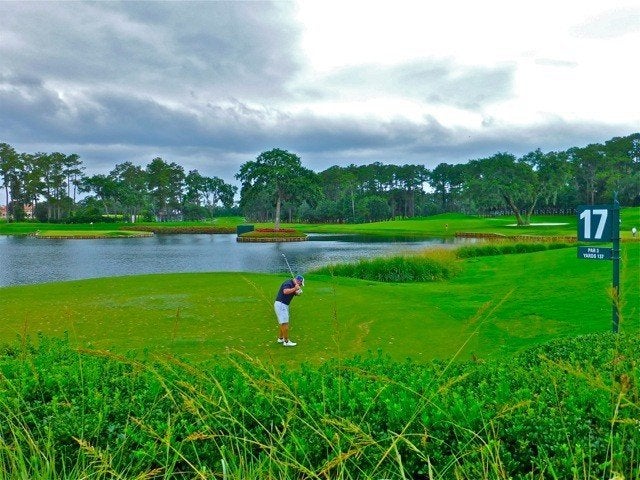 Every May thousands of golf fans head to Ponte Vedra Beach, Florida for The Players, arguably the most noted tournament outside the four majors and certainly the most fan-friendly. The rest of the year, this amicable town located in St. Johns County, Florida, just south of Jacksonville, is a haven for golfers. In fact more golf professionals reside here than in any other place in the world. They know something savvy vacationers will discover...
All Good Golfers Vacation at Sawgrass Marriott Golf Resort & Spa.
The address for the Sawgrass Marriott is indicative of its stature within the golfing community: 1000 PGA Tour Boulevard. Posters of golf legends hang on lampposts as you drive up to the hotel entrance. Lodge in any of the 506 lushly appointed rooms, suites or villas and the aura of the sport hits you right away. Golfers with their friends and families are in the lobby, the 10 restaurants and the 25,000 square foot spa. They frequent the four pools, the quiet beach, or well-equipped gyms. If you're in line for a latte at the Marriott Starbucks, and World Golf Hall of Famer Vijay Singh is standing next to you, it's a normal day.
The hotel's buildings are set on 15 acres of verdant lawns spotted with Crepe Myrtle trees, Honey Suckle bushes, Pine trees innundated with Osprey birds nests and giant Water Oak trees draped in Spanish moss. Reflective lagoons snake around the property. The tranquil surroundings, Southern-looking foliage and attentive hotel service is far more reminiscent of what you'd experience in Savannah, Georgia, than say Miami or Orlando.
Sawgrass Marriott has partnerships with eight championship-level golf courses, providing something for everyone. The crown jewel is The Players Stadium Course at the neighboring TPC Sawgrass, home of The Players Championship, birthplace of the TPC (Tournament Players Club) Network and the setting for the PGA TOUR headquarters. Built in 1982, on what was 415 acres of swampland, the Pete Dye-designed course was the first in the world to feature stadium seating, giving golf fans clear visibility. Its swank, beige, two-story 77,000 sq. ft. clubhouse with its terra cotta roof is steeped in history with portraits of past champions everywhere (Jack Nicklaus, Calvin Peete, Greg Norman, Tiger Woods, Sergio Garcia, KJ Choi, Matt Kuchar...) and a hallowed wall of golf clubs used by former winners. The golf shop is the most upscale you will ever enter, with clothes and shoes by Nike, Peter Millar and other top brands. The club's restaurant/bar Nineteen (try the blackened grouper sandwich) is opened to the public and an integral part of a veritable community center that hosts weddings, holiday celebrations and graduation parties.
The renowned course, with the world's most photographed green, No. 17, requires golfers to hit the ball over water to an island peninsula. This testy feat was the bright idea of Pete Dye's smart wife. Attempting the hole is on every golfer's bucket list. Don't be shy, if you need some guidance, 20-year P.G.A. Professional Geoff Murtha and his fellow pros at the TOUR Academy at TPC Sawgrass have golf instruction down to a science.
Their TaylorMade fitting center uses state-of-the-art technology to fit players with golf clubs specific to their physique and golf motion using a launch monitor and Motion Analysis Technology (M.A.T.T.). The Trackman system charts your club speed, face angle and hitting distance, among other statistics, using a two-dimensional video system that lets you see how your swing matches up to that of the world's top tour players. You work on your short game, golf swing mechanics and other vital aspects in a building-block, game-improving approach that is educational and fun too.
Things to Do Around Ponte Vedra:
You can laze away on the beach at the Marriott's Cabana Beach Club, which sits on 28-mile shoreline; there's a junior Olympic-size swimming pool, a sunbathing deck and restaurants. Or trek to the Guana Reserve where you can explore miles of pristine beaches, hike along nature trails, or visit the Environmental Center to learn about the area's marine life and estuaries. You can camp on the beach at Huguenot Memorial Park, which is part of the Great Florida Birding Trail. The Jacksonville Zoo with its colorful botanical gardens is home to Angolan Colobus Monkeys, Florida Panthers and African Elephants. If the kids get rambunctious, head to the Jacksonville Ice & Sportsplex to use its soccer fields or NHL-sized ice rink. The NFL Jaguars kick off at the Jaguar Stadium. You just may catch a pop fly baseball at a home game for the Jacksonville Suns on their baseball grounds. If you're into tennis, head pro Gerald Jaramillo conducts intensive clinics at the Ponte Vedra Racquet Club. Artists like K.D. Lang, Little Feat and Chris Isaak regularly perform at the Florida Theater Jacksonville.
St. Johns Town Center, a shopping complex, gives Sprawling Jacksonville an anchor and is the county's second most visited destination. There are discount places (Target), medium priced shops (Banana Republic and Apple) and high-end stores (Tiffany & Co. and Louis Vuitton). The holiday tree lighting event attracts 20,000 people, Cinco de Mayo parties are popular and Fashion's Night Out gives shoppers an eyeful of the latest styles.
R & R and a Good Massage:
Walk into the 25,000 sq. foot Sawgrass Spa and your cares drift away. Get your blood pumping on a stationary bike, treadmill or on the Cybex strength equipment. Soak in a Jacuzzi, lounge in the steam or sauna. Get pampered by a Hannakasumi application treatment: warmed exfoliating cream, reflexology, a dry loofah skin-buff and massage with melted aromatic Shea Butter. Or the signature Sawgrass Custom Massage features the perfect blend of modalities: Swedish, Deep Tissue, Reflexology and Hot Stones. The PVBee honey used in scrubs comes from two on-property beehives tended by Executive Chef David Scalise. Swim in the outdoor heated pool or get served a smoothie or spa cuisine in the landscaped relaxation area and you'll think you are in Beverly Hills.
Eat Your Way Around Ponte Vedra:
The 619 Ocean View restaurant is a diner's paradise with its floor-to-ceiling windows and ocean view. Request the Parma scallops (garlic, shallots, sun dried tomatoes and Parma prosciutto) for an appetizer, dig into tasty grilled rack of lamb with fig demi-glace for dinner and finish with the sea salt & honey caramel gelato rolled in crushed pretzels or toffee cake. The Marriott's V Kelly's Gastropub serves an eclectic menu specializing in local cuisine: fried green tomatoes or fresh Tanglewood Farm wings for starters and grilled grouper entrees with Anson Mills farro, roasted tomato broth and Twinn Bridges Chinese broccoli. The lobster Napoleon appetizer at the Augustine Grille is unique and delectable.
Locals sing the praises of the Palm Valley Fish Camp and Aqua Grill restaurants. At St. Johns Town Center, the tonier eateries include The Capital Grille, Mitchell's Seafood and the healthy cuisine-conscious Seasons 52.
Golf will beckon you to Ponte Vedra. Standing on the tee at 17 on The Players Stadium Course looking at the green in the distance is an experience you'll never forget. Fathoming a vacation around that piece of ecstasy is a golfer's dream come true.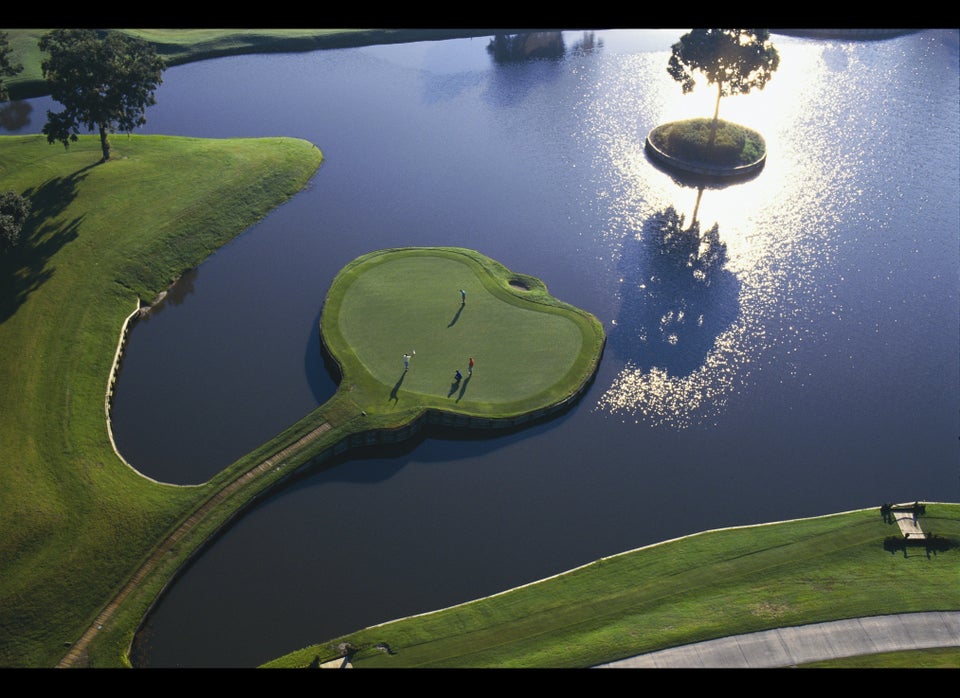 Ponte Vedra Beach Florida: A World-Class Golf Vacation